Easy Sausage Stuffing Recipe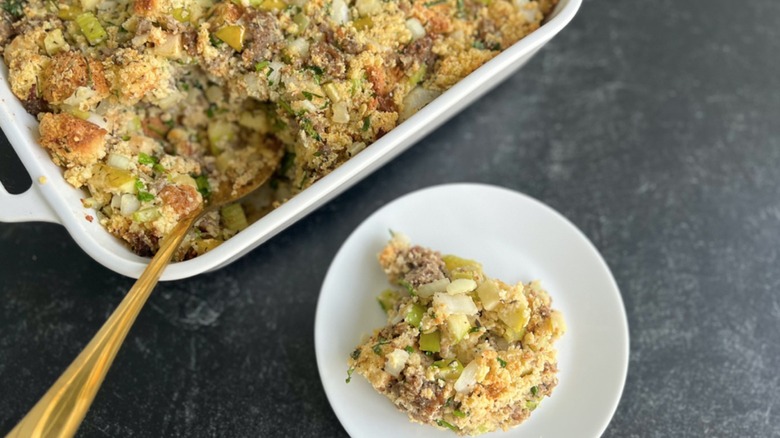 Erin Johnson/Mashed
Stuffing is not just for the holidays! When the recipe is easy, this comforting dish is perfect even on a busy weekday. In under an hour, you can whip up a flavorful meal reminiscent of the most wonderful time of the year. Recipe developer Erin Johnson brings us this very easy sausage stuffing recipe. Johnson tells us "I love this recipe because it's easy to make, but feels special. It could be equally at home on a holiday table or just a family dinner."
The key to cutting down the cooking time of this dish is due to the store-bought cornbread. There's no need to make your own cornbread from scratch to enjoy a hearty and authentic stuffing. This simple hack allows you to save valuable time and effort.
While stuffing is often "stuffed" into meat, dough, or other vegetables, this recipe is complete on its own, containing protein, veggies, and starch. That's right! You don't even need to serve this with other dishes. Talk about easy!
Gather your ingredients for easy sausage stuffing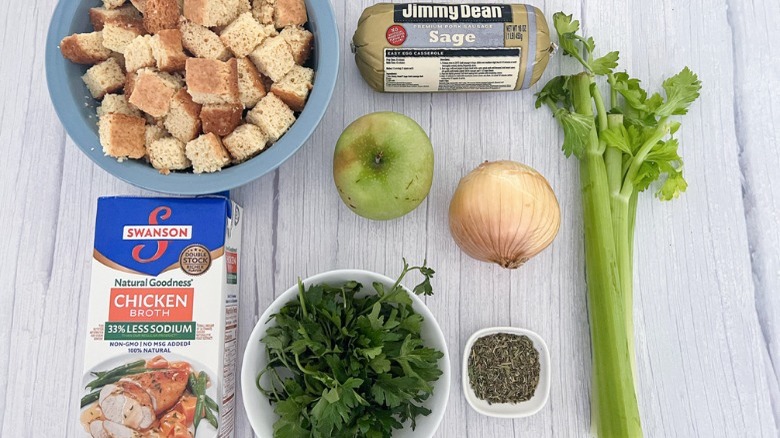 Erin Johnson/Mashed
To make this easy sausage stuffing, you must start by gathering your ingredients. For this recipe, you'll need sage sausage, an onion, cornbread, celery, a Granny Smith apple, poultry seasoning, parsley, and chicken broth. Johnson specifically recommends Granny Smith apples in this recipe "for a bite of unexpected sweetness. If you don't like Granny Smiths or don't have any on hand, you can substitute any apple variety."
Brown the sage sausage and onions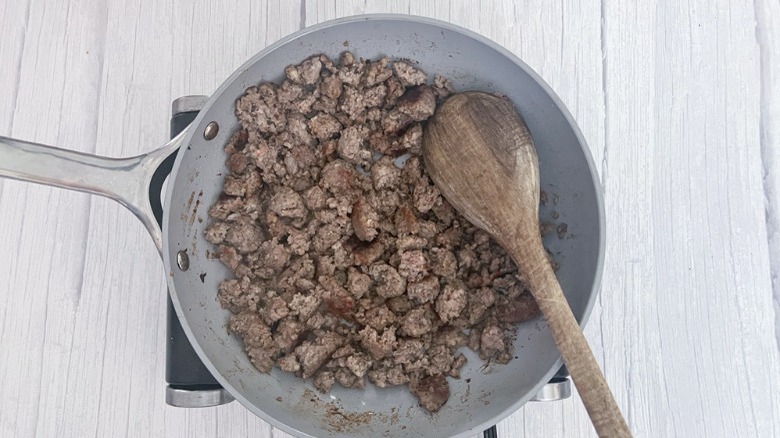 Erin Johnson/Mashed
First, preheat the oven to 375 F. While the oven is heating, place a medium-sized skillet on the stovetop to brown the sausage. Johnson notes "I choose to use sage sausage in this recipe because I love sage in stuffing, but you can use any sausage variety." Once the sausage is cooked, add the onions to the skillet and continue to cook for 2 more minutes.
Combine the cornbread, celery, and apple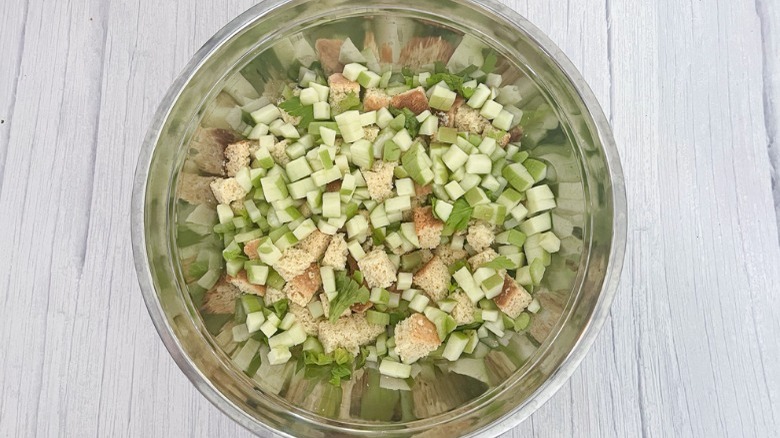 Erin Johnson/Mashed
In a large bowl, add the cubed cornbread, and diced celery and apple. Using a spoon, stir this mixture to combine. Storebought cornbread makes this recipe extra easy. Johnson comments, "You can absolutely use the pre-made cornbread from the bakery, use your favorite cornbread recipe, or use your favorite box mix. They all work equally well."
Mix all of the ingredients together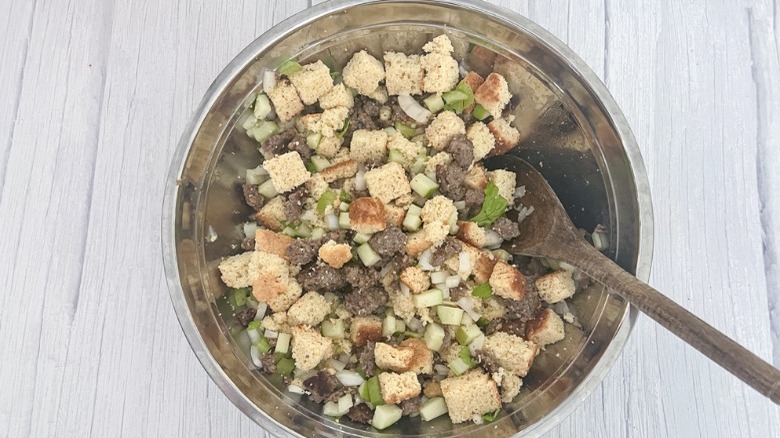 Erin Johnson/Mashed
Add the cooked sausage and onions to the bowl with the other ingredients. Give the mixture a good stir. Then, add the poultry seasoning, parsley, and chicken stock. Using a large spoon or silicone spatula, fold to combine all of these ingredients.
Pour the stuffing into a casserole dish and bake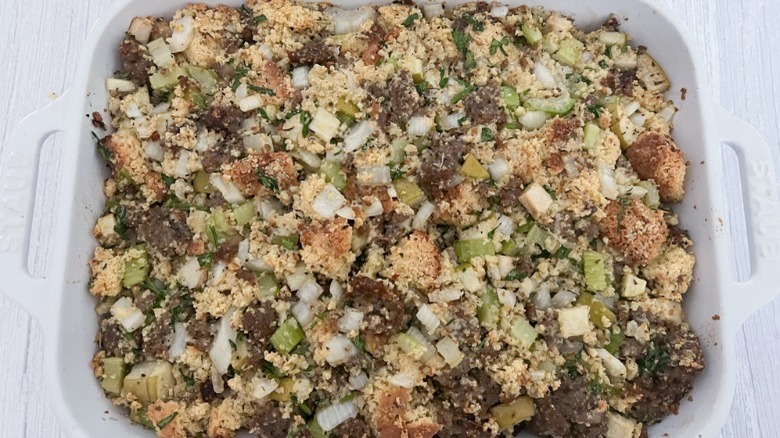 Erin Johnson/Mashed
Pour the stuffing into a large casserole dish. Cover it with a sheet of foil and place it in the preheated oven. Bake, covered, for 30 minutes. Then, remove the foil and return the dish to the oven for another 15 minutes to get a slightly crispy layer on top.
Easy Sausage Stuffing Recipe
You don't have to save this easy sausage stuffing recipe for Thanksgiving — it's a delicious side dish or a meal in its own right any time of year.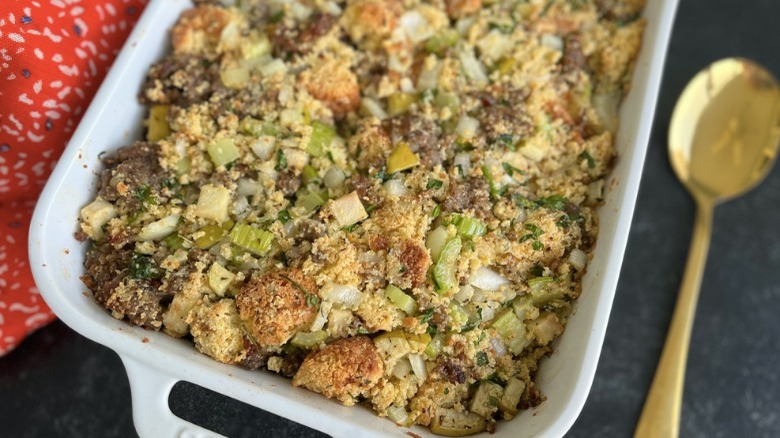 Ingredients
1 pound sage sausage
1 onion, diced
4 cups cornbread, cubed
3 stalks celery, diced
1 Granny Smith apple, diced
1 tablespoon poultry seasoning
⅓ cup chopped fresh parsley
2 cups chicken broth
Directions
Preheat oven to 375 F.
In a medium skillet, brown the sausage, then add the onions and allow them to cook for 2 minutes.
In a large bowl, combine the cornbread cubes, celery, and apple. Mix to combine.
Add the sausage and onions to the cornbread mixture. Stir well.
Season the stuffing mixture with the poultry seasoning and parsley, then pour in the chicken stock. Fold to combine all the ingredients together.
Pour the stuffing mixture into a greased, 2-quart casserole pan and cover it with foil.
Bake at 375 F for 45 minutes, removing the foil for the last 15 minutes.
Nutrition
| | |
| --- | --- |
| Calories per Serving | 448 |
| Total Fat | 21.3 g |
| Saturated Fat | 5.9 g |
| Trans Fat | 0.1 g |
| Cholesterol | 77.5 mg |
| | |
| --- | --- |
| Total Carbohydrates | 47.2 g |
| Dietary Fiber | 1.3 g |
| Total Sugars | 4.5 g |
| Sodium | 1,112.0 mg |
| Protein | 16.8 g |