Classic Mojito Cocktail Recipe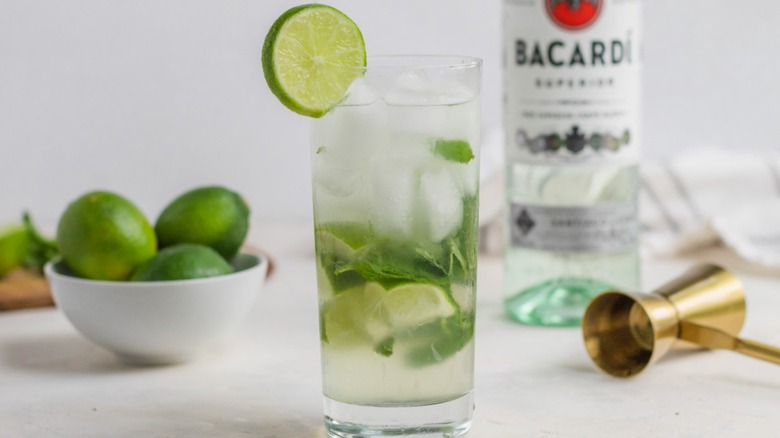 Jaime Shelbert/Mashed
The mojito is a drink that comes from Cuba and, like many drinks from that part of the world, is made with rum. Mojitos may have been around for several centuries, but they got super-trendy in the early '00s when James Bond was seen swigging them in "Die Another Day." Several decades later, they're still pretty popular, particularly in Arkansas, Virginia, and Washington, where it's the most-searched drink for those states.
This particular recipe is for the classic version of the mojito, one that recipe developer Jaime Shelbert describes as a "perfect, refreshing summer drink that combines citrus, herb, and sweet notes with a bit of bubble." Shelbert does say you can "jazz It up," if you wish, by adding fruits such as berries, melon chunks, mango, pineapple, or coconut. She also says that "some prefer to change up the liquor" and suggests vodka as an alternative, although you could also try gin, tequila, or even sparkling wine. Flavored rums or vodkas can also add an interesting twist as long as the flavor plays nicely with lime and mint. You can also toss the drink in the blender with a cup or two of crushed ice to make a frozen mojito.
Gather the ingredients for a classic mojito cocktail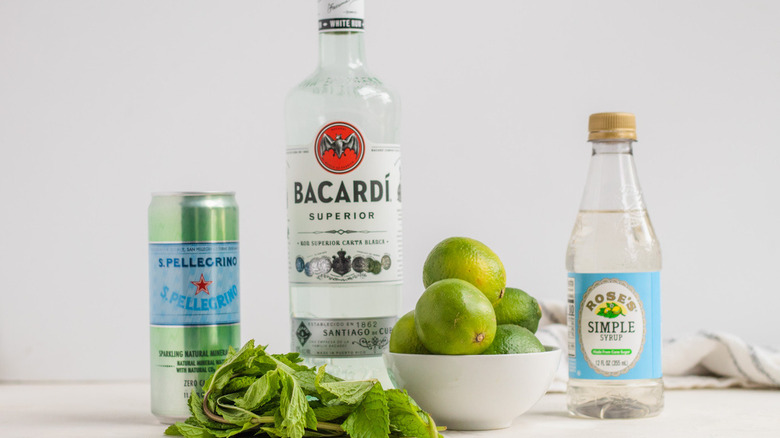 Jaime Shelbert/Mashed
To make a classic mojito, you'll need a lime, some mint leaves, and white or silver rum (the clear kind). You will also need ice cubes plus some club soda, seltzer, or sparkling water. (There may be minute differences between the three, but can you really detect them? We can't, either.)
Oh, and we almost forgot, there's one more important ingredient: simple syrup. Shelbert says you can buy the premade kind, but you can easily make your own by simmering one part sugar in one part water until it dissolves. You can also skip the simmering part and just mix up a 1:1 solution of sugar water, since the sugar will dissolve without heat if you give it about 10 minutes and a good shake. 
If you're into infusing things, Shelbert adds that "A lime or mint simple syrup could even be made for this recipe to make the flavors more pronounced."
Prepare your limes and mint leaves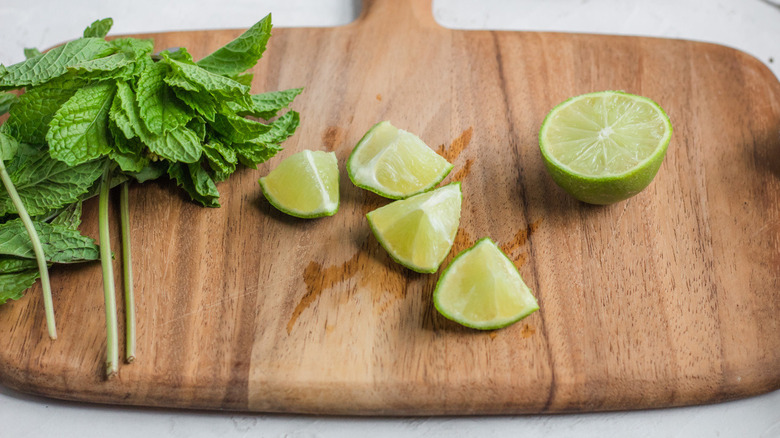 Jaime Shelbert/Mashed
Pluck the mint leaves from the stems. You don't need to chop them, though, as they can stay whole. You could also leave a sprig of mint unplucked to use as a garnish, if you like.
Cut the lime in half, then squeeze the juice out of one of the halves. Cut the other half into quarters.
Muddle the mint, lime, and syrup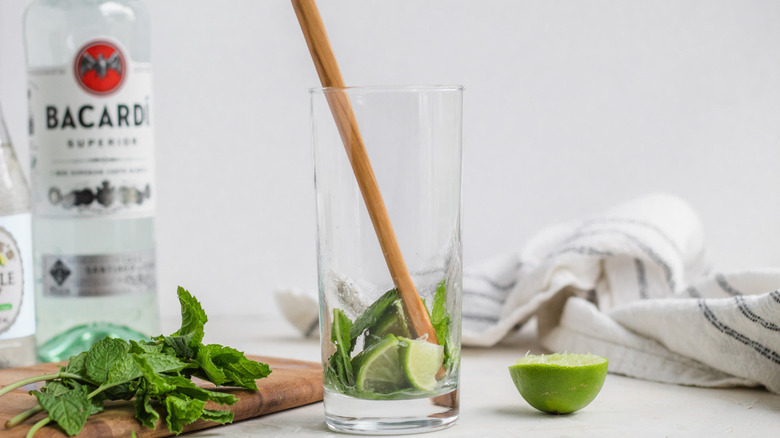 Jaime Shelbert/Mashed
Pour the lime juice into a highball glass, then drop the lime quarters and the mint leaves into the glass. Use a spoon or muddler to muddle the mint with the lime, then add the syrup and muddle a bit more. All this muddling, Shelbert says, will "release the oils from the mint."
Finish making the mojito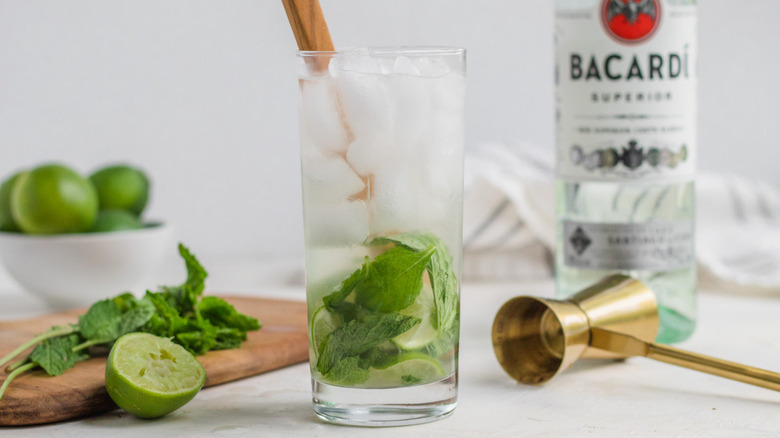 Jaime Shelbert/Mashed
Fill the glass with ice cubes or crushed or cracked ice, then add club soda up to the top. Stir the drink. You're about done now, but if you want to fancy your mojito up a bit before drinking it, you can garnish it with an extra lime slice or a spare mint sprig.
Classic Mojito Cocktail Recipe
There's something refreshing about the mint-and-lime flavors of a classic mojito cocktail. Plus, you can enjoy this cocktail in just 10 minutes time.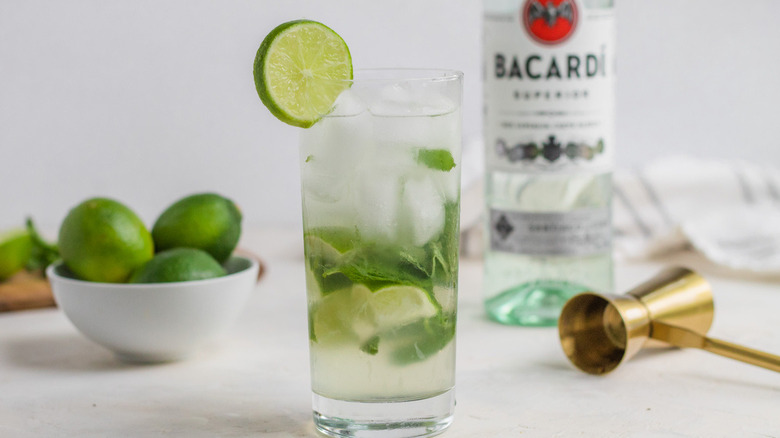 Ingredients
1 lime
10-12 mint leaves
2 tablespoons simple syrup
2 ounces white rum
4 ounces club soda/seltzer/sparkling water
1 cup ice
Optional Ingredients
lime slice, for garnish
extra mint, for garnish
Directions
Slice the lime in half and squeeze out the juice from one half.
Cut the other lime half into quarters.
Pour the lime juice into a highball glass.
Add the mint leaves and the lime quarters to the glass and muddle them with a spoon or muddler.
Pour the simple syrup into the glass and muddle some more.
Fill the glass with ice.
Pour the rum over the ice.
Fill the glass with the club soda and stir the drink.
Garnish the mojito with a lime slice or mint sprig, if desired.
Nutrition
| | |
| --- | --- |
| Calories per Serving | 258 |
| Total Fat | 0.1 g |
| Saturated Fat | 0.0 g |
| Trans Fat | 0.0 g |
| Cholesterol | 0.0 mg |
| | |
| --- | --- |
| Total Carbohydrates | 36.1 g |
| Dietary Fiber | 2.0 g |
| Total Sugars | 30.0 g |
| Sodium | 49.5 mg |
| Protein | 0.5 g |