TikTok Is Floored Over Michael Symon's Simple Garlic Technique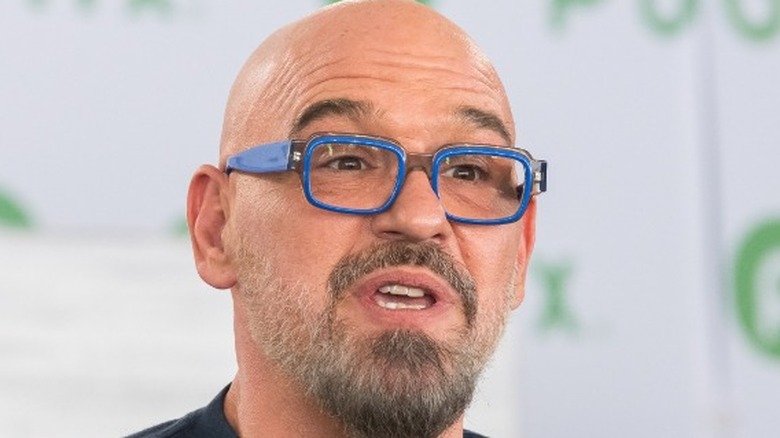 Jason Koerner/Getty Images
Unless you own a garlic press and don't mind the tedious task of cleaning it after every use, you're likely familiar with the process of mincing your own garlic. This step is as important for building flavor in your cooking as it is painstaking. Chef Michael Symon showed fans on TikTok his game-changing hack for hastily chopping garlic cloves, and comments indicate that it's the key to maximizing time and efficiency in the kitchen.
The Food Network host and celebrity chef said that the jarred minced garlic that you buy at the grocery store simply does not taste as good as the fresh stuff. That's because machines are used to mince the garlic into small, regular pieces. When the garlic gets processed, it takes on a bitter flavor. The jarred stuff also contains preservatives like citric acid and phosphoric acid. And, it's pasteurized, a process that requires the garlic to be heated, which alters its flavor. 
Chopping fresh garlic cloves requires a few extra steps, like peeling the cloves, and using some well-honed knife skills. Many home chefs struggle to produce finely minced garlic. But Symon's tutorial demonstrates how to get the job done quickly with just a knife and a little strength.
Symon gets physical with his garlic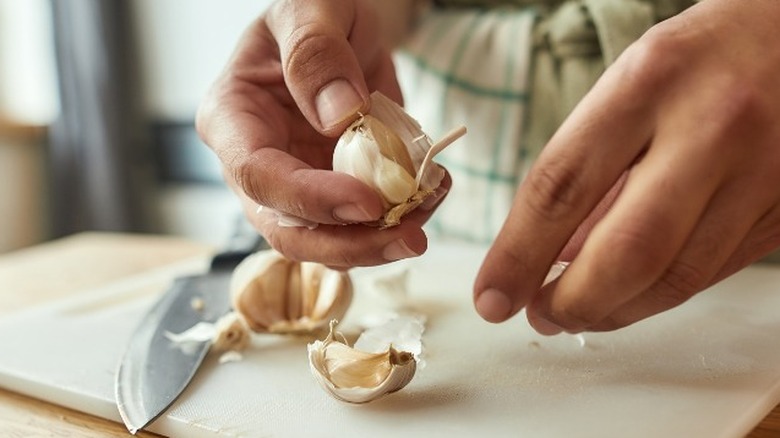 BAZA Production/Shutterstock
Chef Michael Symon showed the Food Network TikTok following that the key to mincing garlic at home can be accomplished in a few easy steps.
First, Symon pressed firmly on the clove of garlic with his knife to break and peel off the skin. Once he removed the outer garlic skin, he chopped the clove in half. Then, he "got physical," forcefully smashing the clove using the flat side of his knife. This divided the garlic into small, flattened pieces, which he then gave a rough chop to finish. According to the video's comment section, this tactic has followers throwing out their store-bought minced garlic. "Getting physical is the fun part," one commenter said. Another wrote, "We should learn this in high school."
TikTok was vastly on the same page as Symon when it comes to avoiding store-bought garlic as well. "I would only buy a jar of minced Garlic if I have issues with my wrist or hands to avoid pain due to Arthritis or Carpal Tunnel," wrote one commenter. Another piped in, "I hate that jar garlic it is so bitter." To wrap up the video, Symon explained that if this way of chopping garlic doesn't appeal to you, a Microplane will do the trick as well. According to Chatelaine, a Microplane is the easiest and fastest way to get the job done.