Kitchen Crash Season 2: Release Date, Judges And More - What We Know So Far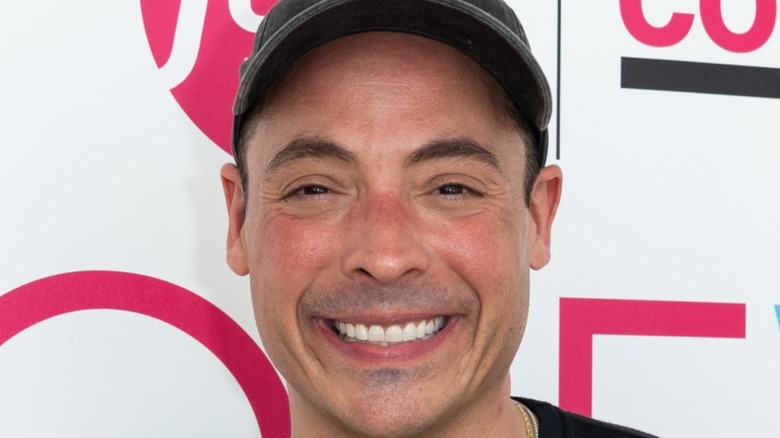 Jason Koerner/Getty Images
"Kitchen Crash," hosted by the "Sandwich King" Jeff Mauro, has officially been renewed for a second season on the Food Network (via Twitter). Fans clearly enjoyed watching chefs invade people's homes to source ingredients for a neighborhood cook-off, but this isn't the first show to have a plot like this. Way back in 1999, Gordon Elliot hosted a show on the Food Network called "Doorknock Dinners," (via IMDb). The concept of the show was that Elliot would show up to people's houses accompanied by a professional chef, and the chef would cook for the family only using ingredients from their pantry.
Nowadays, it's startling when anyone besides an Amazon delivery driver comes to your front door without texting you, but back in 1999 the show made sense. "Kitchen Crash" brings the same element of surprise to the table, but in a more realistic and updated fashion for life in 2022.
Season 2 premieres July 12 on Food Network
It's no secret that chaos and drama make for great TV, and "Kitchen Crash" has plenty of both. If you didn't tune in for Season 1, in every episode, three chefs are tasked with crashing a block party and invading the residents' pantries for ingredients to use in a cooking competition (per a press release shared with Mashed). The chefs have to be super innovative while cooking in their mobile kitchens because they only have 10 minutes to shop, can only use as many ingredients as they can fit in one basket, and cannot gather more ingredients after they leave the house (via Food Network).
Redditors were skeptical about whether or not the show was staged, because as mentioned earlier, going up to someone's door in 2022 is weird and unexpected. Jeff Mauro responded to the comments, clarifying that the neighborhoods were informed about a show filming, but they didn't know for what purpose. The Food Network star added that none of the ingredients are planted, so it's an accurate representation of real pantries and fridges.
A few familiar faces serve as guest judges in every episode
With a cash prize of $10,000 on the line for the winning chef to split with the family who supplied the ingredients, host Jeff Mauro needs a few reinforcements to judge the final dishes (via a Food Network press release shared with Mashed). Fans can expect to see fellow celebrity chefs like Cliff Crooks of "Chef Boot Camp," "Chopped" judge Marc Murphy, "Top Chef" contestant Justin Sutherland, and restaurateur Julian Rodarte. Not only will these experts provide critiques of the chefs along the way, but they give helpful tidbits about how to adapt with limited ingredients.
Although it's not a relatable situation to be raiding random people's houses for ingredients, we can all think of a time when we were in the middle of making a recipe and were missing something, with no time to run to the grocery store. In a behind-the-scenes video from the show, Mauro gives the helpful tip of how to substitute fresh herbs with dried herbs, which contestants will surely encounter a lot considering the typically limited selection of ingredients. Come for the chaos and stay for the cooking tips when Season 2 premieres on July 12 at 10 p.m. ET/PT.