Don't Make This Mahi Mahi Seasoning Mistake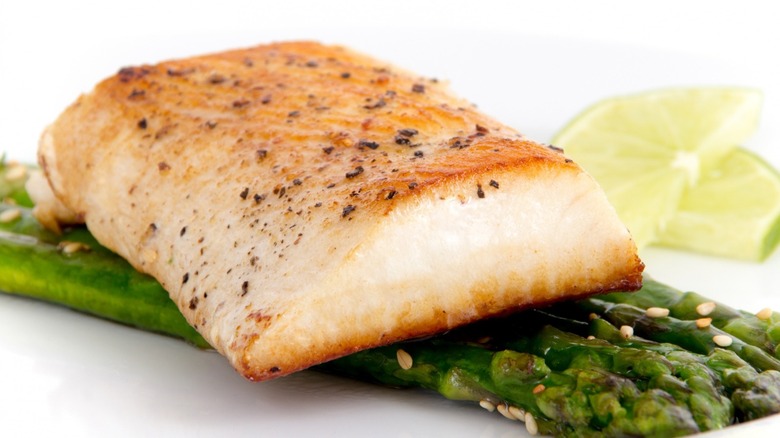 julie deshaies/Shutterstock
Mahi Mahi is a universal white fish you can use in any recipe, especially when you are looking for a light and refreshing protein for those summer dinners. Although mistakenly termed "dolphinfish," Mahi Mahi is not a dolphin but instead a warm water fish found in the Mediterranean, South Pacific, and the Caribbean. It's best known for its firm structure and its sweet yet mild flavor. It's closely related to Halibut, but cheaper than its white fish companion (via Spruce Eats).
The fish is also known for its versatility when it comes to cooking it up. Since it's firm, it's easy to have grilled Mahi Mahi, but you can also pan-fry or bake it in the oven. You can add any type of seasoning you want to the fish. You could make it spicy and prepare it as fish tacos, or you could throw some Italian herbs on there and have it with some greens and potatoes. As long as you follow this one seasoning rule, you can create a beautiful dish with this delightful fish.
Don't salt prematurely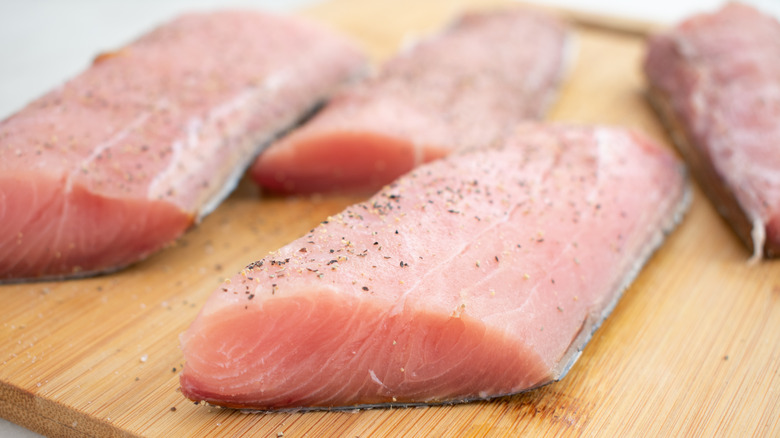 Candice Bell/Shutterstock
The key to a moist and delicious Mahi Mahi filet is to not salt it until you are absolutely ready to cook it. According to The Food Network, the salt can dry the fish out while it sits there waiting for you to prep everything else before getting seared, leaving you with a chewy and dense filet — which is not the end goal. Nothing is worse than the main part of your meal being dry and difficult to eat. This saves you the headache of having to worry about the fish losing its appetizing texture that is unique to the Mahi Mahi.
The sustainable seafood option can be tricky when first learning how to make it. Knowing how to prep it, cook it, and serve it will be beneficial in the long run. By removing the inedible skin and bones, and learning how to give it a crisp outside layer, you can become a Mahi Mahi pro in no time.
Ideas for cooking Mahi Mahi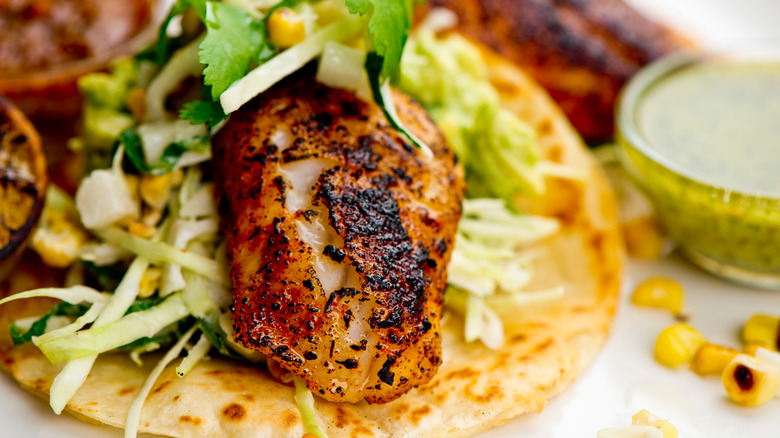 Marie Sonmez Photography/Shutterstock
Now that you have this important seasoning tip, you can take your Mahi Mahi in any direction you want. Since the fish is so versatile, you can find numerous recipes to step up your fish dinners. You can create a simple baked Mahi Mahi recipe with refreshing lemon and garlic butter, perfect for a dinner party with close friends. You could also create a great fish taco lunch with Mahi Mahi because it's one of the best kinds of fish for fish tacos since it's such a mild and durable fish.
You could create something more fun and a little outside the box like Mahi Mahi burgers or a soup. This is also a great fish for people who don't like fish to try. The ways in which this fish can be used are countless and we are just getting started with how to cook it. As long as you remember the season hack for your Mahi Mahi, you will become a "dolphinfish" expert. Serving it up at your next event will be easy knowing you have moist and flavorful Mahi Mahi to help you out.