This Is The Best Kind Of Fish To Use In Fish Tacos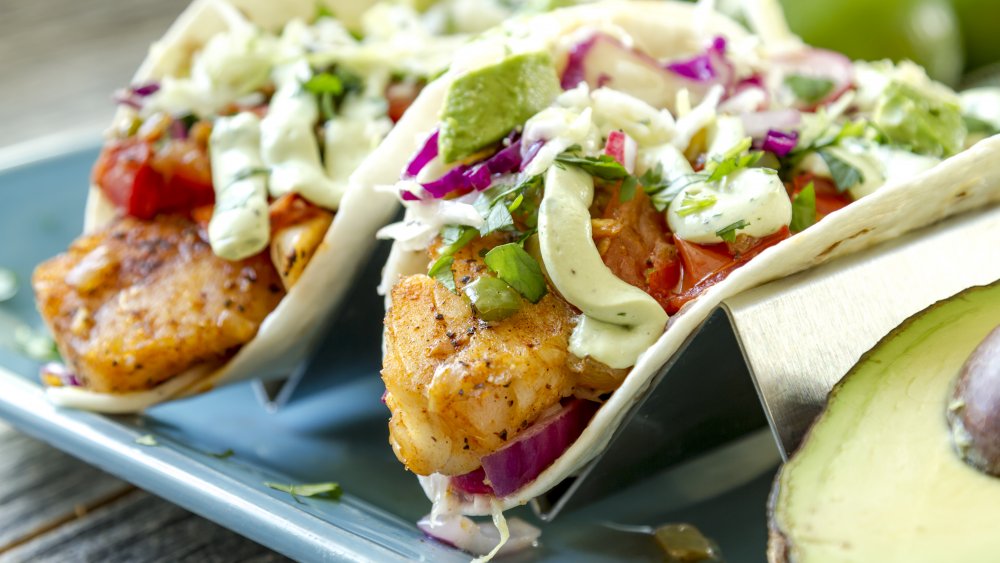 Shutterstock
Ever felt like you need a nap after a visit to the taco truck? Fish tacos aren't nearly as heavy as their meaty cousins, and are a great option if you want to be productive and active after a Mexican feast. While fillings like carne asada, carnitas, and al pastor tend to get all of the recognition, fish tacos certainly deserve their day in the sun. Given their light (and at times even delicate) texture, and a mild flavor which allows for a wide variety of toppings, fish tacos are both versatile and easy to make once you get the hang of it.
They're typically associated with the Baja Peninsula and can be found all up and down the coast, though where and when exactly they originated can be a topic of debate. It's generally agreed upon that at some point within the last 40 or 50 years, fish tacos started popping up either in San Felipe or Ensenada, both seaside towns on the peninsula (via Sunset).
A wide variety of fish can be used in tacos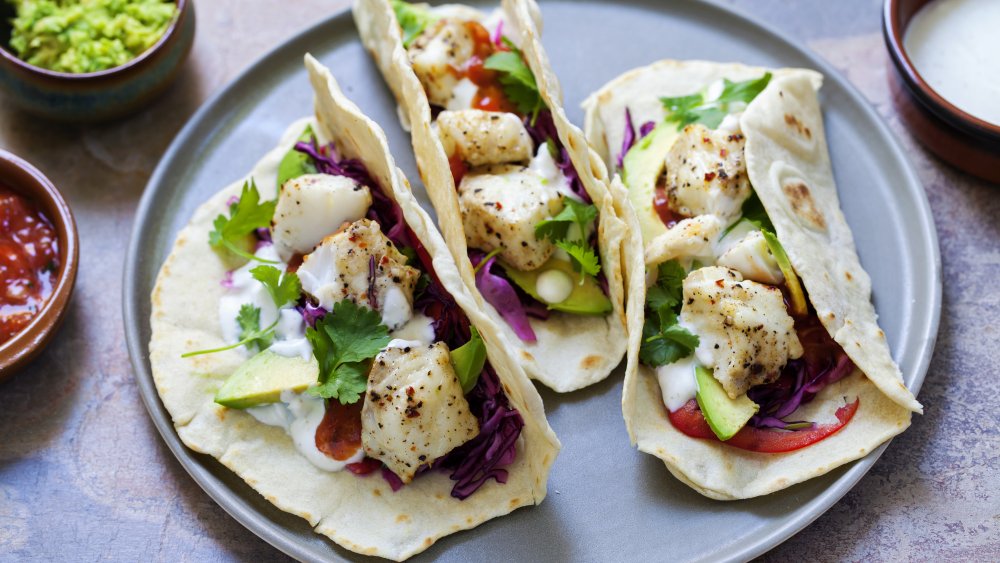 Shutterstock
The good news is that there is no single correct answer when it comes to what the best type of fish for tacos is. Rick Bayless, who owns a bevy of Mexican restaurants and also has his fair share of James Beard and Michelin star awards, should put your mind to ease when he says that "practically any" boneless and skinless fish fillet will work. He does, however, prefer "larger-flake, lighter-flavor fish best" (via The Guardian).
James Beard-award winning chef J Kenji López-Alt uses hake, which is in the same family as cod and haddock, and can be found all over the world, though some think it's a bit soft. British celebrity chef Rick Stein uses cod, perhaps in a nod to his British roots given how popular the fish is there, albeit typically in the form of fish and chips rather than tacos. Cod, with its firmer texture, will hold up a bit better than a softer fish, particularly when fried. 
Fish tacos don't even need to be filled with white fish. Duchess of Sussex Meghan Markle happens to prefers salmon as her fish of choice (via Today). Perhaps the best advice is to just see what is fresh, local, and cheap at your neighborhood fishmonger, and make your tacos with that.