The Unexpected Ingredient That Will Majorly Upgrade Your Bloody Mary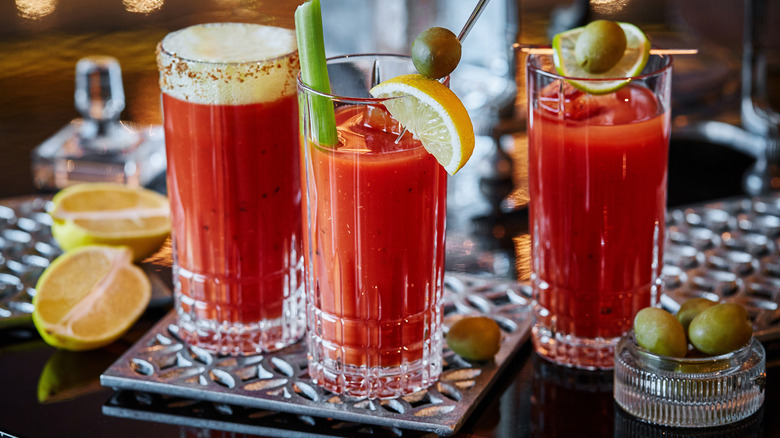 Sasha_P/Shutterstock
The Bloody Mary is that go-to cocktail every brunch party serves up. Sure, mimosas give this drink a run for its money, but the Bloody Mary has stood the test of time. This bright red drink, that recently turned 100, was first mixed up by a bartender from Harry's Bar in Paris named Fernand Petiot, according to the Associated Press. How it got its name is a bit of a mystery, but in 1921 the recipe for this drink later appeared in "Harry's ABC of Cocktails."
Per Masterclass, at its simplest, this adult beverage uses tomato juice and vodka. Most recipes add a little Worcestershire sauce, some even like to up the flavor with a little hot sauce, but from there, you will find a lot of variation. Carson Daly adds pickle juice to his and beef jerky for a garnish (via Today.com). Bobby Flay likes to use lemon, lime, horseradish, and jalapeno to give his version a citrusy flavor with a little heat (via Food Network). And Ina Garten's recipe calls for grating a little onion, along with a sprinkle of celery salt (via Food Network). But if you really want to create a Bloody Mary that will have your friends talking for days, you may want to try a rather unexpected ingredient that will majorly upgrade your drink.
Old Bay seasoning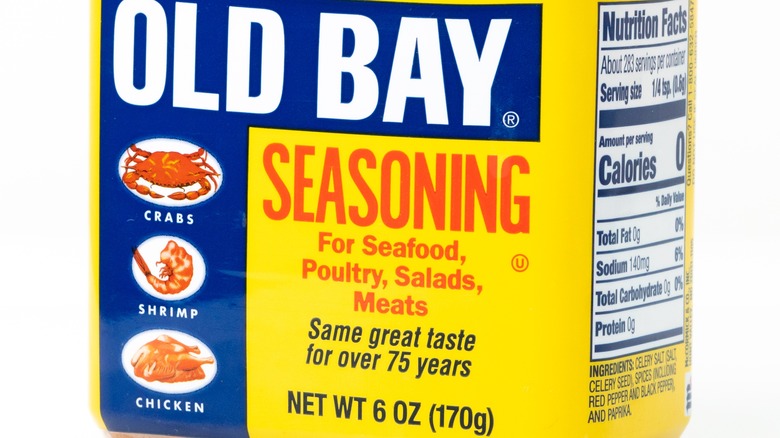 010110010101101/Shutterstock
According to McCormick, Old Bay Seasoning — you know, the stuff you use when you are cooking up blue crabs, shrimp, or some other favored seafood — is the perfect addition to your Bloody Mary. The spice company explains that the base ingredient that gives Old Bay Seasoning its memorable personality is celery salt. It also contains paprika and red and black pepper. The StackExchange forum notes that's because celery's pungent smell and flavor work well against the tomato juice. It's really the perfect combination.
To use this savory ingredient in your next Bloody Mary, Old Bay suggests using this seasoning to "coat the rims" of whatever glass you serve this cocktail in. But according to Spiced, you might want to add a teaspoon to your Bloody Mary cocktail as well, to get the full effect of Old Bay's flavor. And whatever you do, don't neglect spending a little bit of thought on the appetizing food you garnish this drink with. Spiced recommends bacon or olives on a cocktail skewer, or even some delicious shrimp, but a stalk of celery is also a natural pick. Bottoms up!