Popular Trail Mix Brands, Ranked Worst To Best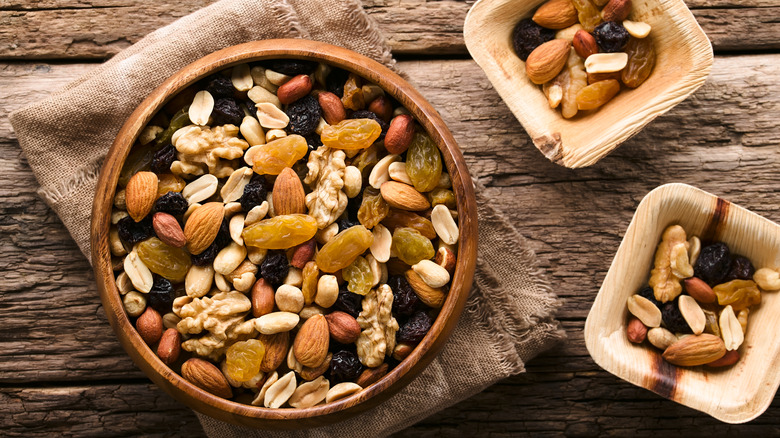 Ildi Papp/Shutterstock
We may receive a commission on purchases made from links.
When you're going on a hike, packing a lunch, or even just deciding what to bring to work for your daily pick-me-up, trail mix is a wholesome snack option. In its simplest form, it is just a serving of seeds, nuts, and dried fruits. No two trail mixes are exactly alike, however, and you might find a wide range of ingredients, including chocolate candy, assorted dried fruits, and yogurt-covered raisins. Overall, trail mix has loads of delicious components within each blend, making it the perfect way to keep yourself energized.
While it's relatively simple to put together your own trail mix at home, if you find yourself in a rush or prefer to buy it premade, there are numerous brands offering a variety of mixes for purchase. However, not all trail mixes are created equal, and some brands produce much better tasting concoctions, while others might not make the cut for your next road trip. 
To simplify your decision process, we have selected a variety of popular trail mix brands and ranked them from worst to best. The next time you're looking for a good medley to add to your weekly snacks, you'll know what to pick and what should be left behind.
13. WildRoots 100% Natural Trail Mix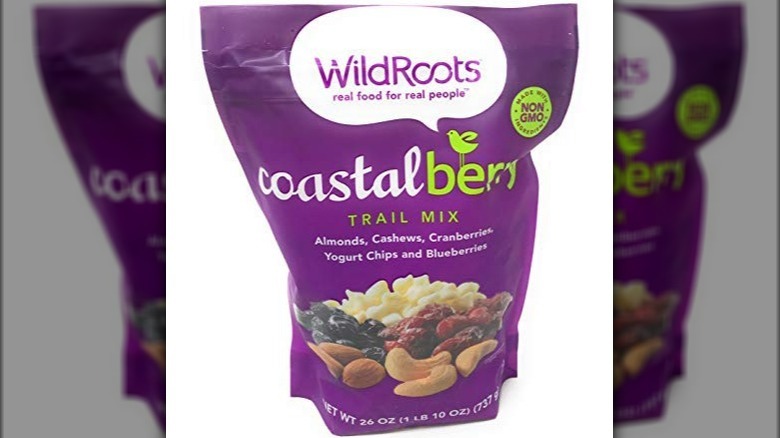 WildRoots
WildRoots 100% Natural Trail Mix comes in a coastal berry flavor packaged in a large bag for extra snacking. This blend features two different kinds of roasted nuts: cashews and almonds. As for dried fruit, this trail mix includes both cranberries and blueberries, and you'll also find plenty of yogurt chips scattered throughout. While there's nothing inherently wrong with some sweet yogurt bits, nuts, and dried fruits, this trail mix brings up several snacking red flags we're not too keen about.
One advantage is that this trail mix only contains five ingredients, but when one of them is yogurt chips — and a lot of them at that — then the result is many large clumps of yogurt with some nuts and dried fruit mixed throughout. Many reviewers on Amazon bring up the uneven ratio, and with regards to flavor, numerous consumers find this mix to be not so fresh-tasting, powdery, and somewhat stale. If you prefer a trail mix with more ingredients that are less clumped together, then you might want to look for another brand.
12. Second Nature Snacks Wholesome Medley Trail Mix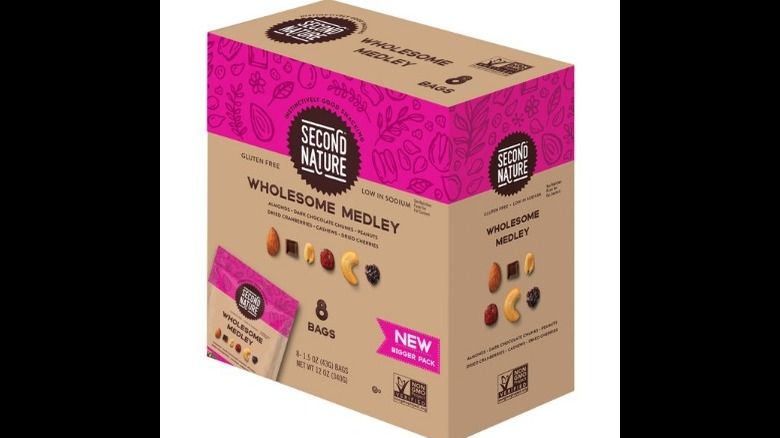 Second Nature
We'd argue that there's no such thing as too much chocolate, but when we're looking for a good trail mix, we'd rather have some variety and not just a mound of chocolate. Unfortunately for this product, we found it to be the latter. Second Nature Wholesome Medley is a nut and trail mix company that offers a variety of trail mix flavors, including Wholesome Medley, Dark Chocolate Cherry, and California Medley. Each pack contains an assortment of dried fruits, nuts, and of course, chocolate. some of the mixes are only made up of a few ingredients, while others like the Wholesome Medley variant contain a wider range of nuts and dried fruits in each pack.
Regardless of what flavor you get, you likely won't be met with a well-balanced trail mix. According to Amazon reviews, many of them contain way more chocolate bits than necessary, making them overly sweet and more akin to a dessert treat than a healthy snack. This mix may also face the issue of chocolate clumps, resulting in more of a chocolate bar-like snack than an actual trail mix. If you like sweet snacks, then this mix could make for a tasty treat after a meal, but if you're looking for a healthy and balanced trail mix, Second Nature's product might not be for you.
11. Favorite Day Trail Mix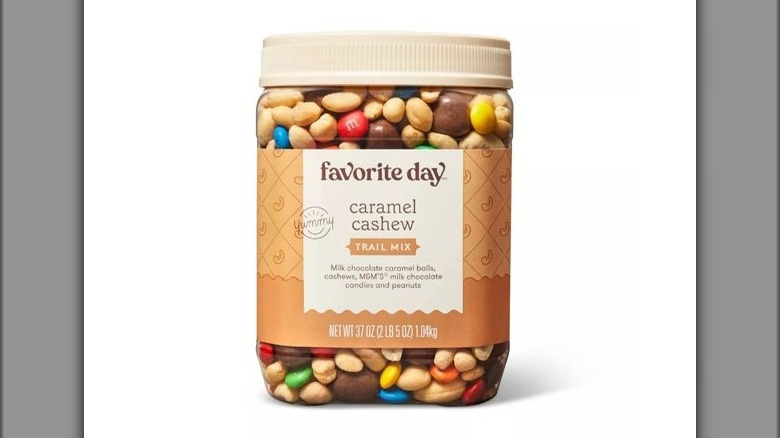 Favorite Day
One of the biggest appeals of trail mix is that it's a relatively healthy snack given all of the nuts, dried fruits, and healthy seeds you can get from a serving. In small amounts, even chocolate is fair game. However, when there's too much of it, a bag of trail mix can turn from a healthy filling snack to a dessert-like item that you might not feel as good about eating. Furthermore, it can melt and make a huge chocolatey mess in a bag, which means if you're a hiker somewhere hot, it might not be such a great idea.
Favorite Day's Monster Trail Mix includes raisins, but other than that, there's nothing you could really consider as fruit. Instead, it is loaded with chocolate candy, peanut butter chips, and chocolate chips. This makes for an overly sweet trail mix that we could only really see working as dessert and for people with a big sweet tooth. The amount of sugar in a single serving of this trail mix is comparable to a cookie. If you like sweet stuff then this is a fun snack to have every once in a while, but it doesn't really work as a trail mix for us.
10. Kirkland Signature Trail Mix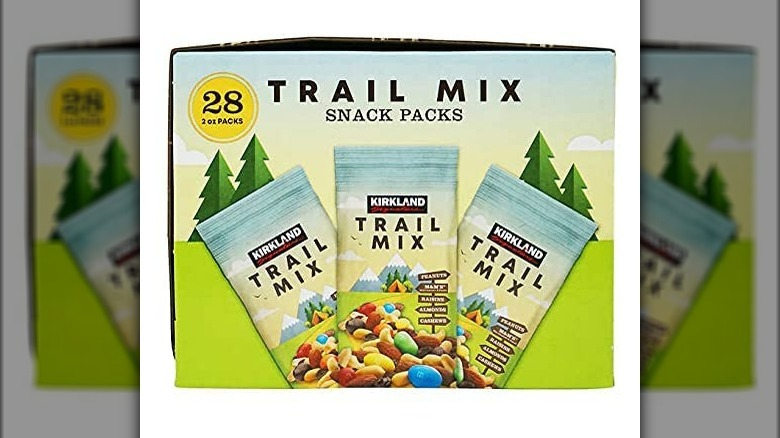 Kirkland
The next trail mix on this list is made by Kirkland Signature. You may do a double-take upon seeing the name of the brand, which is made by Costco and carries a wide range of different products. Knowing that they are a company with a wide range of items, you have to wonder if a lot of effort is put into their foods and snacks. In most cases, the foods taste alright, but in the case of this trail mix, it definitely isn't the best.
Although Kirkland Signature Trail Mix is a Costco brand, you can find this trail mix in many different supermarkets, though you may not want to seek it out. This trail mix tastes pretty average overall and is quite forgettable. A single serving contains raisins, M&M's, peanuts, almonds, and cashews, so there are more nuts than dried fruit or other ingredients, but there's nothing really special to say about any of it. The M&M's give the mix a sweet splash of color, but that's probably the best part of this snack. Overall, this is not our first choice of trail mix in any regard, but it wasn't awful — though that's not saying much.
9. Wildroots Omega Powerhouse Trail Mix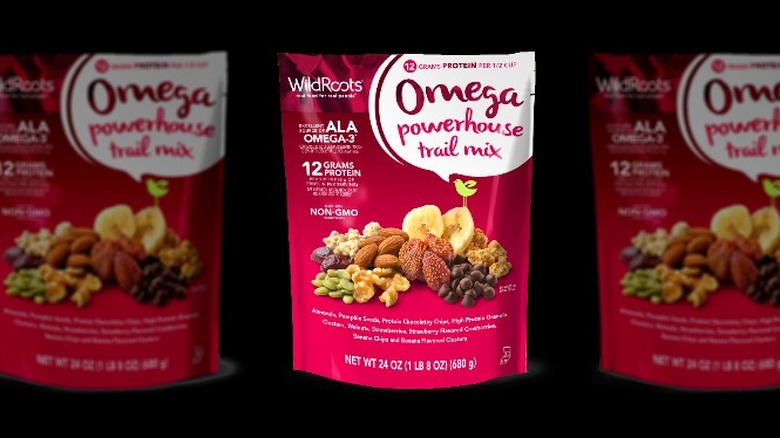 WildRoots
This trail mix brands itself as being an excellent source of ALA omega-3 fats. According to WebMD, alpha-linolenic acid is an essential omega-3 fatty acid that may lower the risk of heart disease as well as blood clotting. These all seem like wonderful health benefits, and getting them from something as delicious as a crunchy trail mix is definitely a plus. WildRoots Omega Powerhouse Trail Mix is also a good source of protein thanks to the rich blend of almonds, pumpkin seeds, chocolate chips, granola, walnuts, strawberries, cranberries, and banana clusters.
Unlike the previous WildRoots trail mix we reviewed, this flavor has a lot more going on thanks to the wider range of ingredients. This helps prevent the chocolate from melting and turning the entire contents into a large block. It's not the worst trail mix, and the fact that you get more health benefits than a regular snack pack definitely puts this product higher than its counterpart. 
However, many Walmart consumers report that there are too many seeds in comparison to the other ingredients in the mix and that the nuts often don't taste fresh. This is something that we'd likely purchase for the ALA omega-3 content, and not necessarily because it tastes the best.
8. Chex Trail Mix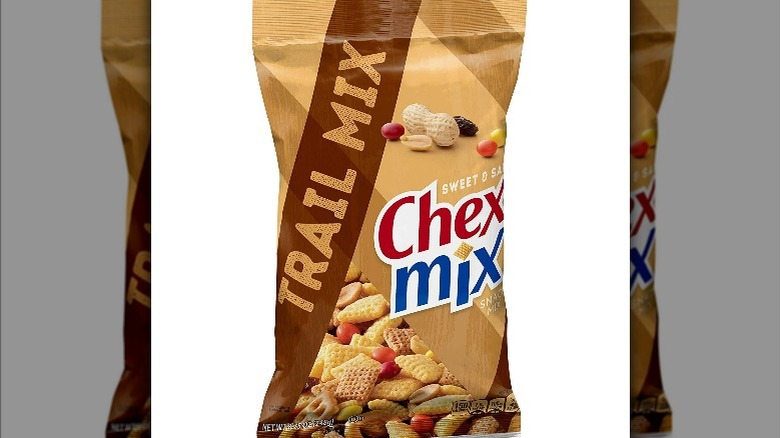 Chex Trail Mix
If you're an avid snacker, then it's near impossible that you haven't heard of Chex Mix. As one of the most well-known snack mixes around, you'll commonly find it at parties, hikes, school lunches, and picnics. You can easily make your own batch of Chex Mix at home, and customize it so that it has everything you'd want in the mix. Chex Mix is certainly comparable to trail mix, though the latter tends to have more nuts and dried fruits. If you love both Chex and trail mix, however, you may be interested in this fun snack.
Chex Mix Trail Mix is a snack containing peanuts, raisins, and chocolate candies, along with the classic Chex cereal that comes in every bag. The raisins and chocolate candies are quite sweet and balance out the salted peanuts. However, according to some Amazon reviews, the product is rather inconsistent and while some packs lack chocolate candies, others overdo it on peanuts or raisins. This trail mix is a bit of a gamble when it comes to snacking, making this mix a hit or miss.
7. Great Value Trail Mix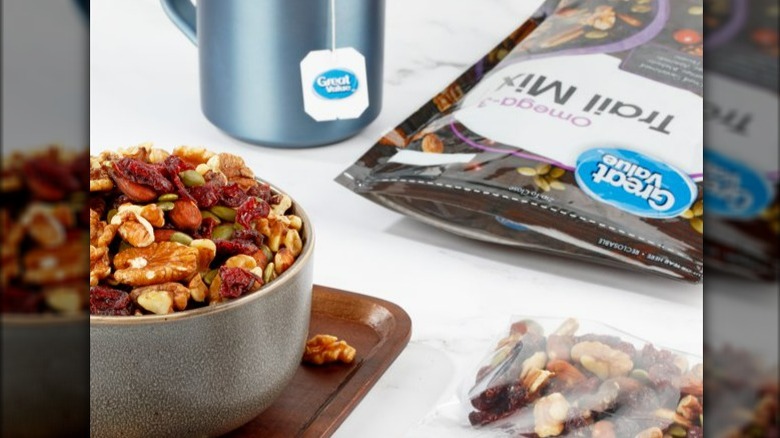 Walmart
If you're running low on anything from baking materials to easy snacks, you can probably find it at Walmart. While it might not carry the exact brand or item you want, there's a good chance that you can find something pretty close to what you're looking for. The large store chain also features a Walmart exclusive brand at each location named "Great Value," reflecting a selection of lower-priced products. This includes trail mix, which as you can imagine comes with its own take.
The Great Value Omega-3 Trail Mix is relatively simple and happens to be high in ALA omega-3 fatty acids. It contains dried cranberries, walnuts, almonds, pepitas, and pecans, so it's heavier on seeds and nuts compared with other ingredients. For the price, it's certainly a decent deal. 
However, we felt as though the trail mix could use a bit more dried fruit to break up the monotony of the large amounts of nuts you will find in each pack. When considering flavor and taste, this trail mix feels a little lacking. However, if you like nuts, then this is a good deal and a much more cost-friendly trail mix than some of the other online offerings.
6. 365 by Whole Foods Market, Double Feature Trail Mix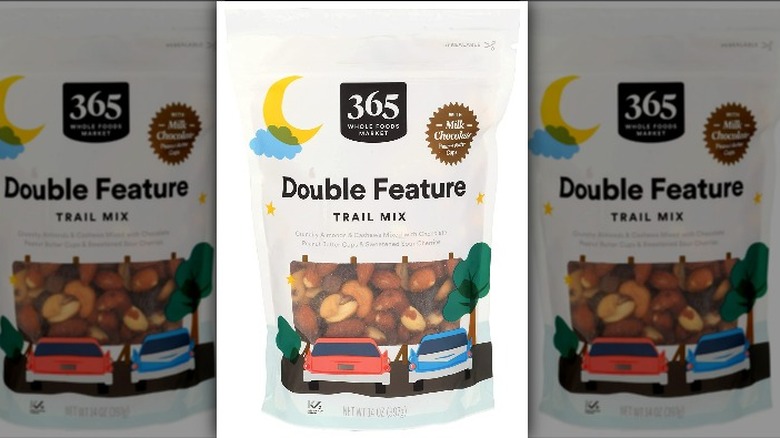 Whole Foods
There's a lot to be said about Whole Foods Market. It may not be the cheapest grocery store around, but it prides itself on a selection of healthy organic produce and goods. The clean-eating store may have started small, but as it has expanded, so have the various products for sale. Upon entering one of the locations, you're likely to encounter an entire section dedicated to nuts, granolas, and of course, trail mixes. You can find many different brands at each Whole Foods, however, the company also has its own line of products.
Whole Food's 365 Double Feature Trail Mix contains almonds and cashews, along with sweetened sour cherries and milk chocolate peanut butter cups. The inclusion of sour cherries is rather unique when comparing different trail mixes, and they add a pleasantly tart note. Meanwhile, the chocolate peanut butter cups provide the perfect sweet and salty combination, enhanced by the other nuts. 
Overall, it's a tasty trail mix, although the chocolate peanut butter cups are prone to melting easily, so this isn't a snack that would sit well on a hot day. Other than that, this is a solid mix we would recommend.
5. Orchard Valley Trail Mix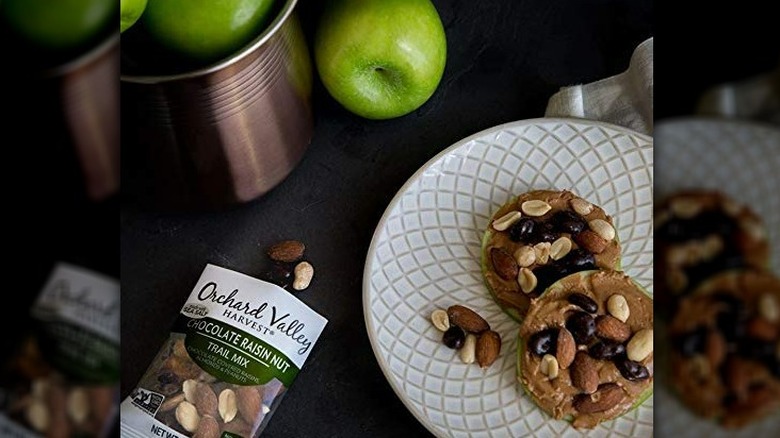 Orchard Valley
When it comes to cookies, a common debate is that raisins are inferior to chocolate chips. In regards to trail mix, however, the mixture of both chocolate and raisins can make for a sweet, filling snack — as long as you don't mind the extra sugar and that the two ingredients have a good ratio. It's a difficult balance to master, but if you're buying trail mix from the store, then you expect to get quality. Orchard Valley's Harvest Chocolate Raisin Nut Trail Mix succeeds with a combination of dark chocolate-covered raisins, almonds, and peanuts.
While we aren't particularly fond of large amounts of chocolate in our trail mix, the use of dark chocolate-covered raisins in Orchard Valley's mix was a nice change of pace from the chocolate chips and chocolate candies so commonly found in store-bought mixes. We do wish that there weren't as many chocolate-covered raisins in comparison to the peanuts, and we would have liked to have more almonds too. While we couldn't take this with us on a hot summer hike, overall we could see ourselves enjoying this as an occasional snack.
4. Planters Trail Mix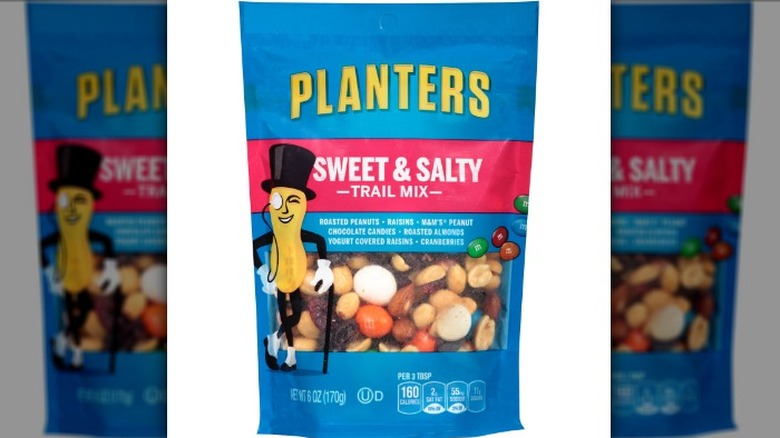 Planters
There are few brands with a mascot as iconic as Planters' Mr. Peanut. Along with peanuts, the company has many different nut products, from cashew blends to classic trail mixes. Most of its trail mixes include peanuts, though that isn't at all to their detriment as they feature lots of other ingredients to balance out the saltiness. Yogurt-covered raisins, cranberries, M&M's, and peanut-covered candies, are just a few of the possible contents.
A serving of the Planters Sweet and Salty Trail Mix mixes the sweet flavors of fruit and chocolate candy with roasted peanuts. You might want to note that although this mix brands itself as "sweet and salty," it's definitely on the sweeter side. So if you're looking for more of a balanced mix in terms of flavors, this isn't the worst, but it isn't ideal either. Furthermore, there's the issue of the yogurt possibly melting, but since it's thrown in with loads of other contents, it isn't as big of a deal. Ultimately, Planters makes a pretty great trail mix.
3. Happy Belly Tropical Trail Mix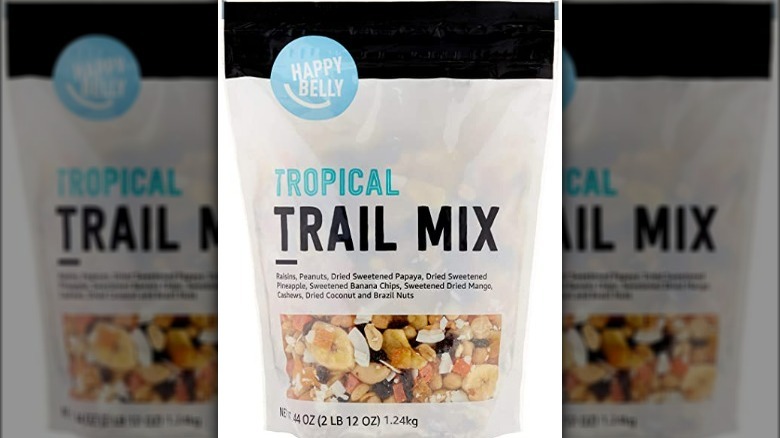 Amazon
If you need anything from clothes, books, and electronics to food, you can find it all on Amazon. You can buy some of the strangest foods on the website, as well as the simpler yet incredibly delicious snacks and drinks that you already love and enjoy. Amazon carries a trail mix under a brand name that is affiliated with the company. With an assortment of different trail mix flavors, Amazon's Happy Belly mixes are a snack not to be reckoned with.
There are several trail mixes under this Amazon brand, though we are focusing on none other than the Tropical Trail Mix. This snack features loads of ingredients such as dried tropical fruits (mango and pineapple), Brazil nuts, banana and coconut chips, and a few of the more standard nuts and seeds you would find in a classic trail mix. Not only is this snack super tropical, but all of the ingredients are well proportioned and provide a flavorful, fruity, and delicious trail mix that we could certainly see ourselves snacking on throughout the day.
2. Nature's Garden Organic Trail Mix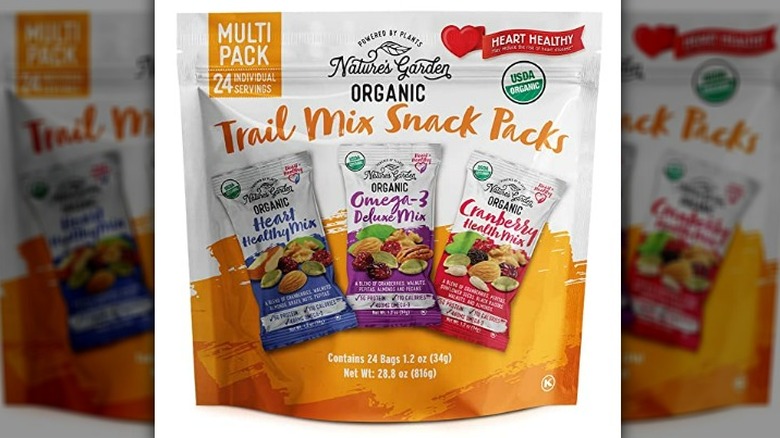 Nature's Garden
Trail mixes are known for having a variety of ingredients within each serving, and extra variety is always a plus. Nature's Garden targets the desire for assortment by selling boxes containing three different kinds of trail mix in individual packs. They are easy to bring along as a daily pick-me-up when hunger strikes. 
Each of the flavors within Nature's Garden trail mix contains sweet dried cranberries that complement numerous ingredients that lean more on the savory side. From almonds and pepitas to raisins and sunflower seeds, there's a little bit of almost everything in these trail mixes. There aren't any ingredients that would melt like chocolate or yogurt, so this mix is clear in that regard. Keep in mind that this does make for a slightly less sweet trail mix. Overall, we didn't mind the lack of anything super sweet, and eating this snack made us feel healthy, energized, and ready to tackle the day.
1. Oh! Nuts Trail Mix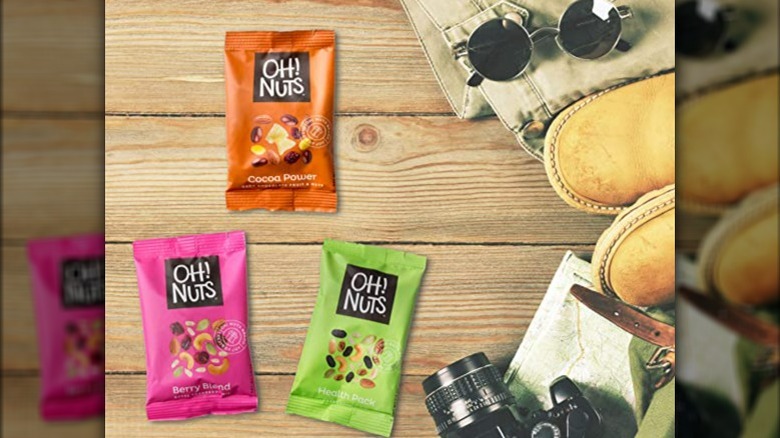 Oh! Nuts
At the top of our selection, we have Oh! Nuts Trail Mix. This company prides itself on its candies, chocolates, dried fruits, and nuts. The trail mixes feature a myriad of different flavors, and a mix snack pack with six options is sold on Amazon: Berry Blend, Body Boost, Cocoa Powder, Health Pack, Nutty Mingle, and Mega Three. No matter how you prefer your trail mix, be it super fruity, nutty, or even sweet, there's something in one of these multi-mix packs for every trail mix lover out there.
Because of how many different trail mixes come in each variety pack, there's a lot going on here. If you like fruit, the Berry Blend flavor has a helpful amount of sweet royal cranberries in each pack. On the other hand, if you like something nuttier, the unsalted Nutty Mingle is a wonderful source of protein. We would definitely use these trail mixes as an easy snack on the go or as a topping for cereal or oatmeal. Out of all the popular trail mixes you can find in stores and online, Oh! Nuts' trail mix, in our opinion, is one of the best nutty snacks out there.