Brooke Shields Learned To Make A 'Beautiful Meal' In Honor Of Father's Day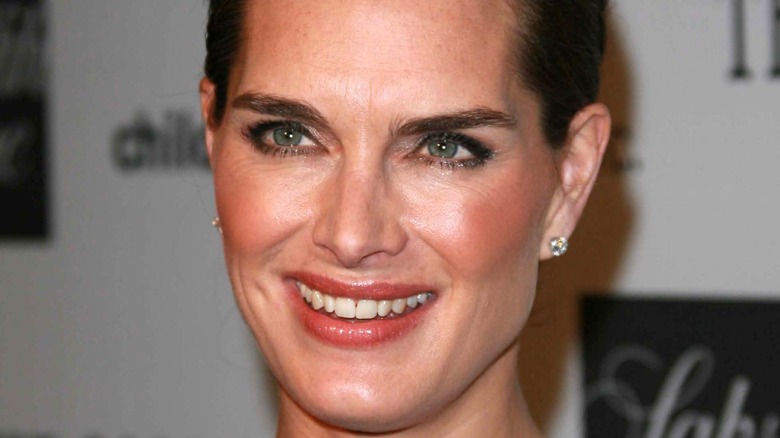 s_bukley/Shutterstock
Father's Day is a time to celebrate dad or, at the very least, showcase his grilling skills and pile on heaps of praise. Well, that's kind of what Brooke Shields does as she gears up for the big day. Shields, who made Calvin Klein jeans the "it" piece of clothing in the 1980s, took to the Beginning Is Now Instagram channel to share her latest installment of "Brooke Don't Cook" that features her hubby, Chris Henchy. 
Shields is the first to admit she isn't Martha Stewart or Ina Garten. Shields confessed in a video post in March 2020, "I'm not known for my cooking. I'm not known for my recipes. I don't come from a family of chefs. I didn't grow up with food on the stove and a house smelling like something delicious." However, the actor didn't let that stop her from trying something new. She said, "But I've decided to try to make some of my own sauce ... I'm attempting a meal, already made some mistakes."
This self-awareness has allowed Shields to not only learn a new skill, but share her culinary journey with fans on her online platform she launched in 2021 (via WWD). So, in the spirit of learning, and in honor of Father's Day, the star shared a how-to video of herself, instructed by Henchy, and the result is "a beautiful meal."
Henchy is a good instructor
In a hilarious Instagram video that is just a little over five minutes, Shields starts off by stating, "Because Brooke don't cook, I married a man who does cook. Chris Henchy, he does cook." She also explains that Henchy "is going to suffer teaching me in the kitchen and not get frustrated." The only other rule is her husband can't do the cooking for her as she whips up a BBQ chicken with apricot-bourbon glazed and roasted potatoes with rosemary and garlic. Sounds yummy! 
Shields first preps by soaking the chicken in sugar, salt, soy sauce, ice, and warm water. Henchy tells her if they had time to soak it overnight in a brine, they would, but they don't! For the apricot bourbon glaze, Shield's husband instructs her to shred an onion using a grater — a pro tip for future use.
As the two continue their cooking lesson, Henchy gently reminds Shields to check on the onions. It is at this point she reveals, "This is what I struggle with, besides a lot of things in the kitchen, but timing." So, relatable. But Shields pulls off grilling the chicken, adding the glaze, and creating perfectly "crunchy" potatoes, thanks to her adept instructor who gives her a double high five and a peck on the lips. 
Shields' followers agree and one summed up all of our feelings, writing, "This was awesome! Loved the teamwork in the kitchen."