Instagram Can't Wait To Try Martha Stewart's 'Delectable Summer Drink'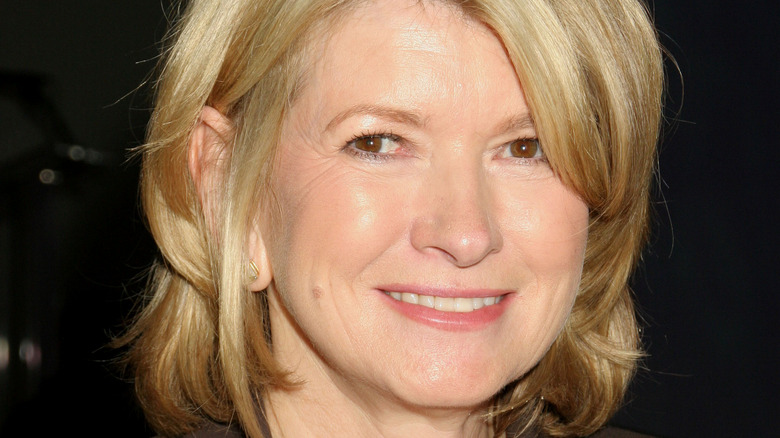 Everett Collection/Shutterstock
Whether you're hosting a summer bash in the sun, looking for the right boozy drink to finish off a brunch, or simply need an everyday cocktail to go with dinner on a warm weekday night, Martha Stewart has a ton of cocktail tips and tricks up her sleeve. And, as an entertaining expert, the lifestyle maven has plenty of advice to share with fans when it comes to matters of hosting summer gatherings.
A key to a good party, she says on her website, is welcoming guests with a fine craft beverage. In fact, Stewart told Food52 that one cheeky way to ensure that your guests approve of the food you make for them is to "feed them 2 to 3 fantastic, strong cocktails like a big tray of Caipirinhas, which are semi-deadly." While her favorite cocktails to drink year-round are the aforementioned Brazilian beverage, a bourbon sour, or a good ol' martini, as she shared with Thrillist, Stewart prefers mixing up something fruity and refreshing in the warmer months. Sharing a picture of a "delectable summer drink" on Instagram, Stewart says her Cointreau Kiss cocktail does the trick any time of day.
Summer cocktails the Martha Stewart way
The Cointreau Kiss, as Stewart calls it, is made with two parts Cointreau, one part tequila blanco, and muddled orange — all served over ice and topped off with sparkling mineral water (via Instagram). For a bit of oomph, the domestic goddess says to "gild the lily," that is, to rim the cocktail glass with raw sugar. With comments from the likes of actress Julie Zangenberg saying that they can't wait to try Stewart's go-to summer cocktail, it seems that the Cointreau Kiss may be on its way to replacing some Instagram users' usual margarita or mojito. 
If the tequila-Cointreau-orange mix isn't your thing, however, worry not — for it's not the only boozy summer drink that Stewart swears by. Another cocktail the cookbook author sips on during this season is a fruity triple sec, lime juice, and tequila-based drink dubbed the Martha-Rita. With pomegranate concentrate as the secret ingredient in the pink-colored libation, the Martha-Rita seems equally likely to impress your tequila-drinking guests as the Cointreau Kiss.