Potbelly Is Offering Fans A Freebie In Honor Of Summertime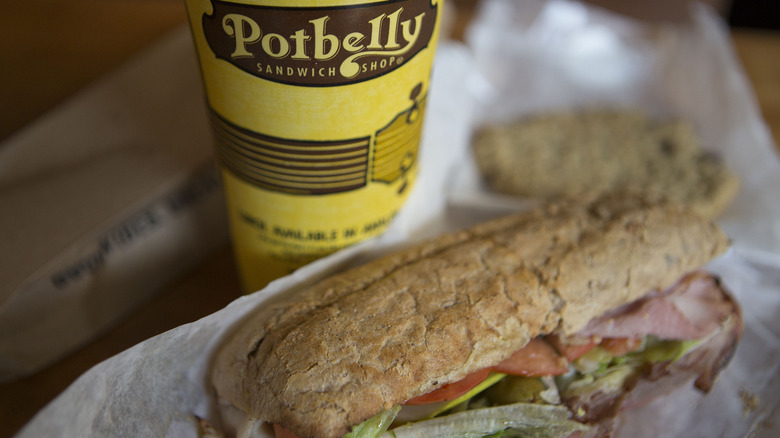 Bloomberg/Getty Images
There are some foods that just remind us of summer, and sandwiches are definitely one of them. Whether you're spending a summer break traveling around to taste the absolute best sandwiches in the U.S., or are just trying out some sandwich hacks for summer picnics, no food is better on days when you need a meal on-the-go or when it's too hot out to cook.
If you don't feel like actually making sandwiches yourself, though, there are lots of restaurant chains to choose from. One of the best in the Mashed chain sandwich shops ranking is Potbelly. It was reviewed favorably because there are so many options to choose from on its menu, and it's even got a few sandwiches, like the Avo Turkey, Italian, and Grilled Chicken, that would be a great option for picnics and beach days. So, when Potbelly announced a new "1st Day of Summer BOGO" promotion on Instagram, it made total sense that free sandwiches were how the company wanted to celebrate the change of the seasons.
How to get a free Potbelly sandwich
According to an Instagram post by Potbelly, its "1st Day of Summer BOGO" promotion is only valid on the first day of summer, which is Tuesday, June 21. That's also when the chain will share the promo code with customers on its website and app. Customers who order through the Potbelly website or through the chain's app will be able to get one original sandwich free with the purchase of another for one day only. 
If you've never tried Potbelly before but are tempted by the promotion, here's what some people on Reddit had to say about the chain. "Their sandwiches are awesome and their cookies are freshly baked and so soft and delicious," said one poster. However, several others said that, while the food is good, it's pricey compared to other chains. "Definitely better quality than Subway but not much bang for a buck" another Redditor added. That means that if you're on a budget, but want to try Potbelly, the company's Summer BOGO promo might be the perfect time.