Easy Virgin Piña Colada Recipe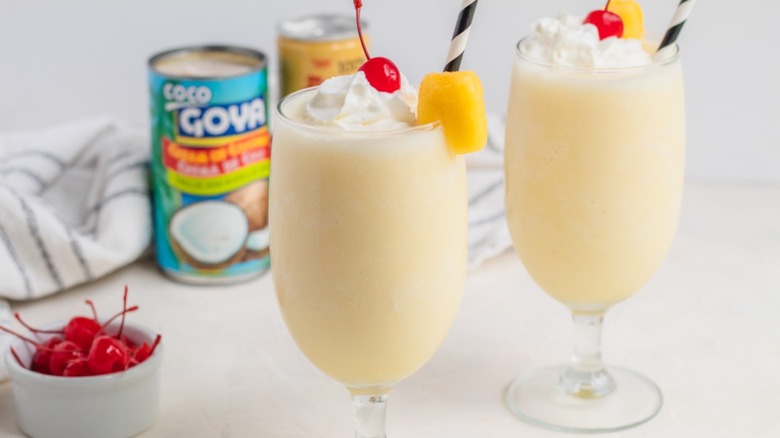 Jaime Shelbert/Mashed
Do you like piña coladas? How about getting caught in the rain? Whether or not you think of the iconic song when picturing a piña colada, there's no doubt that you've at least tasted (and probably enjoyed!) the classic frozen cocktail. As it turns out, however, you don't need to consume any booze to enjoy the drink, as proven by this easy virgin piña colada recipe.
Recipe developer Jaime Shelbert describes this non-alcoholic piña colada as being "like a tropical mocktail milkshake," and goes on to say that its "coconut and pineapple flavors make this a summer favorite." What really makes this the perfect summertime refresher is that you can enjoy more than one of them and still be perfectly safe to drive. What's more, you can share the drink with guests under the age of 21 — it's a family-friendly recipe that satisfies nearly any taste buds.
Gather the ingredients for a virgin piña colada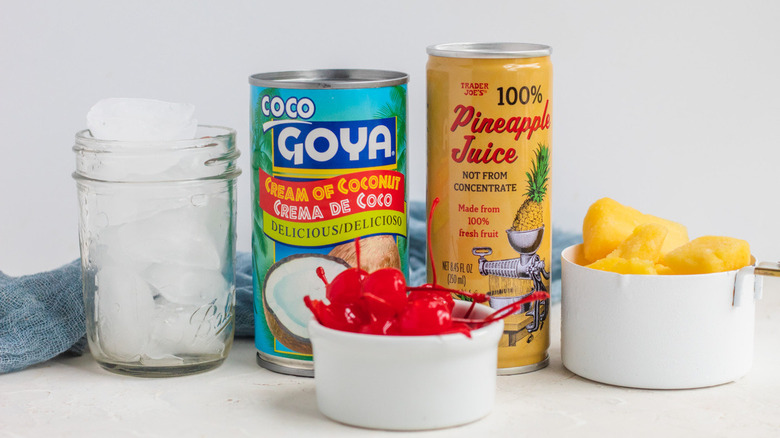 Jaime Shelbert/Mashed
To make this drink, you only need a few ingredients, including pineapple juice, pineapple chunks, cream of coconut, and ice. For the pineapple, Shelbert uses the frozen kind, but fresh works fine, as well. And in case you're confused by the various types of canned coconut products, Shelbert explains that "cream of coconut is a sweet coconut cream with a thick, syrupy texture," so yes, you want the sweetened stuff and not the plain thick coconut milk you'd use in a curry. Finally, Shelbert also garnishes her drink with whipped cream, an extra pineapple chunk, and a maraschino cherry, but those are optional.
Combine all the ingredients in a blender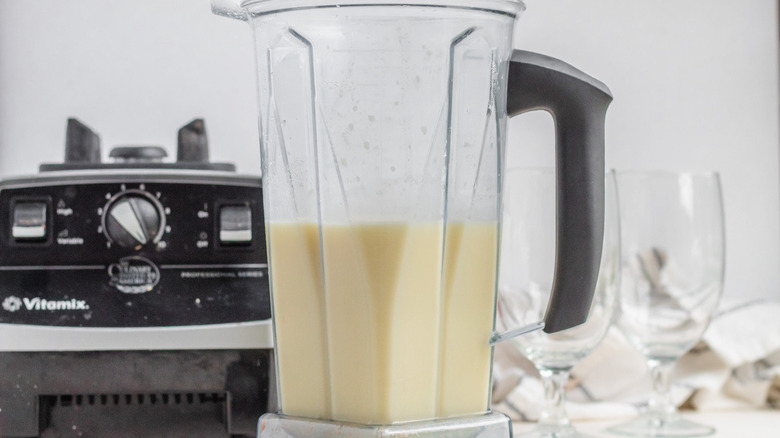 Jaime Shelbert/Mashed
Put the pineapple chunks and juice in a blender along with the cream of coconut and the ice. Press the button and blend the drink on high speed until it's nice and smooth. Pour your piña colada into a tall glass or, if you've got one, a fun tiki mug.
Dress up your virgin piña colada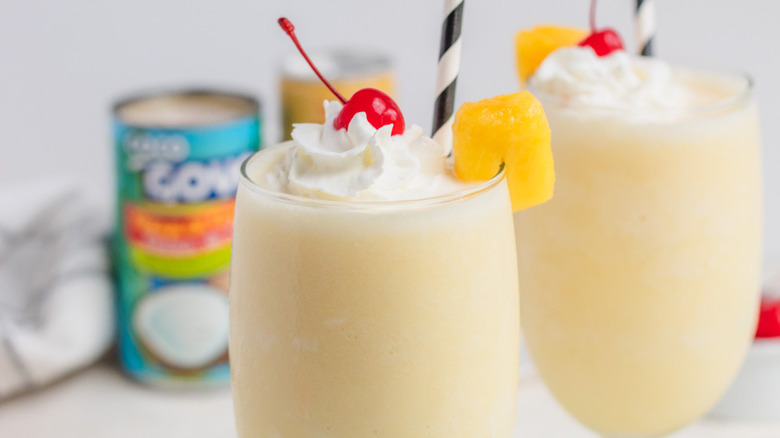 Jaime Shelbert/Mashed
If you wish, you can really go to town with the garnishes for your piña colada. A pineapple chunk would make a good one, but coconut, not so much, as it doesn't tend to cling to the side of the glass too well. You could always use something fun like a paper umbrella or fake (or real) flower blossom, or you could make the drink dessert-like by topping it with whipped cream and a cherry, which is the route that Shelbert takes.
Tweak your virgin piña colada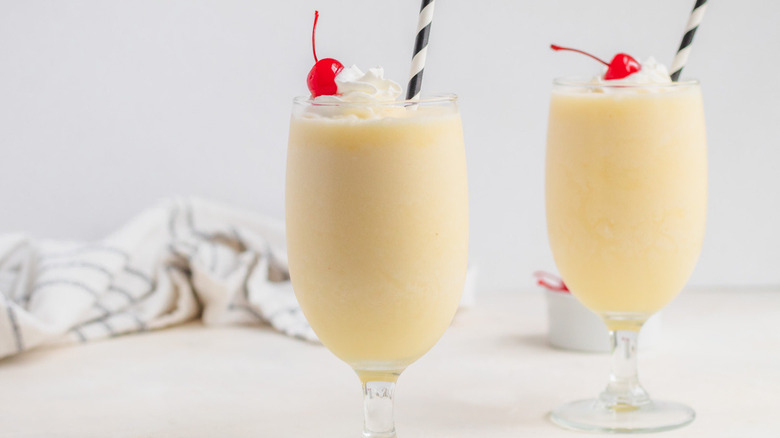 Jaime Shelbert/Mashed
While this recipe is for a classic (if booze-free) frozen piña colada, you could switch things up and get creative with the fruit. Shelbert feels that mango, banana, kiwi or guava would be "in keeping with the tropical theme," but notes that "strawberries are a popular add-in, as well." Shelbert also suggests adding kale to make a "greena colada," and hey, there's nothing like getting veggies in with dessert! 
Easy Virgin Piña Colada Recipe
This recipe incorporates all of the goodness of a piña colada, minus the alcohol.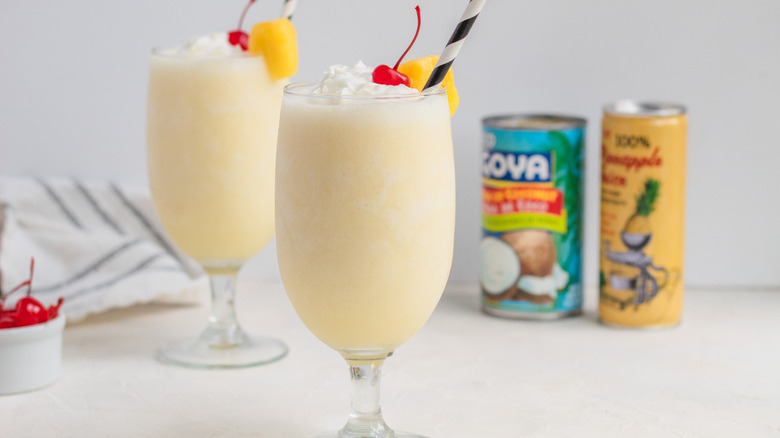 Ingredients
8 ounces cream of coconut
6 ounces pineapple juice
1 cup frozen pineapple chunks
2 cups ice
Optional Ingredients
maraschino cherries, for garnish
whipped cream, for garnish
extra pineapple chunks, for garnish
Directions
Place the cream of coconut, pineapple juice, pineapple chunks, and ice in a blender.
Blend the drink on high until smooth.
Divide the drink between 3 glasses and garnish as desired.
Nutrition
| | |
| --- | --- |
| Calories per Serving | 327 |
| Total Fat | 12.5 g |
| Saturated Fat | 11.7 g |
| Trans Fat | 0.0 g |
| Cholesterol | 0.0 mg |
| | |
| --- | --- |
| Total Carbohydrates | 54.7 g |
| Dietary Fiber | 1.0 g |
| Total Sugars | 50.0 g |
| Sodium | 35.2 mg |
| Protein | 1.4 g |