Classic Piña Colada Recipe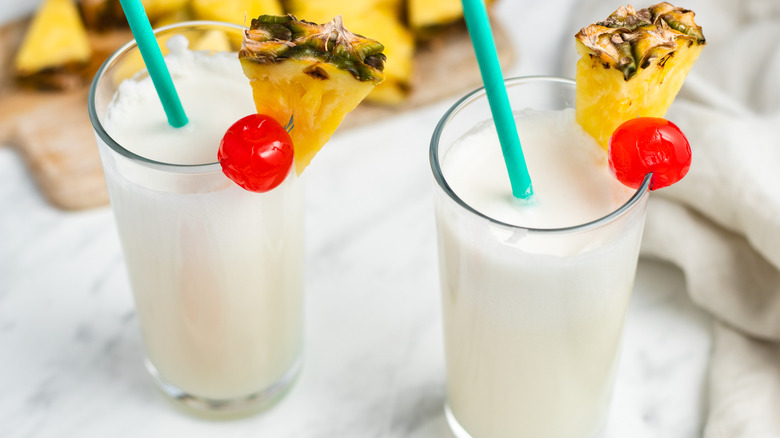 Catherine Brookes/Mashed
When most people think of a piña colada, they think of kicking back on a beach, soaking up the sun, and sure, getting caught in the rain. The drink pretty much goes hand-in-hand with hot weather and makes a great pool day beverage. Of course, you can also make the cocktail kid-friendly by removing the rum. Trust us: The kids go wild over them, too!
Recipe developer Catherine Brookes of Blue Sky Eating shares her wonderful recipe for this poolside sipper that will undoubtedly hit the spot. "Piña colada has to be my all time favorite cocktail. Creamy coconut with sweet pineapple is just the best," she raves. Brookes also shares a few places where she suggests serving this icy beverage. "Cocktail night, dinner party, [or] summer BBQ would all be good ideas," she says. Or pretty much anywhere, frankly.
Keep reading to find out how to make this crowd favorite.
Gather the piña colada ingredients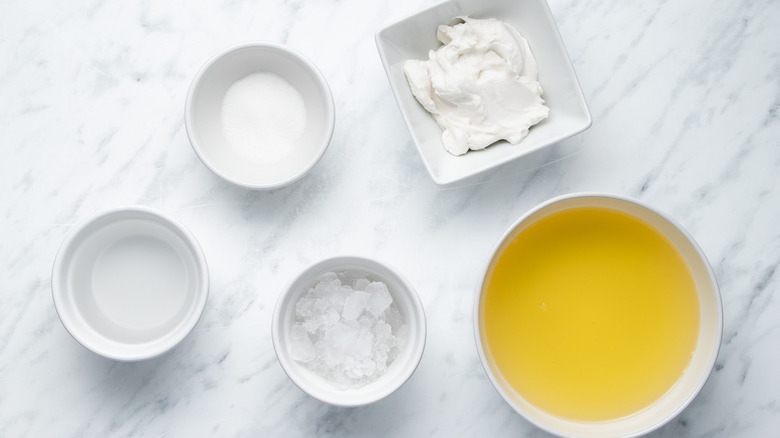 Catherine Brookes/Mashed
The first order of business is heading to the store to gather all the necessary ingredients to make this tasty cocktail. The recipe calls for pineapple juice, white rum, coconut cream (not coconut milk), sugar, and crushed ice. That's all you need to make this classic drink!
Rum is the traditional alcohol of choice in piña coladas, but why does it pair so well with the juices in the drink? "Apart from the alcoholic kick, I think rum has a slight vanilla taste and a bit of smokiness," Brookes shares. Those notes complement the creamy sweetness of the coconut and bright flavors of the pineapple. But of course, go ahead and drop the liquor for a kid-friendly mocktail version.
Brookes garnishes her drinks with pineapple wedges and maraschino cherries, though these are both totally optional. 
Blend the ingredients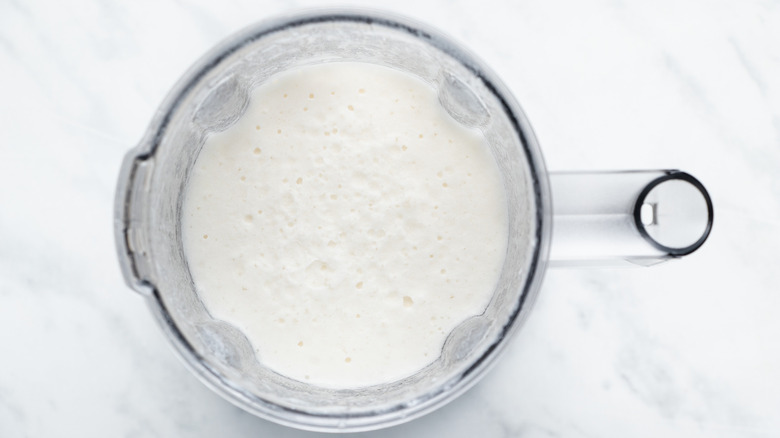 Catherine Brookes/Mashed
To make the drink, just add all the ingredients to a blender, then blitz until smooth. Don't have a blender? A food processor would also work; "just make sure the bowl is big enough to hold all of the liquid," Brookes advises.
Serve and enjoy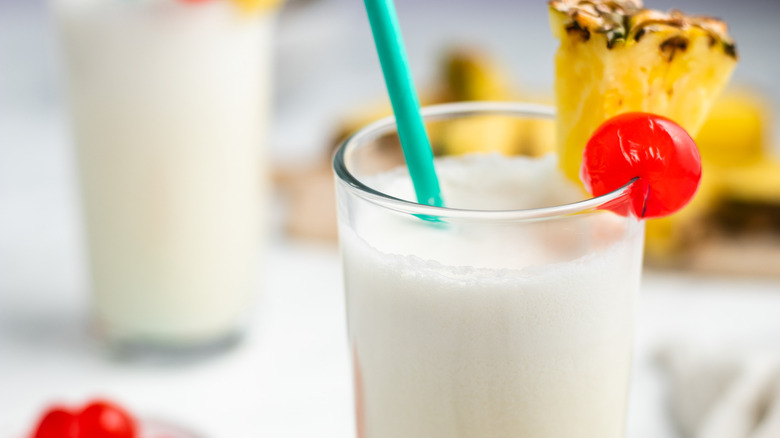 Catherine Brookes/Mashed
Transfer the drink to glasses and, if desired, garnish with pineapple wedges and maraschino cherries. This hits the spot if you are simply looking for an icy beverage, but Brookes adds that the drink pairs particularly well with Mexican dishes ("I'm thinking spicy chicken or fajitas or nachos") and cuisines with tropical flavors, like Caribbean.
The low-down on leftovers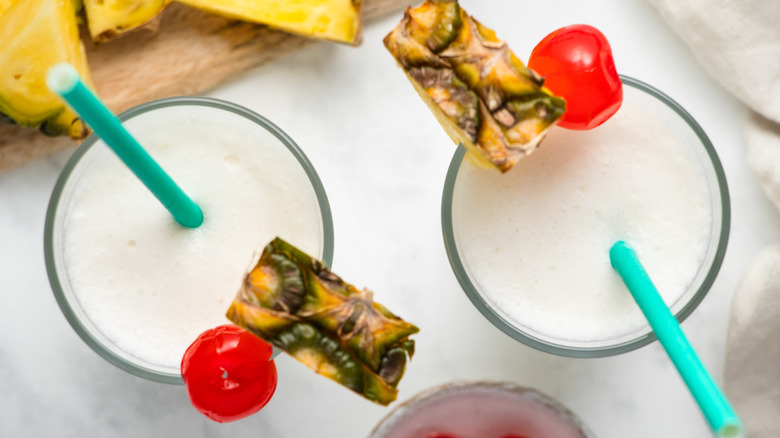 Catherine Brookes/Mashed
If you make this drink ahead of time or happen to have leftovers, Brookes offers a course of action: "It does tend to separate once it's been sitting a while, but I think you could store [the drink] in the fridge up to one day and just give it a good stir before serving."
Cheers!
Classic Piña Colada Recipe
What's not to love about piña coladas? Creamy coconut, sweet pineapple, and, of course, rum make for a delicious summertime sipper to help you beat the heat.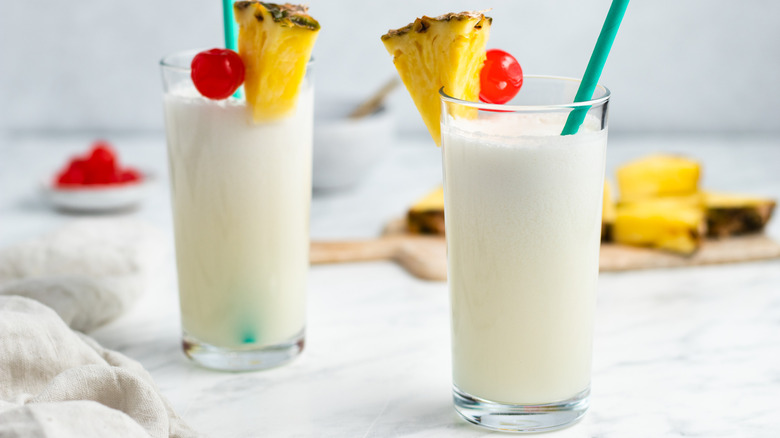 Ingredients
1 cup pineapple juice
½ cup white rum
½ cup coconut cream
1 tablespoon sugar
⅓ cup crushed ice
Optional Ingredients
Pineapple wedges, for garnish
Maraschino cherries, for garnish
Directions
Add pineapple juice, rum, coconut cream, sugar, and ice to a blender. Blitz until smooth.
Transfer drink to two glasses.
Garnish with pineapple wedges and cherries, if desired.
Nutrition
| | |
| --- | --- |
| Calories per Serving | 418 |
| Total Fat | 21.0 g |
| Saturated Fat | 18.5 g |
| Trans Fat | 0.0 |
| Cholesterol | 0.0 mg |
| | |
| --- | --- |
| Total Carbohydrates | 26.3 g |
| Dietary Fiber | 1.6 g |
| Total Sugars | 18.7 g |
| Sodium | 7.1 mg |
| Protein | 2.6 g |