The Iconic Floating Restaurant That's Sunk To The Bottom Of The Sea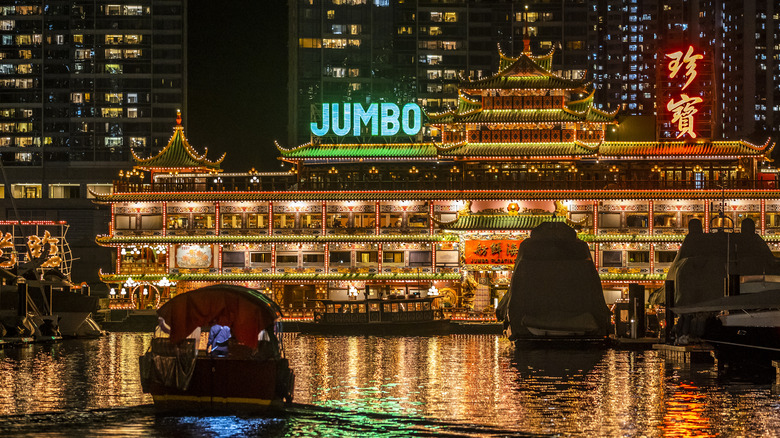 Bloomberg/Getty Images
For decades, the iconic Jumbo Floating Restaurant was moored in Hong Kong's Aberdeen Harbour. Because the Cantonese eatery was located in a typhoon shelter, per Yahoo, the structure was mostly protected from the tropical cyclones that would hit Hong Kong each year — on average, six, says Science Direct. But once the Jumbo was cast off from her moorings on June 14 to be taken to an "undisclosed location," it didn't take too long before the boat capsized near the Paracel Islands, reports CNN. 
In a release shared on Twitter, Aberdeen Restaurant Enterprises said the historic restaurant could not be saved due to high water levels inside the boat, and "despite the efforts of the towing company responsible for the trip to rescue the vessel, unfortunately it capsized" on June 19. The floating restaurant was a casualty of COVID-19, having closed in March of 2020 after several unprofitable years. Since Jumbo's owners couldn't find any takers to operate the restaurant, it was decided that the vessel would be moved away from its original site. Though marine engineers performed a complete check of the Jumbo before the move, according to the announcement, it took on 1,000 meters (about 3,280 feet) of water in the accident, which owners said has left them "very saddened."
Social media questioned the circumstances surrounding the restaurant's sinking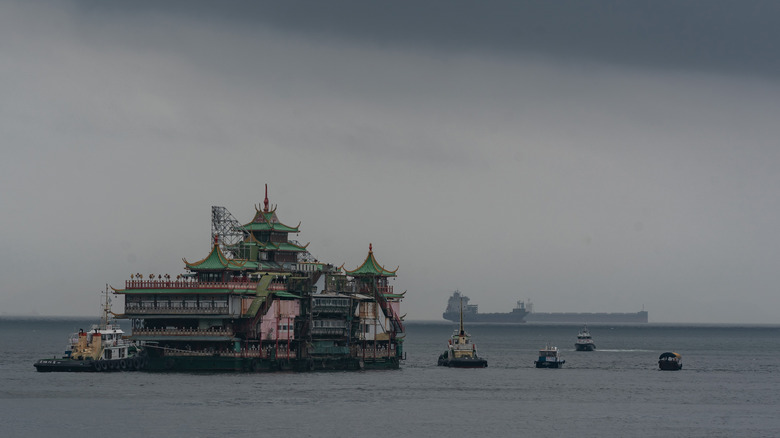 Anthony Kwan/Getty Images
Before the Jumbo's demise, it was made clear from news reports that there was little will to save the iconic restaurant, which, during her heyday, served up Cantonese specialities such as seafood congee and a variety of crab dishes. Queen Elizabeth II and Prince Philip, actor Tom Cruise, and multibillionaire Richard Branson were some of the more than 3 million guests who are said to have eaten at the establishment since it was opened in 1976 by "casino tycoon Stanley Ho," per The New York Times. 
Even though the Jumbo was an icon, it was an expensive one: Pre-pandemic, the eatery had begun to accrue losses totaling about $13 million by 2020. Few came forward to save the tourist destination — even a government agreement to help the business "fizzled," reports the Times. Social media, which had been divided by the decision to move Jumbo, held strong views about her sinking. "RIP...Sad to see it end like this," one user shared on Twitter.
Others were skeptical that the incident was an accident. "Sounds like insurance fraud to me," one user said. "Why do I think dumping it in the South China Sea had always been the plan? For a start, we were never told where it was headed...," one journalist surmised.