The Best Ingredients That Go With Dill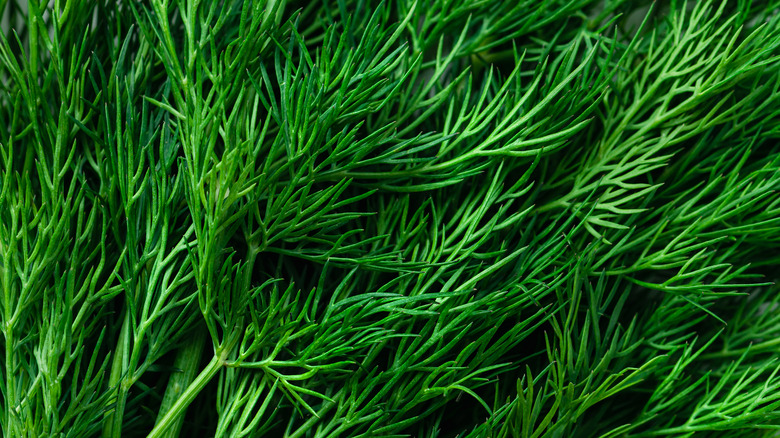 smspsy/Shutterstock
Herbs are having their moment in the sun. Not only are they quick flavor enhancers that add health benefits, but they can also transform a dish's personality with a flick — or slice — of a knife. Dill has recently darted to the front of the herb line, buttressing a world overtaken by Mediterranean cuisines. According to Britannica, dill is native to the Mediterranean and southeastern Europe, which explains trendy and spirited bowls of Greek tzatziki, garnished with lavish dill threads and a liberal drizzle of golden extra virgin olive oil. Eastern Europe and Scandinavia are also particularly fond of dill.
When it comes to taste, thin deep green dill fronds possess a sweet warmth and distinguished notes of caraway and anise. For those who possess skills in the kitchen and the garden, the expression "what grows together, goes together" may strike a familiar chord. Innately, dill complements the ingredients of its homeland; refreshing citrus, fruity olive oil, briny olives, and watery cucumber, to name just a few. Dill thrives in spicy, fatty, creamy, tangy, and fruity environments, a combination of all five running the gambit of flavor complexity. But dill isn't just destined for Greek spanakopita, Turkish dolmas, or Georgian yogurts. Dill has also pushed contemporary cocktail boundaries (via Instagram) and topped sugared lemon brioche buns (via Instagram). There are no limits for this frilly green herb, and these 12 dill-approved ingredients will prove just that.
Yogurt
We've advanced past the simple era of lunch box Go-Gurts and Danimals cruncher cups fixed with sugary sprinkle trophies. Two decades ago, the U.S. was on the precipice of a savory yogurt boom — one the rest of the world welcomed long ago — and Greek tzatziki was at the forefront (via The Guardian). Tzatziki sauce rose to fame alongside mezze-style restaurants, where warm pita bread triangles are a vehicle for all kinds of dips and spreads — with humble bunches of verdant dill uplifted to celebrity herb status.
Tzatziki is a cold yogurt dip with grated or diced cucumber, garlic, and herbs, with chopped dill sprigs at the forefront (via TasteAtlas). Tzatziki is just one yogurt-dill application, but the combination of dill's witty sweetness and tender structure with yogurt's creaminess and tang provides a template for all other yogurt and dill creations.
Chef José Andrés lauds a winning combination of a thick roasted garlic yogurt, dill-coated fried Brussels sprouts, and a yogurt-coriander seed ladolemono sauce (a Greek sauce made with lemon juice, olive oil, and herbs) in his cookbook "Vegetables Unleashed: A Cookbook" — an exemplary example of how dill compliments acid, fat, and crunch. Meanwhile, Turkish "haydari" is a yogurt dip much like cucumber-less tzatziki, perfumed with fresh dill, paprika, mint, and basil (via TasteAtlas). The sauce is typically served with pita bread, roasted vegetables, or meat kebabs.
Legumes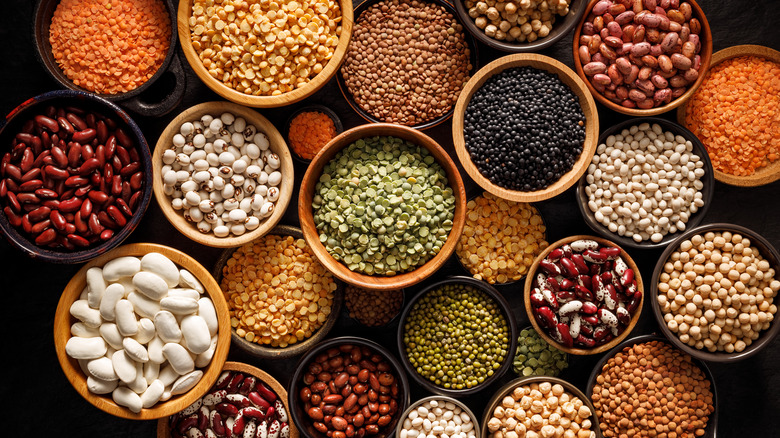 pbd Studio/Shutterstock
Legumes are a vegetarian powerhouse. According to WebMD, 16,000 legume varieties exist worldwide, including the fashionable chickpea, creamy cannellini bean, and toothsome green lentil. Expansive and diverse, the legume family features a myriad of colors, sizes, and textures. Even America's beloved peanut has legume accreditation.
Saucy legumes steeped with dill are a match made in heaven, largely due to dill's delicate nature and earthy flavor. When in doubt, throw some fat and acid at the combo and simmer to allow the little legume beads to soak up all the flavorful juices. Lemon juice, olive oil, and aromatic vegetables are a great start. Washington Post food writer Joe Yonan praises a combination of massive Gigante beans, tender kale, and roasted cherry tomatoes coasting in a sauce of lemon juice, olive oil, and honey. The sweetness of the tomato broth marries with dill's light anise notes, and the juices further soften the delicate herb to create a luxurious plate of saucy beans. A dill-spiked hummus plays to a similar creamy and tangy union. This dill pickle hummus utilizes both tangy dill pickles and fresh dill fronds, along with chickpeas, garlic, olive oil, tahini, and freshly-squeezed lemon juice.
Fish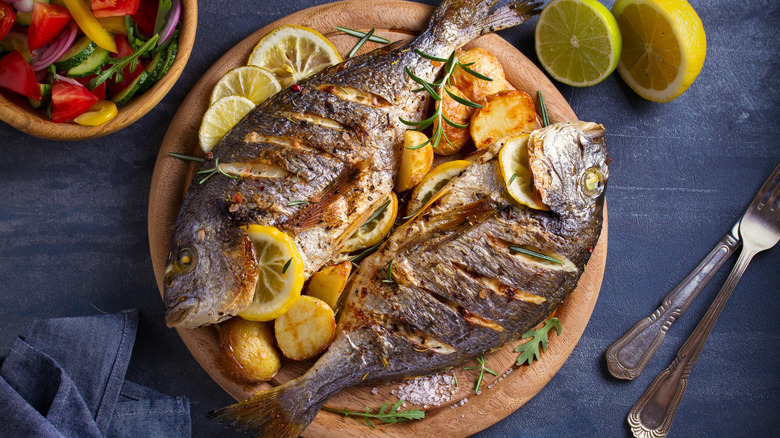 freeskyline/Shutterstock
Just like legumes, herbs are also an instant flavor boost for animal proteins. Beef, lamb, and pork admittedly pair well with rosemary, thyme, and sage, their sturdy structures holding up to red meat's beefy nature, longer cooking times, and high heat sears. On the other hand, fish beckons for soft and tender herbs to complement but not distract from the delicate flavors. This isn't a clear-cut decree but a good rule of thumb when considering what herbs to pair with meat or fish.
Dill compliments a broad fish universe. Salmon is an obvious option, built on cured salmon (gravlax or lox) precedent. A creamy dill and honey mustard sauce drizzled over a seared omega-3-rich salmon fillet works wonders. Alternatively, create a paste of chopped dill, dijon mustard, honey, lemon, and spices and spread over the salmon's raw pink top before baking in a hot oven for a few minutes.
White flakey fish is also a suitable coupling. Try stuffing a whole branzino with garlic, dill, and lemon compound butter before heading to a fiery grill in pursuit of smoky char and buttery ooze. Monkfish and swordfish are both on the meaty side, perfect for marinating in dill, garlic, and olive oil before skewering and grilling.
Feta cheese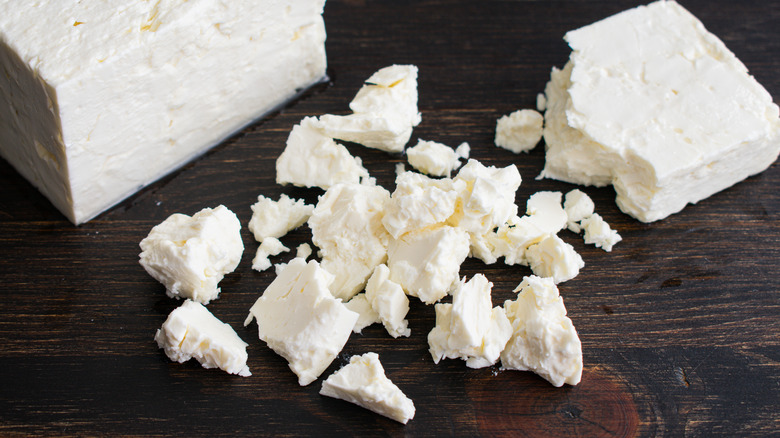 Candice Bell/Shutterstock
Feta cheese is to Greece as Parmigiano Reggiano is to Italy. The salty flavor, firm yet crumbly texture, and brilliant white color is energizing to look at, even more so when it sits atop a casserole dish of stewed beans, a fresh Greek salad (known as "horiatiki"), or served with a simple honey drizzle (via TasteAtlas). Dill and feta are an indisputable match; each brick of feta's 7% salt melted seamlessly with dill's nuanced sweetness.
Spanakopita is a famous Greek delicacy worldwide — specifically, a dish that stars feta cheese and dill in supporting roles, with buttered layers of phyllo dough and wilted spinach leading the way. According to TasteAtlas, the spanakopita tradition started as a hand-held, pocket-friendly dish for field workers before being transformed into fashionable cocktail party hors d'oeuvres. The filling is made with spinach, feta, sautéed onion, scallions, mint, and dill and is often served with tzatziki sauce, a fitting accouterment with even more dill goodness.
Alternatively, make a party-approved bowl of htipiti, a Greek dip made by blending feta cheese and roasted red bell peppers into a spreadable dip. To garnish, fry a few dill fronds in olive oil until they turn a dark green and stop sizzling. Drain the dill on a paper towel and garnish a gorgeous rose-colored bowl of htipiti with the fragrant fried dill.
Potatoes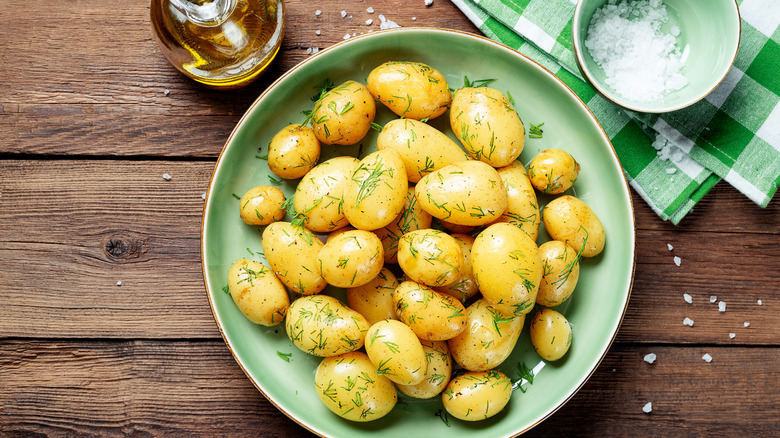 nelea33/Shutterstock
Potatoes are like the blank canvas of the culinary world. Yukon golds, russets, purple potatoes — every little spud is predisposed for varied excellence, including ultra-creamy mashes, crispy fried spears, or fluffy boiled spheres.
Potatoes take kindly not only to salt, pepper, and olive oil but also to fragrant herbs. Rosemary is perfect for high-heat fingerlings, but soft and aromatic dill is the ideal accompaniment to boiled potatoes, a technique that keeps the integrity of dill's natural grassiness. Potato salad is a prime example. Tender boiled potatoes are the start of a creamy dill potato salad, flavored with traditional mayonnaise, onion, dijon mustard, and lots of chopped dill. On the other hand, a French potato salad is an excellent option for outdoor picnics under the summer sun. Instead of mayonnaise, the potatoes drink up a light and tangy dill, fruity olive oil, and zesty champagne vinegar vinaigrette.
For an even easier potato and dill masterpiece, try making Polish "Kartofle gotowane," a traditional side to meat or fish mains (via TasteAtlas). Whole or chopped potatoes are first boiled in salted water before being drained and returned to the dry pot to rid the potatoes of any residual liquid. The cooked spuds are then tossed with a green blend of chopped dill, parsley, and salt and often served with gravy or caramelized onions.
Mustard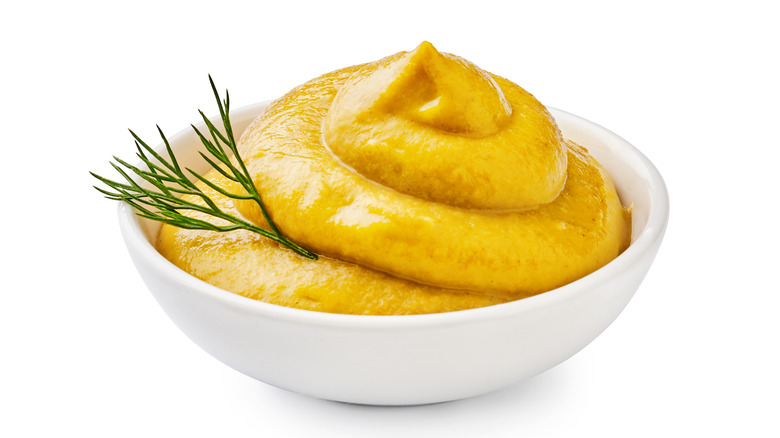 Tanya Sid/Shutterstock
Smearing yellow mustard on a hot dog or Dijon on a sandwich is predictably delicious. But mustard's zippy tang and spicy warmth are responsible for so much more. Creamy or grainy varieties can be whisked into compelling salad dressings, creamy sauces, barbecue mops, and marinades. Because dill pairs well with both spice and acid, the duo is a magnetic combination.
Well-known dishes that combine mustard's bite and dill's grassy spunk include potato and egg salad. A dressing of mayonnaise, mustard, and chopped fresh dill is a creamy flavor base for both chopped boiled eggs or boiled potatoes, both the dill and mustard helping to cut through the fattiness of the mayonnaise. Likewise, French remoulade sauce isn't far from a potato salad dressing. According to TasteAtlas, remoulade is a condiment consisting of mayonnaise, mustard, spices, herbs, and capers or pickles. In the U.S., remoulade has a famous Louisiana Creole identity and is often paired with seafood.
Travel further down the international aisle to sample Swedish "hovmästarsås." Hovmästarsås is a mustard and dill sauce enjoyed with cured salmon gravlax (via Nordic Recipe Archive). Sweet, tangy, and pleasantly zesty, hovmästarsås is brimming with bright green dill floating in a perfectly emulsified oil-based sauce. So the next time a deceitfully hopeful IKEA trip looms, pick up a jar of mustard and dill sauce to enjoy on a homemade gravlax smørrebrød (via Ikea).
Zucchini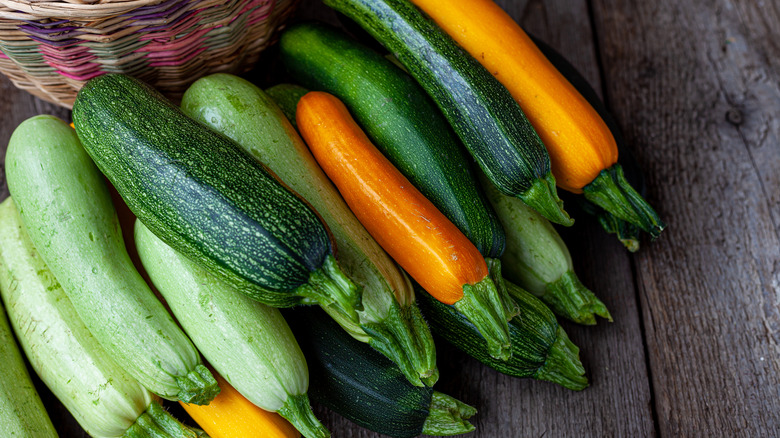 Real_life_photo/Shutterstock
Summer squash sightings — in all their yellow and green glory — mark the season of local farmer's market hauls and culinary imagination. Zucchini is perhaps the king of the summer squash hierarchy, the dark green color radiant and seductive for summer grill-outs and enlightened plates of "spaghetti alla nerano."
Zucchini is mild in flavor, lending well to herby manipulations, saucy sautés, and charred grillings. Together, dill and zucchini instinctively head for Greek tradition. Proud Greek-American chef Michael Symon suggests a quick pickled zucchini salad to keep seasonal summer-sweet zucchini honest. Instead of adding chopped dill directly to the salad, Symon infuses the pickling liquid with a dill bouquet before pouring over the chopped raw zucchini (via YouTube).
Alternatively, make zucchini pancakes studded with chopped dill, lemon zest, garlic, and feta cheese. Or, dive into Georgian spice waters with Khmeli Suneli, a spice mix made with coriander, savory, basil, dill, mint, parsley, cayenne, black pepper, and marigold petals (via TasteAtlas). A little goes a long way, but the characteristic warmth and bitterness work well with deeply caramelized roasted or sautéed zucchini coins.
Shrimp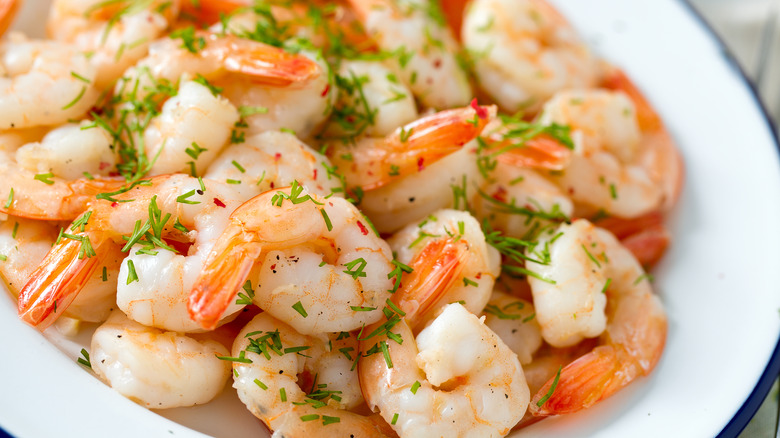 Diana Taliun/Shutterstock
Shrimp has a flair for the dramatic. Succulently sweet meat, a gorgeous rose-pink color, and buttery sears are so tempting that shrimp has remained the most popular commercial seafood in the U.S. for a while now (via NOAA Fisheries). With a knack for fast and easy cooking (especially if you buy shelled and deveined), shrimp fuses the best of both culinary worlds, evoking elegance and expense while remaining approachable for the home cook.
Overcooking shrimp is a certified faux pas. The prized crustaceans are small, so even the largest varieties only require a few minutes a side; in steps dill. Shrimp and dill are incredibly delicate in their respective foodie tribes and need only a quick cook to allow their subtle flavors to shine.
Garides saganaki, or shrimp saganaki, highlights shrimp and dill's compatibility. According to TasteAtlas, garides saganaki is a traditional Greek dish of sautéed shrimp snuggled in an ouzo-scented tomato sauce underneath a feta cheese topping. Chopped dill and parsley are mere garnishes, but the hot tomato sauce activates the dill's grassy attitude to make for aromatic bites of salty, sweet, and creamy perfection. Garides me anitho (shrimp with dill) is another Greek innovation, featuring sautéed shrimp coated in a smooth lemon, mustard, and dill butter sauce. According to former Top Chef contestant Mike Isabella, the dill is THE essential element (via Washingtonian).
Aleppo pepper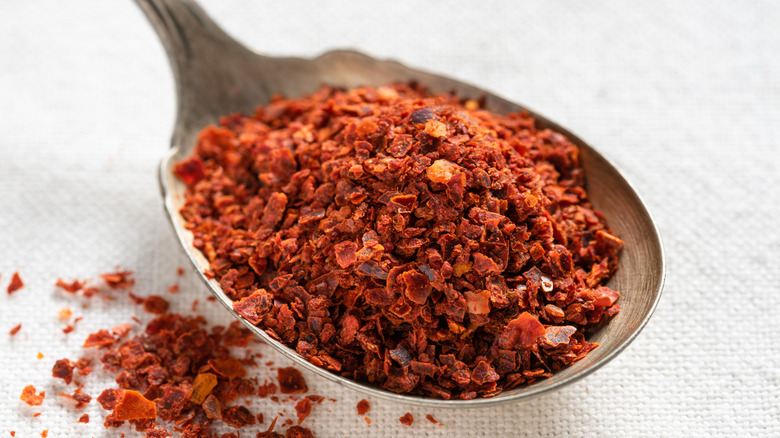 Michelle Lee Photography/Shutterstock
Red chili flakes are having a moment in the sun alongside artisanal hot sauces and heirloom jalapeños. Among the assembly is Aleppo pepper, a Middle Eastern spice made from the Halaby pepper. The semi-dried peppers are ground into rusty red flakes with smoky undertones and a fiery sweetness. Unlike red pepper flakes or hot paprika, Aleppo pepper retains some of the pepper's natural moisture.
Dill works magic on spicy dishes, cutting through the heat with fresh grassy relief. There is no better example than Turkish "cilbir," a traditional breakfast dish consisting of thick yogurt and poached eggs basted in a melted Aleppo pepper butter and finished with chopped dill (via The Guardian). Celebrity chef Yotam Ottolenghi tops his cilbir recipe with milk crumbs and suggests using soft bread to swirl together layers of yogurt, runny egg yolk, and silky Aleppo pepper butter. Or, try roasted sugar-sweet carrots with Aleppo pepper, olive oil, and lemon zest before garnishing with fresh dill and creamy French feta cheese.
Eggs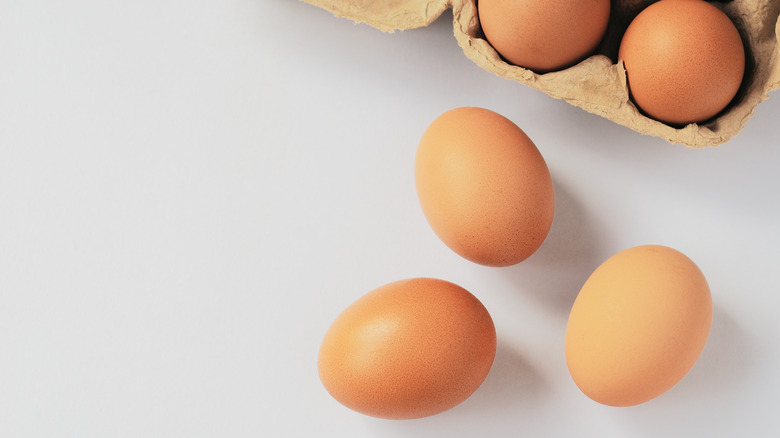 taihern/Shutterstock
An American breakfast mainstay, eggs are incredibly versatile and immensely satisfying. Around the world, eggs aren't just eaten at breakfast. Their high protein and filling fat contents are suitable for any time of day; tortilla de patatas is an iconic Spanish snack in which boiled eggs are poached in richly spiced South Asian curries, and Israeli shakshuka is eaten morning, noon, and night.
Whether eggs are a cornerstone ingredient or a collaborative thickening agent, their fatty yolk centers and frothy whites render dreamy dill egg salad, elegant deviled eggs, or, if you're feeling really bold, Georgian "azelila." The traditional egg salad comprises walnuts, butter, dill, and ajika spice (via TasteAtlas). Greek avgolemono soup uses eggs in an unexpected way. Per TasteAtlas, the soup's lemony broth base is thickened with eggs and finished with shredded chicken, rice, and fresh dill. Lastly, try opting for a quick breakfast tartine equipped with smashed avocado, smoked salmon, poached eggs, and dill.
Rice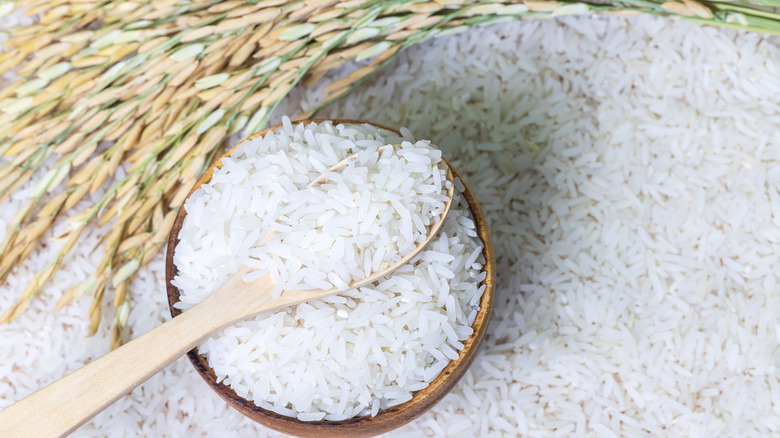 SURAKIT SAWANGCHIT/Shutterstock
Few pillar ingredients cross cultural borders the way rice does. According to Britannica, about half of the world's population relies on rice as a staple diet ingredient. The number of unique rice preparations far exceeds that of tomato varieties, demonstrating ecological variation and human innovation. Rice is a global equalizer, yet everyone has a different way of cooking, serving, and eating it. But, of course, not all rice is the same. Short-grain rice acts differently from long-grain, as do brown, green, and wild varieties.
The Mediterranean holds rice near and dear to its sun-kissed heart. A product of the grass family, rice can employ no better flavor enhancer than famously grassy dill. Dolmades, or rice-stuffed grape leaves, combine topical short-grain rice, onion, spices, and recurrent chopped dill before the brined grape leaves are stuffed and rolled into small burrito-shaped logs and simmered in a lemony sauce (via Takeaway). The herbaceous flavor from the dill mixes with tender and starchy rice granules, soaking up all the herb-scented lemon broth.
Greece's version of green rice, "spanakorizo," combines sautéed onions, herbs (including dill), and spinach before simmering with rice and seasoning with butter, lemon juice, and more dill. Creamy feta crumbles are sprinkled atop the vibrant rice before it hits the table (via TasteAtlas).
Walnuts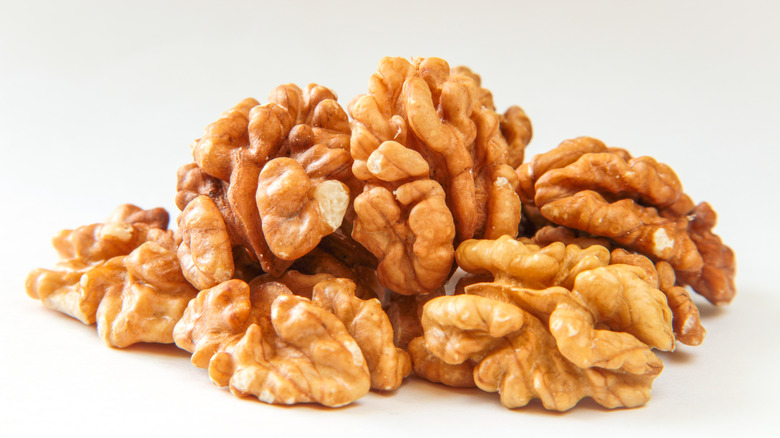 ArturTona/Shutterstock
Walnuts are part of the superfood kingdom, but this tree nut is much more than a health food. Per Healthline, walnuts contain 65% fat by weight, specifically heart-healthy polyunsaturated fats. Fat is delicious, and as we already know, dill and fat — paired with acid or heat — are bound for flavorful mouthfuls.
A walnut's buttery touch is welcomed both in sweet and savory dishes. Yet, salty pairings of delicate salad greens, aromatic herbs, and roasted vegetables allow walnuts to shine without enveloping their nutty richness in sugar and flour (which, of course, is also delicious). Bulgarian "tarator" is a cold soup — much like a dairy version of Spanish "ajo blanco" — made from blended yogurt, cucumbers, garlic, dill, and walnuts (via TasteAtlas). Georgian "ajika" combines the sweetness and heat of hot peppers with nutty walnuts and fresh dill to form a paste. A thicker and spicier version of Middle Eastern muhammara, ajika is used to flavor meat dishes or served on its own with bread dippers.