The Balsamic Vinegar Brand Ina Garten Swears By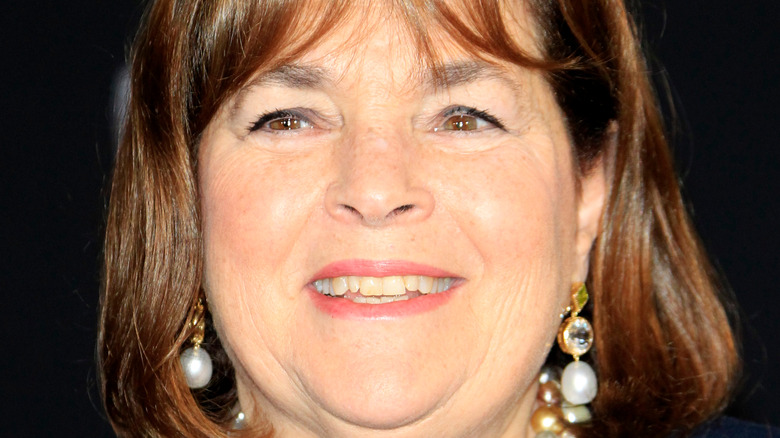 Kathy Hutchins/Shutterstock
America is having a love affair with Ina Garten, similar to how people regarded Julia Child in the 1960s, including a super-fan cooking all of Garten's recipes à la "Julie and Julia." Garten is the convivial Food Network chef known as the "Barefoot Contessa," which is also the name of her former specialty food store on New York's Long Island. She has 12 cookbooks under her denim collar, plus "Go-To Dinners" shipping in October 2022 and over 20 years hosting her cooking show on the Food Network. Despite all of that, Garten is remarkably relatable. The type of celebrity you imagine feeling comfortable with, familiar, as you quietly say a prayer to be invited to her next dinner party.
According to The Washington Post, Garten appeals to those of us craving "the human connection a shared meal can provide," adding that her recipes "take the stress out of preparing one." The recipes are consistently good and appreciated by those who love to entertain. Even before Garten showed us on Instagram how to cook from pantry staples during the pandemic, she was honest about the processed food workhorses she relies on, with her mantra, "store-bought is fine."
Her Barefoot Contessa website lists all the ingredients Garten uses in her Hampton's home kitchen, including Rao's jarred marinara sauce and Hellmann's mayonnaise, all of which are readily available in supermarkets or online. According to Garten, "There's no point in having a recipe you can make in 30 minutes if it takes you two hours to shop for it."
Ina's balsamic vinegar of choice is affordable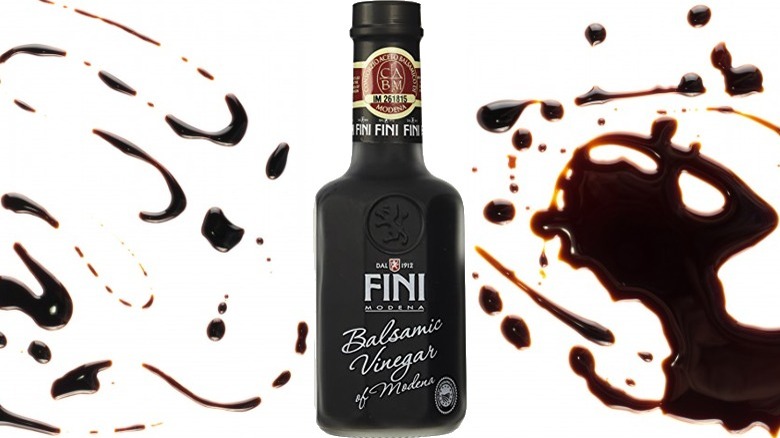 Ermak Oksana/Shutterstock; Fini Modena
Ina Garten's balsamic vinegar of choice is Fini Modena, which retails for under $20. Fini has the DOP (Protected Designation of Origin) and IGP (Protected Geographical Indication) certifications, authenticating that the vinegar is from Italy and produced under strict food regulations, protecting buyers from imitations with additives and coloring. Traditional balsamic vinegar has notes of "fig, molasses, cherry, chocolate, or prune," tasting sweet and sour without being too acidic.
Home cooks can spend upwards of $300 for a single bottle of balsamic vinegar. From salad balsamic to aged varieties, the viscosity and consistency will vary. Traditional balsamic vinegar is made only in Reggio Emilia and Modena, Italy, similar to how sparkling wine can only be called "champagne" if it comes from the Champagne region of France. Made from grapes, balsamic is processed similar to fortified wines like sherry, port, and Spanish brandy, for a minimum of twelve years.
Williams-Sonoma describes "Fini" balsamic vinegar as being "deep and complex" with "the right balance of tart flavor" without being too sweet or thick, as an aged balsamic or glaze could be. Traditional balsamic vinegar isn't meant to be cooked with or used in a salad dressing (save the cheaper stuff for that). Instead, home cooks should garnish berries or Parmigiano-Reggiano cheese with just a few drops to add sweetness and smokiness. Or add a drizzle to ice cream or macerate strawberries in it, as Garten does in her panna cotta recipe. How easy was that?