Instagram Is Piling On The Hate For A Trader Joe's Ube Ice Cream Hack
Trader Joe's ube ice cream has been turning heads since it arrived on the store's shelves. The one-of-a-kind ice cream isn't made with classic flavors like vanilla, chocolate, or even cookie dough. Instead, the treat gets its sweet, nutty taste and bright purple color from ube, a type of yam native to the Philippines. 
Ube has long been used as an ingredient in Southeast Asian desserts, and now it is making its way onto Trader Joe's shelves in what the brand itself has called the "not-to-be-missed flavor of the summer," via Trader Joe's. And it certainly appears that many shoppers agree with this sentiment.
Trader Joe's ube ice cream has been generating positive reviews online since its release. "Omg love this UBE ice cream soooo much! Even my picky teens like it!" one delighted shopper raved on Instagram, while another user reported they "Already got 5 pints." And while this product is delicious eaten on its own, not all shoppers are satisfied simply enjoying this sweet treat straight from the carton. Many people have decided to get a little creative with their favorite ways to snack on the ube ice cream.
Fans came up with their own recipes using ube ice cream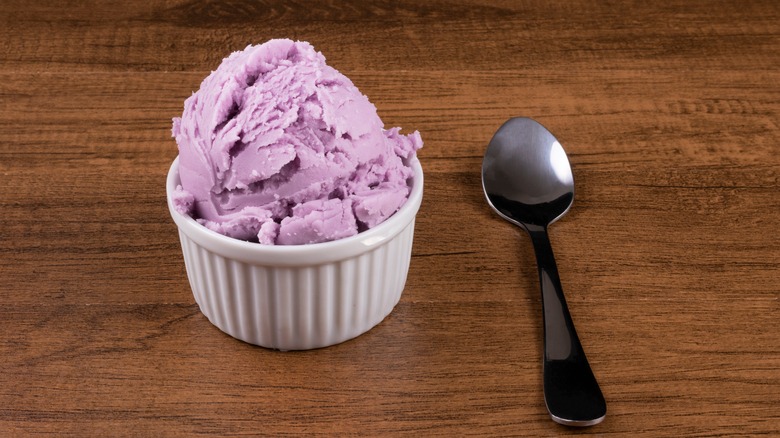 Ricardo_ffj/Shutterstock
Instagram users @traderjoeslist and @patthespatula recently went online to share a creative recipe using this ube ice cream. Rather than eating it with a spoon, they recommended dipping slices of brioche bread into the ice cream, then cooking it in a frying pan for four minutes on each side to create an ube French toast stick creation that is probably unlike anything you have ever tasted. For an extra sweet kick of flavor, they even recommended adding syrup or ube spread.
Not everyone was on board with the inventive French toast hack, though. "That's not it, fam," one person commented. "Let's be honest, this is a mess," another person wrote. "You're going to French jail," another person joked.
Other shoppers shared their own creative ube ice cream creations. One follower said they thought it would "be yummy to dip it into ube pancake mix," while another follower said they "would add the ice cream on the top of regular French toast." There are countless ways to enjoy the popular ice cream, but the French toast idea appears to be a divisive one.