Trader Joe's Fans Are Psyched For The Return Of Its Ube Ice Cream
Run, don't walk, to your local Trader Joe's store because its ube ice cream has been spotted by @traderjoeslist on Instagram. The freezer full of those purple-colored ice cream pints had many social media users excited about its return. Although the ice cream is said to be in limited supply, the uber-popular pint has been a fan favorite since its first launch. From the vibrant purple hue to the creamy texture, this tasty find is a reason to eat dessert first.
Made with purple yams, it is a dairy ice cream under the Trader Joe's brand. Since this ice cream is not your typical vanilla or chocolate, some commenters asked for an explainer on the flavor. While @traderjoeslist describes the ice cream as "sweet yet earthy with flavors of vanilla," other comments shared that the ice cream is reminiscent of pistachio and vanilla. Kitchn shared this same sentiment when the frozen treat was previously released, describing it as a "cross between vanilla and pistachio with hints of coconuts mixed in." While there is no coconut in the ice cream, the flavor sounds a touch tropical, a hint decadent, and definitely worth picking up a pint before the flavor disappears again.
What is ube ice cream?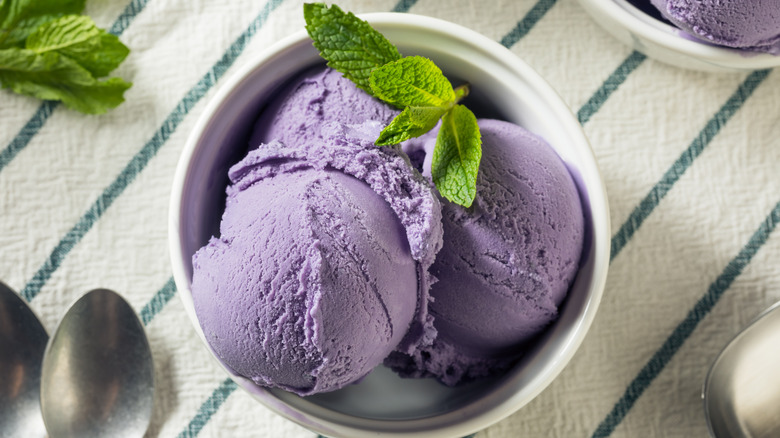 Shutterstock
Sitting in a white ice cream bowl, the vivid purple color hints that ube is one exciting flavor find. While ube ice cream isn't necessarily a new food, some people are just now discovering the Filipino dessert. According to The Spruce Eats, ube is a purple yam from the Philippines. While the flavor might be similar to a cross between vanilla and pistachio, the ingredient can be used in a variety of dishes, from baked goods like brownies and cakes to breakfast dishes like pancakes and waffles. Still, ube ice cream is one of the more popular applications.
Although Trader Joe's ube ice cream usually gets much attention, it isn't the only brand on store shelves. Magnolia ice cream offers the purple-hued, tropical ice cream and various local ice cream shops may offer the flavor, too. Even home cooks can experiment with making their own ube ice cream. Roti n Rice has a four-ingredient recipe on the blog. With grated ube, sugar, milk, and cream, this colorful dessert can be churned in any kitchen. Whether or not a spoonful brings a taste of the Philippines to your home can be debated, but there is no hiding that colorful dessert in the bowl.