Why TikTok Wasn't Impressed With Emily Mariko's Mint Tea
TikTok has quickly grown to be a major part of many people's daily lives, as shown when they reached a milestone of a billion monthly users in 2021, per TikTok. The short-form video app has branched out into numerous aspects of life, with cooking and other culinary videos setting all kinds of trends across the app like the famous TikTok feta pasta. According to The New York Times, videos with the food-related hashtag #TikTokFood had garnered 25.2 billion views in 2021. The app's ease of access allows anybody to try and make a name for themselves as a favorite TikTok chef.
One user who has found success doing just that is @emilymariko, a California-based food vlogger with 10.9 million followers and well over 450 million likes on TikTok alone. Much of her content is based on silent videos of her cooking ASMR-style, focusing on the step-by-step preparation of the food, such as her video where she constructed a simple egg sandwich. Despite never saying a word, the TikTok has amassed more than five million views. But not every post is received so well; in particular, Mariko posted a tea-making video that got some criticism from her comments.
Tea or grass water?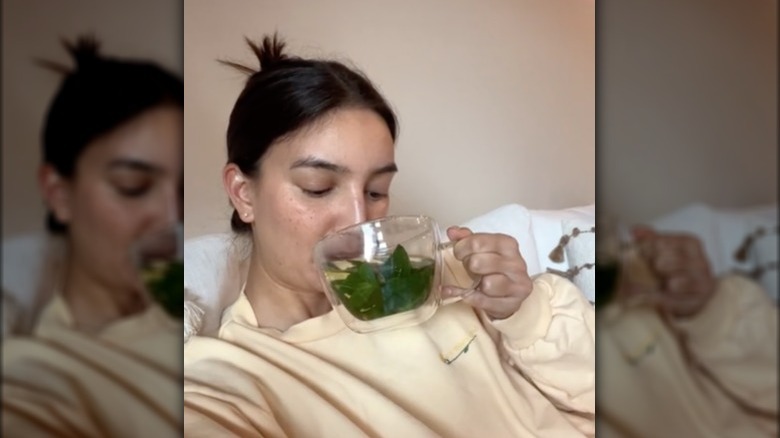 Yeti studio/Shutterstock
The video in question simply shows Mariko preparing a mug of mint tea. But instead of reaching for a tin filled with bags of dried herbs in the pantry, Mariko turned to her fridge for vegetation. She filled her mug with sprigs of fresh mint from the fridge and topped it off with boiling water from the kettle. While this is a simple method to make a classic tea, it sparked some debate in her comment section as many users were disappointed in the tea.
The primary criticism is of Mariko using the mint leaves as opposed to a more traditional bagged tea. A common criticism comes from people claiming that this brew is just grass and hot water, with one user suggesting Mariko should just "try grass," while others wondered where the tea portion of the drink was. There were also multiple people coming to Mariko's defense, pointing out that most teas are made with herbs and hot water. One user noted that mint teas are enjoyed by many cultures around the world.