Easy Amaretto Sour Cocktail Recipe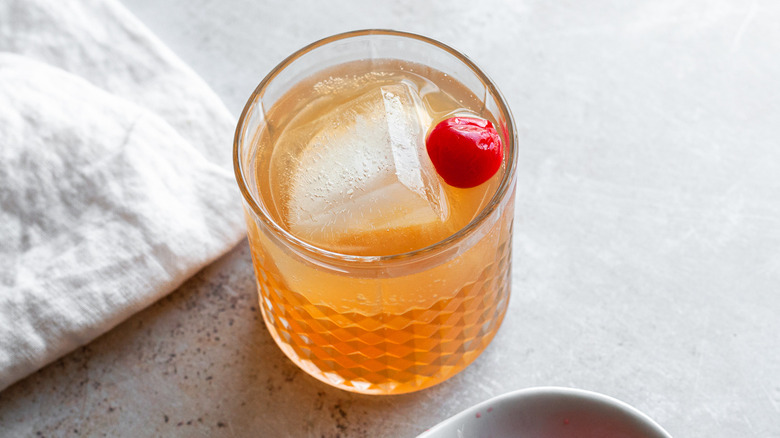 Christina Musgrave/Mashed
The amaretto sour is the perfect cocktail for a home bartender who wants to share a good drink with friends. Why? Well, because it's really hard to get this drink wrong. Provided you can measure out ingredients with care, and you have a decent amaretto and bourbon on hand, you're going to shake up a fine libation when you follow this easy amaretto sour recipe courtesy of chef and recipe developer Christina Musgrave of Tasting with Tina.
In fact, once you try this perennially popular cocktail, it may become your go-to drink for when you're indulging in an alcoholic beverage at home. Just watch out if you order an amaretto sour when you're out at a bar — chances are, the one you make at home will be even better than what you're served. In other words — keep the simple, straightforward drinks like this one for tippling at home, and leave the more complicated concoctions up to the professional bartenders. 
Gather your ingredients for an easy amaretto sour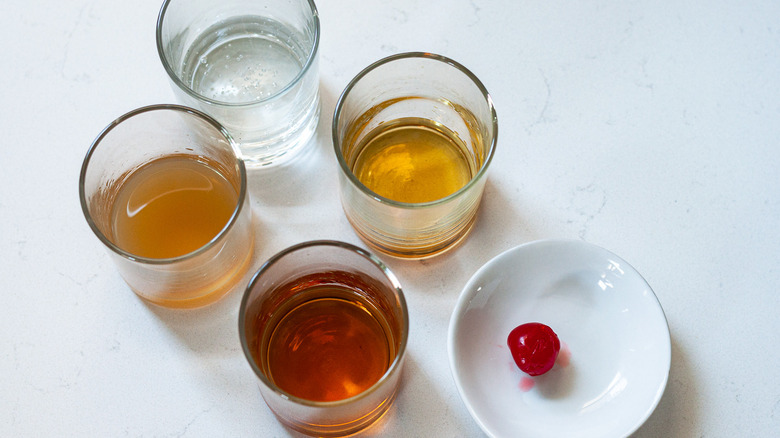 Christina Musgrave/Mashed
As noted, to make a decent amaretto sour, you need a decent amaretto, and at least a passably good bourbon. Fortunately, neither of them need be pricey. You'll also need some sweet and sour mix, lemon-lime soda (like Sprite), and a Maraschino cherry for garnish (and a bit of added sweetness). You'll also need some ice for shaking and serving. 
Shake up the cocktail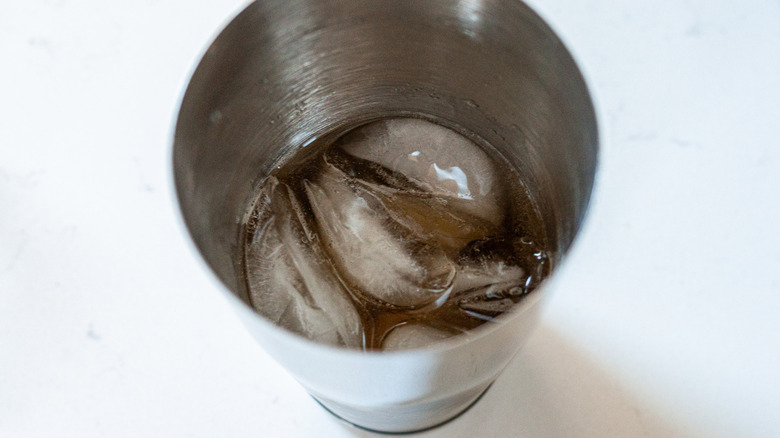 Christina Musgrave/Mashed
Add plenty of ice to a cocktail shaker, then pour in the Amaretto, sweet and sour mix, and bourbon. Top the shaker and shake those ingredients well. (And yes, you can stir this drink if you need to, but it mixes much better when shaken.)
Strain it out, garnish, and enjoy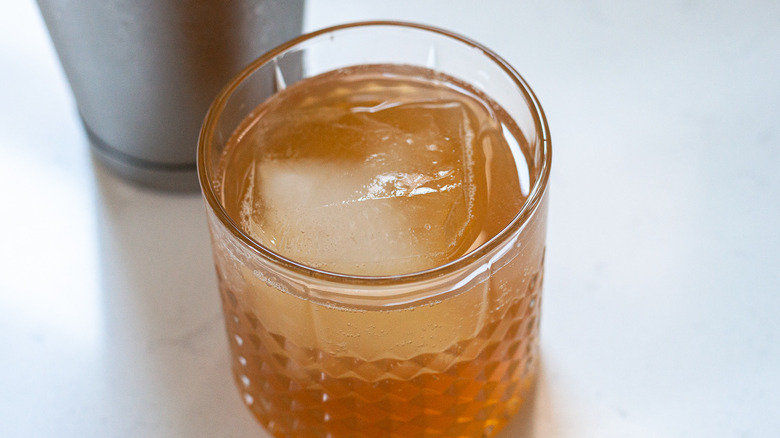 Christina Musgrave/Mashed
Add a few ice cubes to a glass and strain the shaken cocktail into it. Top up the cocktail with the lemon-lime soda, drop in the Maraschino cherry, and enjoy your delightful concoction.
A brief history of the amaretto sour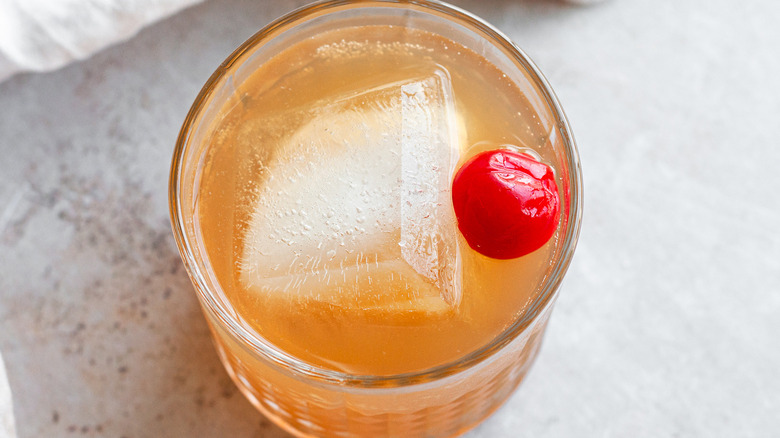 Christina Musgrave/Mashed
While the major player in this cocktail is the amaretto, which is an Italian liqueur, the amaretto sour is an American drink. According to the magazine Imbibe, the drink became popular in the 1970s as two factors crossed paths: the popularity of sour cocktails and a newfound interest in Italian spirits. 
Briefly popular in the '70s, the amaretto sour quickly fell into obscurity, until the version with the extra bit of bourbon popped up. The drink has been back on the proverbial cocktail map since the late '90s. 
Easy Amaretto Sour Cocktail Recipe
If you're looking for a go-to home cocktail to sip on, the amaretto sour is easy to make, and can be ready to enjoy in just 5 minutes flat.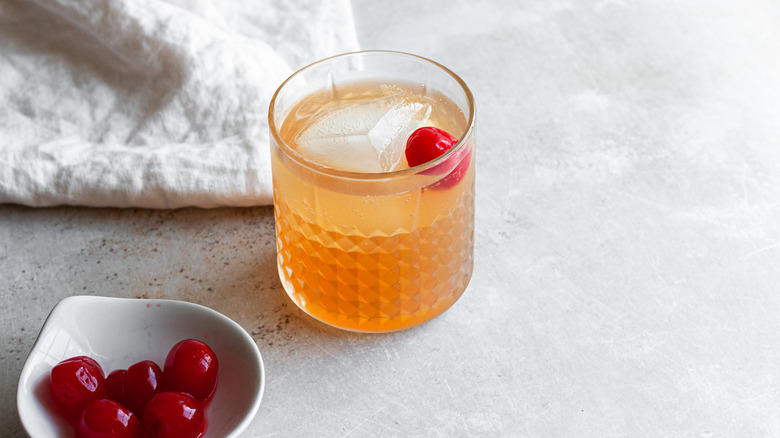 Ingredients
2 ounces amaretto
2 ounces sweet and sour mix
½ ounce bourbon
2 ounces sprite
1 Maraschino cherry
Directions
Combine the amaretto, sweet and sour mix, and bourbon in a cocktail shaker with ice.
Shake well.
Pour the cocktail into a glass and top with the Sprite.
Garnish with a Maraschino cherry and serve.
Nutrition
| | |
| --- | --- |
| Calories per Serving | 290 |
| Total Fat | 0.2 g |
| Saturated Fat | 0.1 g |
| Trans Fat | 0.0 |
| Cholesterol | 0.0 mg |
| | |
| --- | --- |
| Total Carbohydrates | 38.3 g |
| Dietary Fiber | 0.2 g |
| Total Sugars | 37.4 g |
| Sodium | 67.7 mg |
| Protein | 0.2 g |