The Wedding Cake Lobster Fans Think Is The Perfect Catch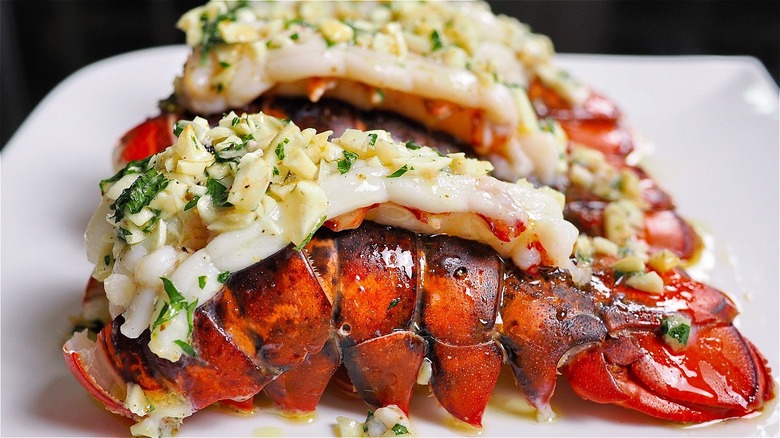 CTHB/Shutterstock
When you're at a wedding, the first thing you notice at the buffet table is the cake. Far from the cheap days-old cakes that you could pick up from Walmart, these cakes are designed to reflect the occasion through ornate, elaborate details and high-end ingredients. It doesn't have to be anything ridiculously over-the-top to be delicious, of course, but that doesn't mean some people aren't going to do their best to really hammer home how extravagant their wedding is.
Celebrity wedding cakes are no exception, as celebrities, not exactly known for their frugality and modesty, aren't afraid of dropping a few bills here and there. in the Philippines, one couple ordered a 12-foot-tall wedding cake for their special day, according to ABC News. The cake was so massive it took several bakery workers just to transport the towering dessert to its final destination. For those who want to really step out of the box, there's $440 wedding cake from Costco made entirely of 24 pounds of cheese (via Business Insider).
Couples who want to combine the decadence of wedding cakes and the luxury of fresh lobster, then there's a special cake that does just that.
Is it a wedding cake made of lobster rolls?
If you think that this wedding cake is just a bunch of lobster rolls stacked together and covered in icing, you'd be half right. It's not so much a cake made of lobster rolls as it is a fancy way of presenting lobster rolls to guests.
As Myseafood.com — the company that sells the lobster roll wedding cake — explains, you order an "assembly kit" of lobster rolls alongside a multi-tiered cake stand. Included in this kit are lobster meats, "lobster butter,"  a spice packet, and brioche rolls — enough to make anywhere from 24 to 48 lobster rolls, depending on the amount ordered. When the rolls are finished, they can be placed on the cake stand before placing your actual cake on the top level. Also included is a lobster-themed cake topper and, yes, you also get custom embroidered lobster bibs for when you're eating.
"Much like wedding season, Maine Lobster is synonymous with summertime and this year, we wanted to create something beautifully unique for lobster-loving couples tying the knot," East Coast Seafood and Myseafood.com director of marketing and product development Christina Ferranti told Food and Wine. She expressed her desire that the lobster roll wedding cake will add something "magical" to an already special day.
In case lobsters and cake doesn't sound like a good mix to you, you can always custom order from your local pastry chef —although you should probably know what to avoid before ordering a wedding cake.