The Trader Joe's Seasoning That Will Instantly Elevate Your Potato Salad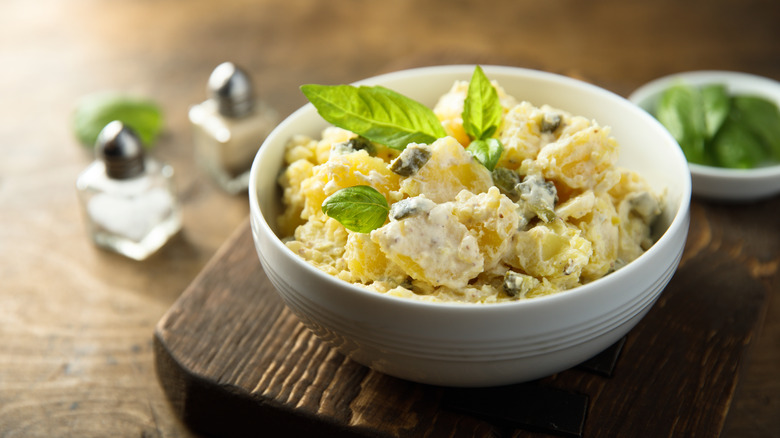 MariaKovaleva/Shutterstock
Stroll through the spice aisle at Trader Joe's and you'll notice an array of creative and original seasonings that will surely pique your interest. The best part is that these unique infusions are far from basic. Sprinkle any of its signature spices on a variety of dishes you already love to infuse your meal with that next level of flavor. After its zesty Everything but the Bagel Sesame Seasoning Blend inspired a raving cult following, Trader Joe's shoppers are constantly looking forward to what enticing new spice will be announced next.
Adding the perfect seasoning to a meal might just be a superpower, and Trader Joe's has truly crushed the spice game in recent years. The beloved grocery store is well-known for selling items under its private label, helping customers save, while focusing on making its specialty products better and better. If you're looking to add a bit of zing to your potato salad, there's one Trader Joe's spice that will have pickle lovers rejoicing.
What does Trader Joe's new pickle-flavored seasoning taste like?
Trader Joe's Seasoning in a Pickle Seasoning Blend could be your newest addition to your spice rack, adding its "tangy, salty, and delightfully dilly pickle profile anywhere it's used" (via Trader Joe's). This delicious concoction features a blend of granulated onion and garlic, dried dill, sugar and salt, and a splash of tangy vinegar to give it a little kick. Try experimenting with it to see what dishes you can add a heaping spoonful to, but if you're not sure what to use it for, Trader Joe's offers a few tasty suggestions. It recommends shaking your Seasoning in a Pickle Seasoning Blend into scrambled eggs, sour cream, roasted veggies, baked potatoes, and beef patties before cooking.
Reddit is also buzzing with imaginative ideas on what foods to add pickle seasoning to, turning bland meals into incredible flavor combinations. One user shared: "I've been mixing it with mayo as a sauce for the mini dill pickle falafels and putting it on cucumbers for a semi-healthy snack. Very good seasoning." Another Redditor chimed in with a suggestion: "Also makes chicken salad and tuna salad amazing!" It seems like just a dash of pickle has what it takes to transform your potato salad, or any savory dish, into something a little more gourmet.