Has Interest In The McPlant Withered Away?
What's a vegan going to find to eat at McDonald's? Not very much, according to the plant-based magazine VegNews: baked apple pie from the McCafé menu, Minute Maid slushies, plain English muffins, topping and condiment sandwiches (minus the meat and fish), and black coffee. Potatoes might be vegetables in their natural state, but McDonald's adds meat derivatives to its wildly popular French fries and hash browns in the U.S., so they, too, don't qualify as vegan.
No wonder vegans have been waiting (and waiting!) for the nationwide menu drop of the McPlant, which it appears will be the plant-powered version of the Quarter Pounder (per McDonald's). The meatless patty used in the sandwich was developed in partnership with Beyond Meat. According to Mickey D's, the burger is grilled, dressed with the usual accoutrements (ketchup, mustard, mayonnaise, and American cheese, plus onions, lettuce, pickles, and tomato slices), and served on a sesame seed bun.
The McPlant was introduced in all McDonald's restaurants in Europe last year and is currently available at a number of the fast-food chain's outposts in Texas and California (per The Street). Sales of McPlant haven't been great, and The Street went as far as to call it "a Whopper of a failure".
McDonald's McPlant is not selling McWell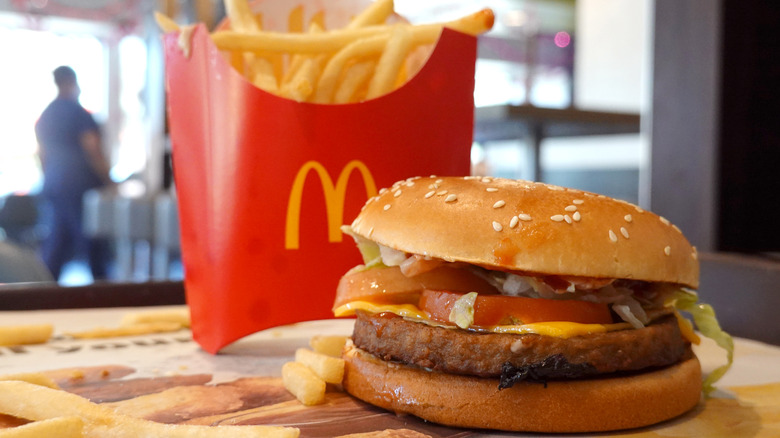 Justin Sullivan/Getty Images
McDonald's is an incredibly popular fast food option the world over, but competitor Burger King was one of the first chains to bring a plant-based burger on board its menu several years back with the Impossible Burger, and is in the process of adding more Impossible choices for diners.
McDonald's McPlant has performed well in European markets (per The Street), but McDonald's has taken its time rolling it out nationwide in the U.S. Test launches of the plant-based option have been less than McStellar at some 600 locations in the Dallas and San Francisco markets, according to Restaurant Business. Some restaurants in the San Francisco area had sales on the bottom end of a projected 125 to 300 McPlant sandwiches per week, while some in the Dallas-Fort Worth area had sales of only 13 McPlant sandwiches per day.
"The modest-to-underwhelming performance of McPlant in the two test markets ... suggests broad appeal of a plant-based burger at McDonald's isn't there yet," BTIG restaurants analyst Peter Saleh wrote in a report (per Restaurant Business).
An estimated 10% of Americans ages 18 and older consider themselves to be vegetarians or vegans (per The Conversation). Will vegans, vegetarians, and flexitarians (partial vegetarians) who simply want to eat less meat eventually have it their way with meat-free burgers at McDonald's? Time will tell.