Easy Potato Cakes Recipe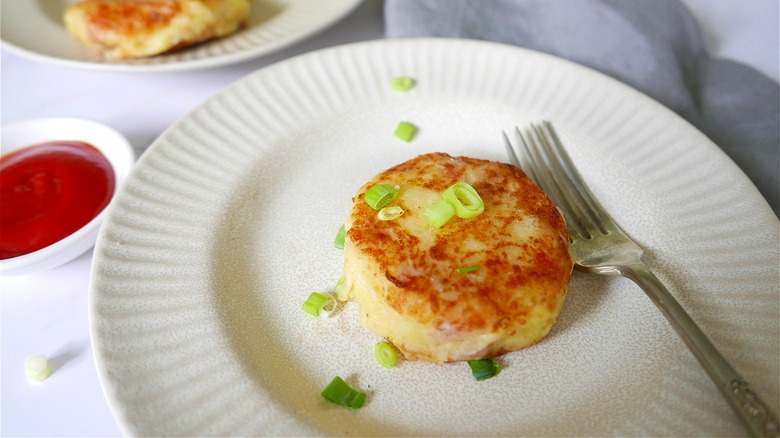 Ting Dalton/Mashed
Let's be straight: It's always a good time to enjoy any food that's potato-related. There's just something about spuds that screams comfort, no matter what way you slice 'em, dice 'em, or serve 'em. This recipe uses leftover mashed potatoes, not only making it affordable but also preventing anything from going to waste. Another great part about this dish is that it requires very little prep work and cooking time.
Recipe developer Ting Dalton of Cook Simply came up with this easy recipe that would go great with your next big meal. "This potato cake recipe is perfect to use up leftover mashed potatoes. Filling, delicious, and great for lunch or brunch — comfort food at its best," Dalton shares. "I love that you can turn the humble mashed potato and elevate it to a new level," she adds. Like most of us, Dalton has a soft spot for potatoes. "I'm a huge potato fan — and cheese! So the combination for me here is a real treat," she says.
Gather the easy potato cake ingredients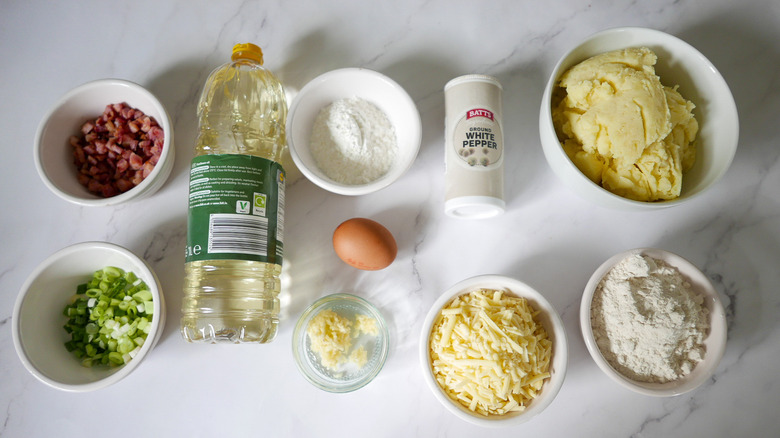 Ting Dalton/Mashed
For this recipe, you'll need leftover mashed potatoes (keep 'em cold), an egg, all-purpose flour, cornstarch, pepper, minced garlic, shredded cheddar cheese, cooked bacon lardons, green onions, and vegetable oil. "You can use different types of cheese; for a vegetarian version, leave out the bacon," Dalton advises.
Once you have those items gathered, you can make these easy potato cakes.
Mix the ingredients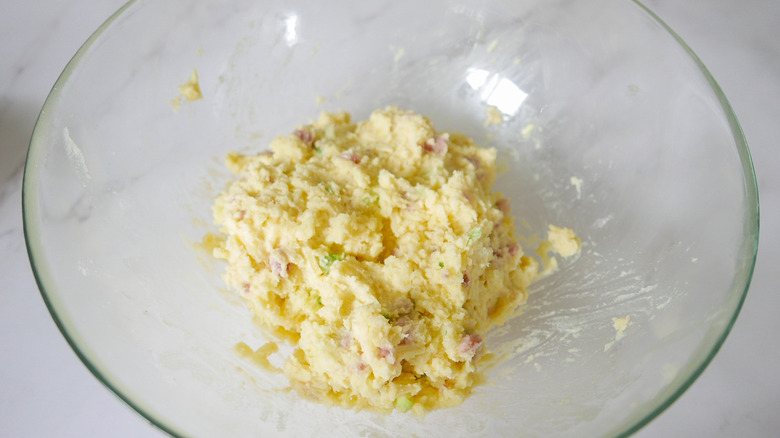 Ting Dalton/Mashed
Grab a large bowl that is suitable for mixing. Then, add those leftover mashed potatoes, along with the egg, some of the all-purpose flour, garlic, cheese, green onions, and bacon. Use your hands (aka the best kitchen utensils) to mix the ingredients together and form the filling.
Make the coating for the pancakes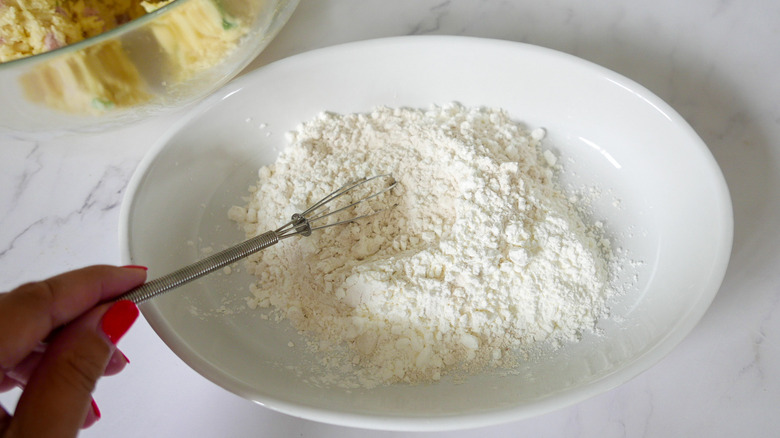 Ting Dalton/Mashed
Add the cornstarch and remaining flour to a shallow bowl, then mix them together. This will be the coating that goes on the potatoes, making the pancakes extra crispy.
Form the potato pancakes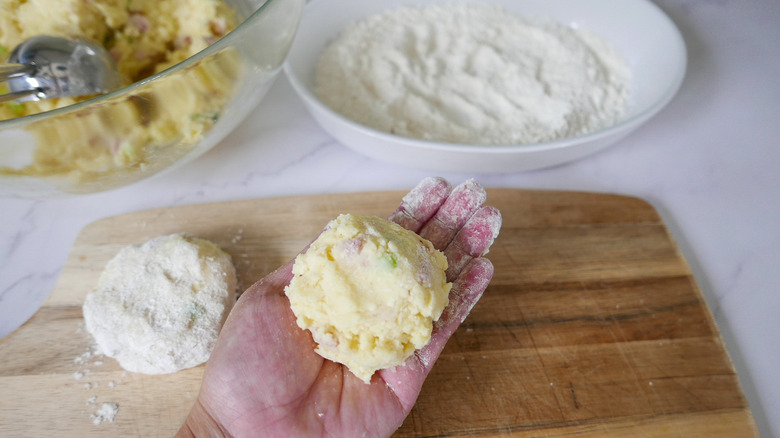 Ting Dalton/Mashed
Divide the mashed potato mixture into 10 roughly equal portions (an ice cream scoop is especially helpful here). Use your hand to flatten each portion into a patty around 1 ½ inches thick. Then, coat each potato cake with the flour and cornstarch mixture. Repeat with the remaining portions.
Fry the potato cakes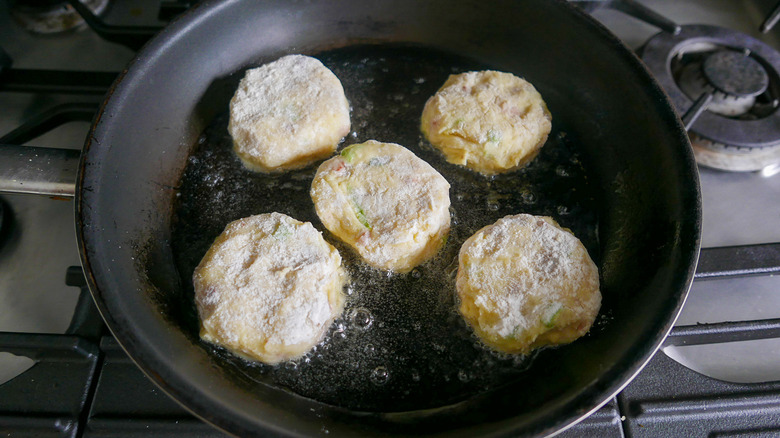 Ting Dalton/Mashed
Heat half the oil in a large non-stick skillet, then add half of the potato cakes. You'll want to cook them until they're golden brown on both sides (about 4 minutes total). Once they're cooked, gently remove the potato cakes and place them on paper towels. Add the rest of the oil and cook the remaining cakes.
Serve and enjoy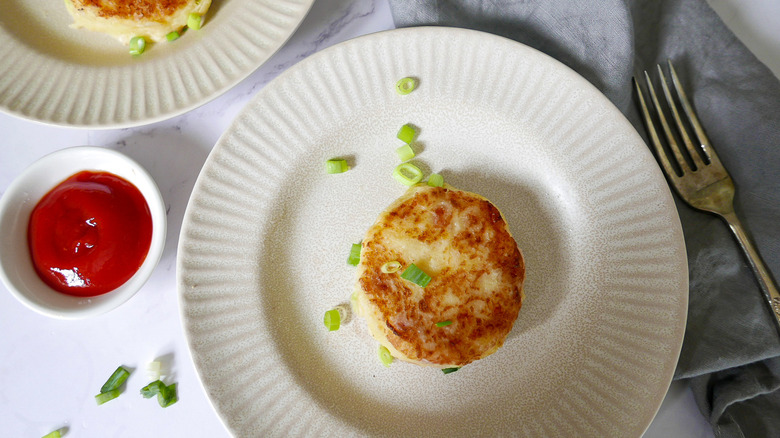 Ting Dalton/Mashed
These potato cakes are great solo, but Dalton also provides a few additional serving suggestions: "Serve with tomato sauce, or even with fried eggs for a more substantial meal."
If you have any cakes left over, be sure to keep them! "These are great to freeze for up to three months. Defrost, then quickly refry them in a skillet. You can also make them ahead of time and keep in the fridge, then fry them off before serving," Dalton shares.
Easy Potato Cakes Recipe
This recipe is genius in that it uses leftover ingredients, elevating a simple side — the humble mashed potato — into a brand new dish.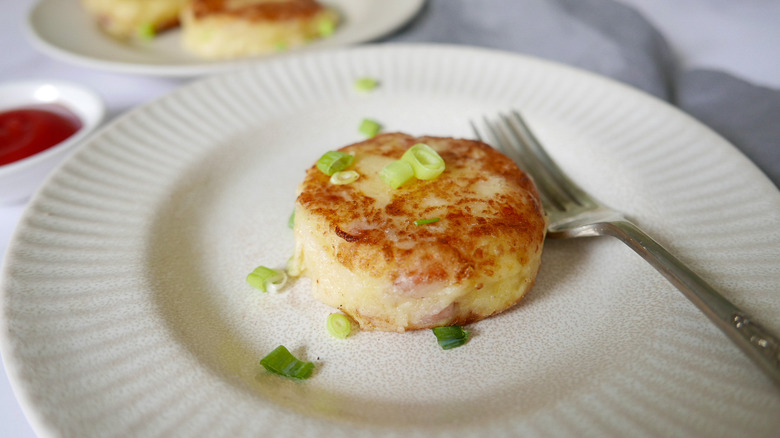 Ingredients
2 ½ cups leftover mashed potatoes (kept cold)
1 egg
1 cup all-purpose flour, divided
¼ cup cornstarch
¼ teaspoon white pepper
2 cloves garlic, minced
1 cup shredded cheddar cheese
½ cup cooked bacon lardons
¼ cup thinly sliced green onions
6 tablespoons vegetable oil
Directions
In a large mixing bowl, combine the mashed potato, egg, ⅓ cup flour, garlic, cheese, green onions, and bacon.
Using your hands, mix the ingredients together.
On a separate plate, mix the cornstarch and the remaining flour together.
Using an ice cream scoop or similar, divide the mashed potato mixture into 10 equal portions. Using your hand, flatten each portion into a patty around 1 ½ inches thick.
Coat each cake in the reserved flour and cornstarch mixture.
In a large non-stick skillet, heat half the oil. Fry half the potato cakes for around 2 minutes on each side until golden brown.
Gently remove and place onto paper towels.
Repeat the above with the remaining oil and potato cakes until all are cooked.
Nutrition
| | |
| --- | --- |
| Calories per Serving | 271 |
| Total Fat | 16.9 g |
| Saturated Fat | 4.0 g |
| Trans Fat | 0.3 g |
| Cholesterol | 33.6 mg |
| | |
| --- | --- |
| Total Carbohydrates | 22.0 g |
| Dietary Fiber | 1.2 g |
| Total Sugars | 0.4 g |
| Sodium | 389.0 mg |
| Protein | 7.7 g |