11 Best Nonstick Skillets You Can Buy Right Now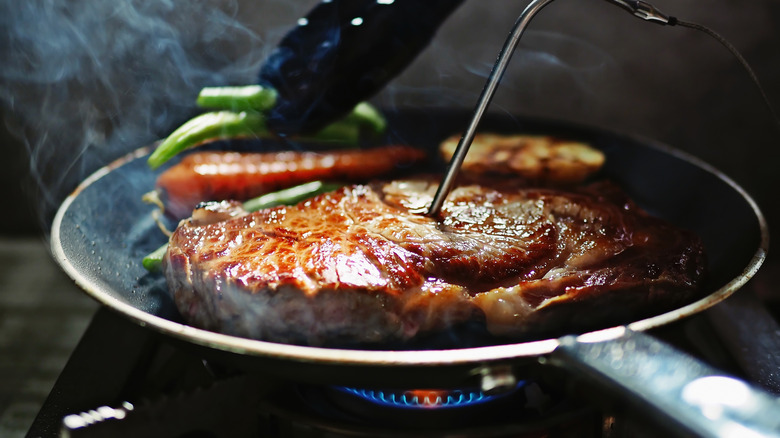 Boontoom Sae-Kor/Shutterstock
We may receive a commission on purchases made from links.
Whether you are a seasoned chef or a complete novice in the kitchen, a nonstick pan is an absolute must. Perfect for cooking delicate crêpes or fluffy omelets without leaving a layer of food stuck to the bottom, nonstick skillets are also ultra-easy to clean. Usually, all it takes is wiping them down with a wet cloth. In addition, unlike cast iron or stainless steel skillets, nonstick pans will have your food sliding right off the surface with a minimal amount of oil (via Fair Food Matters).
While selecting a nonstick pan is by no means an exact science, there are certain features you should be looking for in high-quality cookware. Beyond a nonstick surface, a pan should heat up quickly and retain a consistent temperature even after the heat is lowered. It should also be easy to handle and maneuver. Last but not least, durability is also an important consideration when selecting a nonstick skillet — after all, the last thing you want is for the nonstick coating to start flaking off after a few uses.
How we selected products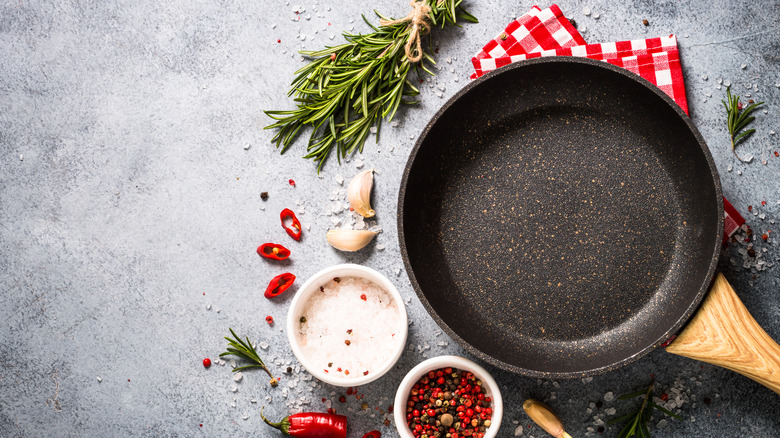 nadianb/Shutterstock
Any self-respecting kitchen enthusiast is all too aware that cookware can make or break a meal. And this isn't just about the quality of your dinner — nobody wants to spend half an hour scraping a half-burnt skillet. The good news is that when it comes to nonstick pans there are plenty of options on the market. And while the sheer variety of skillets out there can be overwhelming, it doesn't need to be if you know what you're after.
In our quest to find the perfect nonstick pans, we scoured the internet for both favorable and unfavorable community and expert reviews. And since not all pans are designed for the same purpose, we also took into account how each one performs its designated function. After all, you may not need an expensive restaurant-style skillet to make the occasional omelet. Looking to add a new skillet to your culinary arsenal? Keep reading to find the best pan for your needs. All the prices in this article were accurate as of April 25, 2022.
Best ceramic nonstick skillet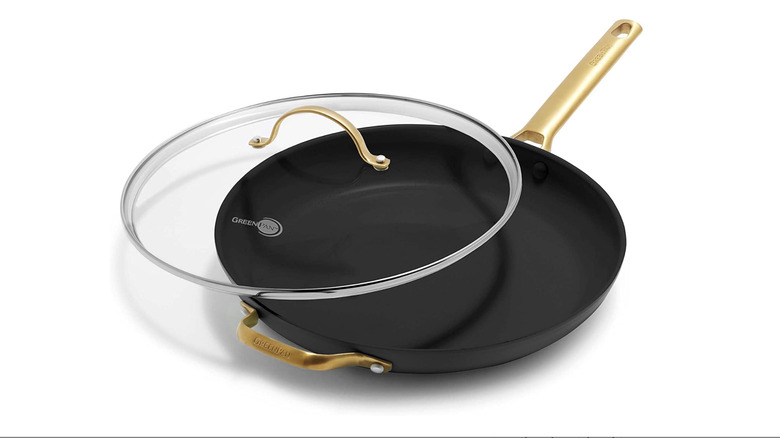 GreenPan
What makes the GreenPan Reserve Ceramic Nonstick Pan stand out from the skillet pack is its patented Thermolon coating — traditionally, nonstick pans have been coated in polytetrafluoroethylene (PTFE), also known as Teflon. And although harmful chemicals like PFOA have been banned from PTFE since 2015, it can still break down if exposed to high temperatures, which can make some kitchen enthusiasts uneasy (via Healthline). Advertised as non-toxic, the GreenPan Reserve's diamond-infused ceramic nonstick coating translates to zero nasties that could flake into your food and also even heat distribution since Thermolon is a great heat conductor (via GreenPan). Better still, the core of the skillet is made from hard-anodized aluminum for superior strength and scratch resistance.
User reviews of the GreenPan Reserve have been overwhelmingly positive. In fact, at the time of writing, the 12-inch skillet has a 5 out of 5 rating on Amazon. One satisfied customer pointed out that the skillet cleans easily, heats evenly at lower temperatures, and comes with a lid. Another GreenPan enthusiast wrote, "I've had numerous different brands throughout the years. This one is by far the best. Food slips right out onto a plate. Amazing!"
Purchase the GreenPan Reserve Ceramic Nonstick Pan from Amazon starting at $100.
Best multipurpose nonstick skillet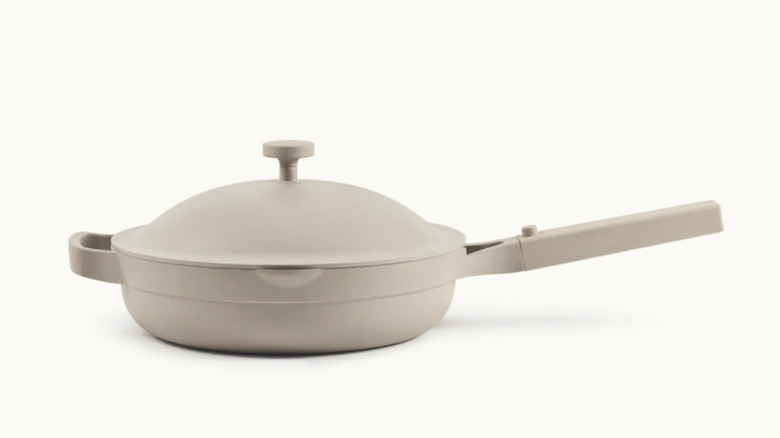 Our Place
Whether you want to sear, steam, fry, braise, sauté, or broil, the Our Place Always Pan has you covered. This multi-functional aluminum pan has been designed to replace multiple pieces of cookware including a skillet, sauté pan, steamer, and saucepan. More specifically, the stylish pan set is composed of a ceramic nonstick skillet that's PFOA- and PTFE-free, a stainless steel steamer basket, a colander, and a modular lid to release steam. The skillet also comes with a beechwood spatula and a convenient spoon rest.
While there's little doubt that the Always Pan is a piece of culinary eye candy, this kitchen essential is about much more than aesthetics, as noted by its fans. "The Our Place pan's surface is so nonstick that I'm often tempted to sauté without oil, and it's incredibly easy to clean. It heats quickly and evenly, and feels sturdy yet still lightweight in my hand ... The pan's handle stays room temperature, so it's easy to maneuver without feeling the heat," Megan Mowery wrote for Taste of Home. According to BBC Goodfood, the only notable drawback of this skillet is that it's not dishwasher or oven-safe.
Purchase the Our Place Always Pan from the brand's site starting at $115.
Best heavy duty nonstick skillet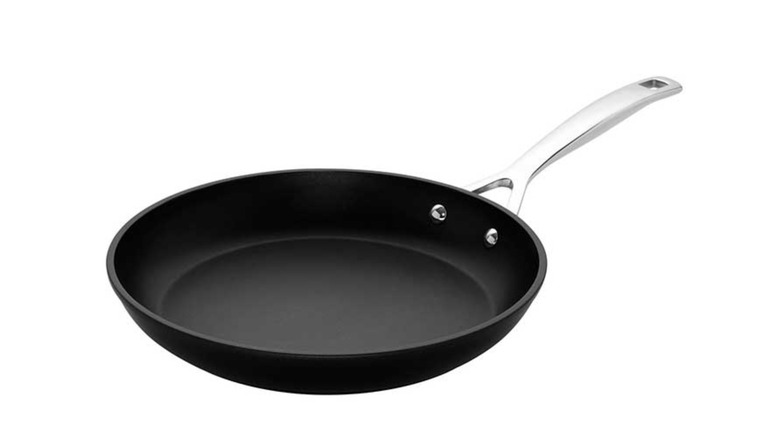 Le Creuset
For a skillet that goes the distance, look no further than the Le Creuset Toughened Nonstick Pan. Crafted by a cookware manufacturer that has been delivering quality products since 1925, the Toughened Nonstick Pan features an aluminum core for fast and even heating. The core is sandwiched between two highly-durable layers of stainless steel. In fact, the company asserts that the cookware is four times stronger than other skillets. Plus, the pan is covered in PFOA-free coating both inside and out to make cleaning a breeze (via Ceramic Cookware Reviews).
According to Good Housekeeping, the Toughened Nonstick Pan held up well in testing, "Not a single scrap of scrambled eggs clung to the ... skillet even though they were cooked without any butter or oil. The pieces are also induction safe and can be washed in the dishwasher." The only complaint expressed was that the riveted handle can be tricky to clean — however, this is something we can definitely live with. So what about durability? One Amazon reviewer certainly seemed impressed. "I've had this pan for a while and it is the best I have ever owned. It isn't as nonstick as some other brands but it's very, very close. This pan is incredibly durable. I'm happily surprised how this pan is holding up," they wrote.
Purchase the Le Creuset Toughened Nonstick Pan from Amazon starting at $125.
Best industrial/restaurant-style nonstick skillet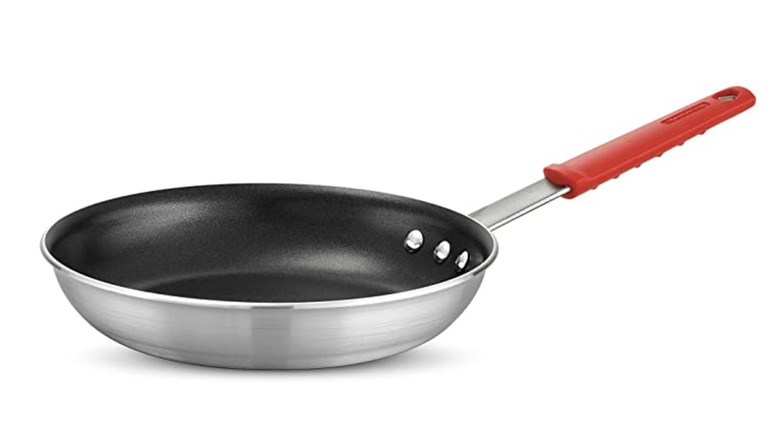 Tramontina
The ability to make restaurant-quality dishes in your own kitchen isn't just the result of your cooking prowess; it also comes down to the quality of your cookware. And in this department, the Tramontina Professional Aluminum Nonstick Pan delivers. Crafted with thick-cast aluminum, the affordable pan has been praised for its lightweight construction and even heat distribution. Danielle Centoni, who reviewed the skillet for The Kitchn, explained, "It was made of light cast aluminum, making it effortless to pick up. And because aluminum is super responsive to temperature changes, the pan got hot in no time ... It provided extremely even heat, but was quick to cool down if I had the heat cranked too high. Nothing burned and nothing stuck."
Aside from maneuverability and responsiveness, the Tramontina Professional Aluminum Nonstick Pan comes with a comfortable silicone grip for easy handling. The sleeve is also easy to remove in case you want to put the finishing touches on that frittata in the oven (the pan is oven-safe up to 400 degrees Fahrenheit). Anna Perling from the Wirecutter, who has been using the pan since 2016, was particularly impressed with its durability, saying, "Nonstick coatings can scratch and ding easily, causing [pans] to lose their slickness, but with proper care, your pan should last three to five years ... We've used the pan for four years before the surface started to dull."
Purchase the Tramontina Professional Aluminum Nonstick Pan from Amazon starting at $34.
Best nonstick skillet for omelets
From beating your eggs properly to using just the right amount of heat, making a perfect omelet is an art form. But it's not all just about skill. The right skillet can also mean the difference between a mouth-watering fluffy omelet and a complete kitchen disaster. Luckily, this is where the Zwilling Madura Plus Non-Stick Frying Pan can be your indispensable breakfast companion.
Made from PFOA-free forged aluminum with a 4-ply DuraSlide granite nonstick coating, the Madura Plus will have you flipping and folding your omelets like a pro in next to no time (via Zwilling). There's a good reason why Bon Appétit has called this pan "the best pan for eggs we've ever used" and "as slick as a greased-up air hockey table." The pan has also been praised for its stay-cool ergonomic handle, maneuverability, and ease of cleaning. According to the company, its nonstick coating is 40 times more scratch-resistant than standard nonstick skillet coating.
Purchase the Zwilling Madura Plus Non-Stick Frying Pan from Amazon starting at $60.
Best stylish nonstick skillet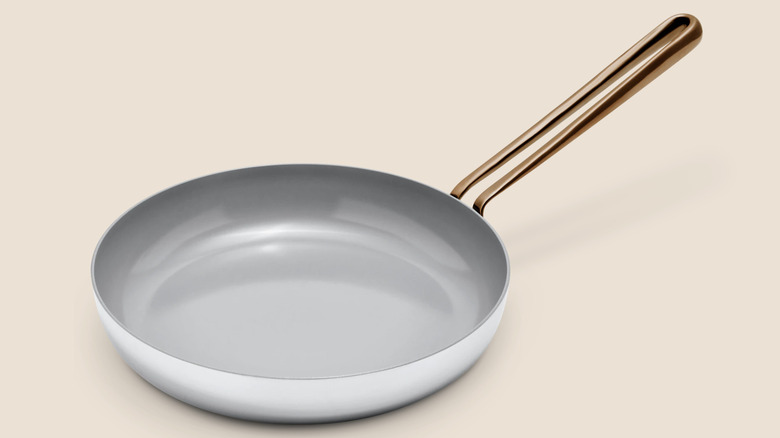 Great Jones
When it comes to kitchen tools, for many of us aesthetics and functionality go hand in hand. After all, a pan that's not just user-friendly but also appealing can elevate your cooking experience to a whole new level. The chic Great Jones Large Fry is a case in point. Made from stainless steel with a non-toxic ceramic coating, this stylish pan combines looks with solid performance. And suffice it to say that this skillet is bound to impress your dinner guests. Plus, at 10.25 inches, it's large enough to cook for a group.
When it comes to the Large Fry, the first thing that catches the eye is its modern welded handle. There are no cumbersome rivets or seams here that could trap stray bits of food or bacteria. After test driving the skillet, Shelby Golding from Living Cozy gave it an overwhelmingly positive response, saying, "I'm delighted to report that nothing burned or stuck even with my tendency to use too much heat and not enough oil. The nonstick surface is super slick and improved my cooking process." On the downside, while this elegant skillet is induction stovetop compatible and oven safe up to 500 degrees Fahrenheit, it will become scratched if you use metal utensils with it.
Purchase the Great Jones Large Fry from the brand's site starting at $85.
Best everyday nonstick skillet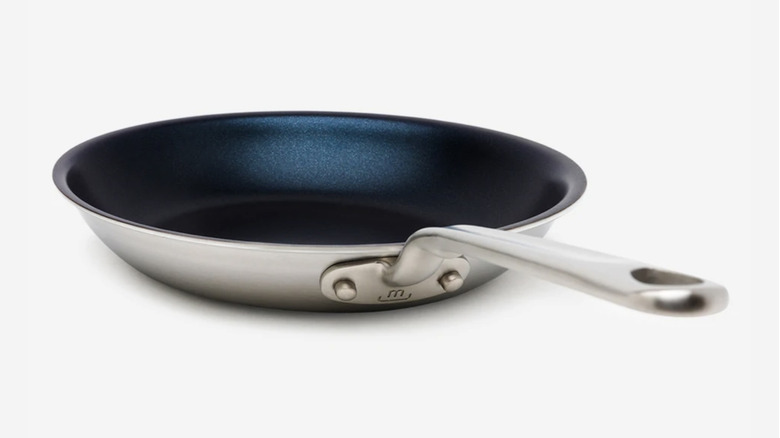 Made In Cookware
Great for frying, searing, sautéing, and browning, the Made In Non-Stick Frying Pan is as versatile as skillets get. With multiple coats for extra durability and scratch resistance, this super slippery pan can take a beating in the kitchen. The brand claims that this skillet can last up to 70 times as long as some other nonstick skillets. To top it off, the skillet is induction stove compatible and oven safe up to 500 degrees Fahrenheit.
Made In is an online cookware startup that made its debut in 2017, and the Made In Non-Stick Frying Pan exemplifies the brand's commitment to balancing price, quality, and ease of handling (via Insider). Made from five-ply stainless steel, the skillet features great heat conductivity at both low and high temperatures. In terms of functionality, the pan comes with a stay-cool handle and a flared rim to ensure a smooth pan to plate transition. The main downside of this pan is that it's not dishwasher safe. However, if you're happy to wipe it down between uses, this gem will serve you for years to come.
Purchase the Made In Non-Stick Frying Pan from the brand's site starting at $130.
Best nonstick skillet set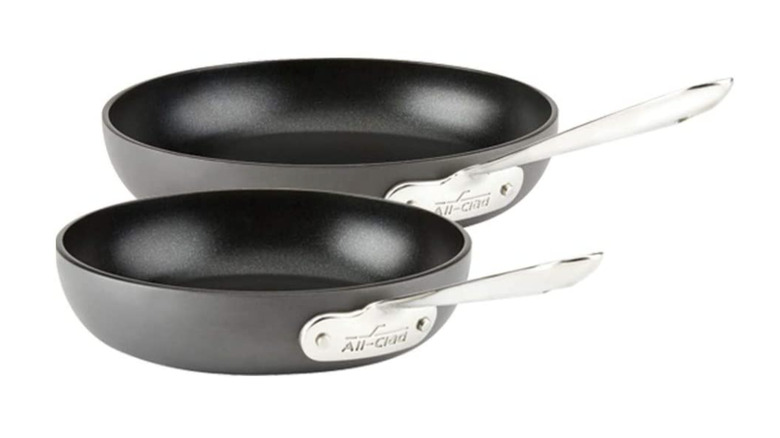 All-Clad
The All-Clad HA-1 Nonstick Fry Pan Set includes two hard-anodized pans of different sizes and an optional saucepan collection. Made from high-quality aluminum covered with three layers of PFOA-free nonstick coating, the pans feature a stainless steel bonded anti-warp and anti-scratch base (via Prudent Reviews). Compatible with all stovetops — including induction — and oven-safe up to 500 degrees Fahrenheit, the skillets are also comfortable to maneuver and dishwasher safe for easy cleaning.
This All-Clad set has been a hit with Amazon users, over 80% of whom have given it a five-star rating. One reviewer went as far as saying that the nonstick pans were the best he had ever used. He was particularly impressed with the duo's deep-set cooking surface and durability, saying, "Heavy pans with high sides so you can flip veggies while sauteing. Easy to clean. For years I've been buying throw-away nonstick skillets and replacing them yearly. Won't have to do that anymore." And while most reviewers have praised the pans for their nonstick properties, some have mentioned that the pans are on the heavy side, making them unsuitable for people with dexterity issues.
Purchase the All-Clad Nonstick Fry Pan Set from Amazon starting at $70.
Best budget nonstick skillet Set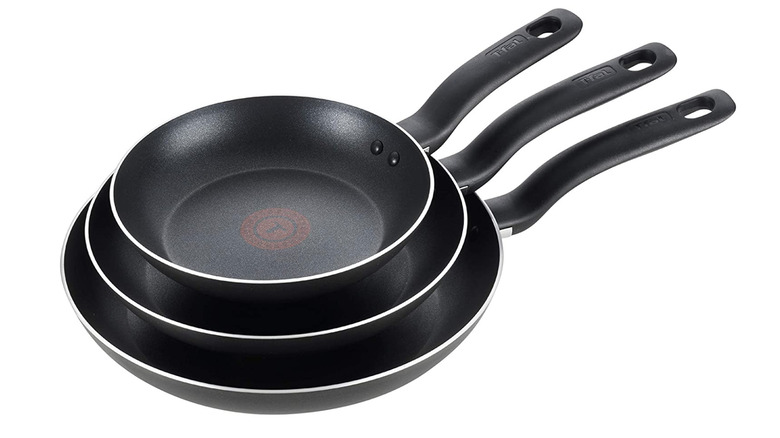 T-fal
For an all-around high performer that's not going to break the bank, you can't beat T-fal's Specialty Initiatives Nonstick Pans. This three-piece set features an 8-inch, a 9.5-inch, and an 11-inch pan and is one of the best bargains on this list. Completely nonstick, the hard-anodized pans heat up quickly and distribute heat evenly during the cooking process. Plus, they come with temperature-resistant silicone handles to ensure comfort and are oven safe up to 350 degrees Fahrenheit. Per The Spruce Eats, "They're not as heat resistant as higher-end cookware but can withstand the heat required to finish a steak or keep your side dishes warm."
While relatively durable and dishwasher safe, these budget-friendly pans do require a little TLC if you want to be able to get the most out of them for years to come. And it's not just the fact that the trio doesn't tolerate high heat. Since they aren't as scratch-resistant as some other more expensive nonstick pans, it's best to refrain from scraping them with metal utensils. The pans are also relatively lightweight, which makes them ideal for those who find it tricky to maneuver heavier skillets, but not suitable for electric burners that might be slightly off-kilter.
Purchase the T-fal Specialty Initiatives Nonstick Pans from Amazon starting at $35.
Best lightweight nonstick skillet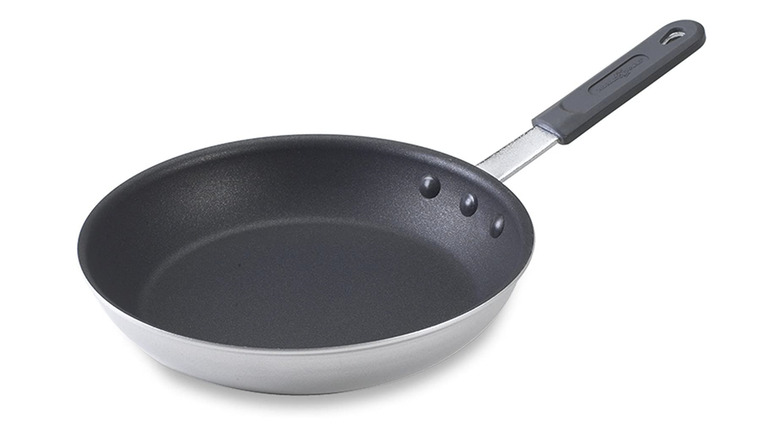 Nordic Ware
The easy-to-handle Nordic Ware Restaurant Cookware Nonstick Frying Pan stands out for its lightweight design. At a 10.5-inch diameter and 2.1-inch depth, this skillet weighs only 2.2 pounds. For comparison, the average 10-inch Teflon pan weighs 2.6 pounds while similarly sized stainless steel pans come in at around 3.7 pounds (via Blacksmith Skillets). Some other notable features of this versatile aluminum skillet include a slick PFOA-free coating, a removable silicone grip in case you want to place the pan in the oven, and nonstick rivets for easy cleaning (via Good Housekeeping). The pan is also NSF certified, which means that it complies with all of that organization's safety, design, and product performance requirements.
The one downside of this pan is that's not dishwasher safe, but the slippery coating makes it easy to clean by hand, so that shouldn't be a big issue.
Purchase the Nordic Ware Restaurant Cookware Nonstick Frying Pan from Amazon starting at $35.
Best square nonstick skillet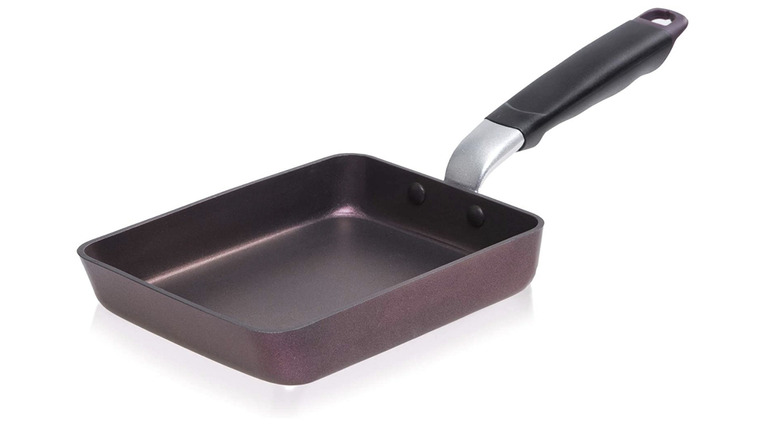 TeChef
While originally designed to make tamagoyaki, or Japanese-style omelets, rectangular skillets are highly versatile. Perfect for braising meat or even making grilled sandwiches, rectangular pans offer more cooking space than their round counterparts of a similar size. In addition, they make pouring juices out of a skillet a breeze — all you have to do is tilt the pan to one side. Not to mention the fact that rectangular pans can add an element of elegance to an otherwise plain kitchen. The TeChef Tamagoyaki Japanese Egg Pan is a case in point. Made in South Korea, the skillet has received overwhelmingly positive reviews for its durability and ease of use.
Featuring PFOA-free nonstick Teflon coating, the Tamagoyaki Japanese Pan has a unique design with sloped sides, making flipping pancakes and omelets a piece of cake. Plus, the pan's heavy aluminum construction with a stainless steel bottom ensures durability and even heat distribution. "I have had this item for almost 28 months and have used it 4-5 days a week, making tamagoyaki," a reviewer posted on Amazon. "This is easily the best pan I've ever had for making rolled Japanese omelets. After two years of heavy use, the non-stick coating is still working as well as it initially did ... It is thick and retains heat well, yet it is fairly light."
Purchase the TeChef Tamagoyaki Japanese Egg Pan from Amazon starting at $23.