The Unexpected Job Guy Fieri Had Before His Food Network Fame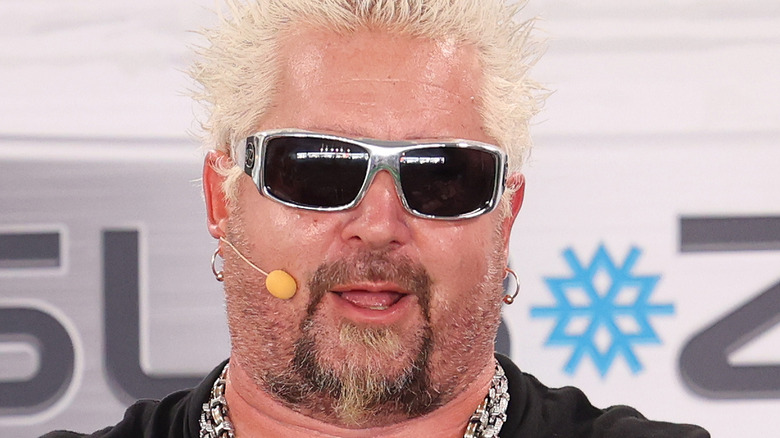 Alexander Tamargo/Getty Images
"And we looked, and behold, a cherry-red Camaro and his name that sat on him was Fieri, and Flavortown followed with him." Guy Fieri is something of a legend in the world of food. With an outrageous combination of frosted tips, sunglasses, and a bold rebellious attitude, Guy is most well-known for his adventures across the United States, searching for the very best "Diners, Drive-Ins, and Dives." But behind that wild early-2000s aesthetic and a love for the craziest and most flavorful foods out there, how exactly did Guy Fieri become, well, Guy Fieri?
Fieri's start in the world of food began when he was very young when, as a young entrepreneur, Fieri sold soft pretzels from a custom-built cart known as "The Awesome Pretzel" (via Food Network). Later in life, a student exchange trip to France (funded in part by Fieri washing dishes) instilled a deep love of international cuisine in the young man. In 1996, Fieri opened his first restaurant, Johnny Garlic's, in his hometown of Santa Rosa, California, thus beginning Fieri's official journey as a restaurateur. In 2005, on a dare by his friends (according to Biography), Guy sent a video to "The Next Food Network Star" reality show, where his outrageous and charming attitude made him stand out above the competition and start his rise to fame.
But before he traveled the U.S. to gobble down wings and burgers, Fieri had another job in the television industry: muffler salesman.
Fieri hawked mufflers in 2001
If you were to see Guy Fieri in a commercial today, you'd have no doubt that the person on-screen before you is the real Guy Fieri. But in the early 2000s, viewers would see a totally different Fieri we know and love today. One that seemed more clean-cut, more professional, and reserved than the bold and out-going Guy that now enjoys a good habanero sauce.
As seen in multiple commercials on YouTube for Flowmaster Mufflers, Fieri, dressed in a relatively modest baseball cap, jeans, and T-shirt, hawks the many qualities of the Flowmaster Muffler. With the same energy and style as your uncle who collects classic cars and wears crocs to every event, the soon-to-be king of Flavortown boasts of Flowmaster's "true American-made perfomance" and a "trademark Flowmaster sound." Comments on the videos couldn't help but make jokes, considering the difference between the Fieri of then and the Fieri we see today.
"Use better car parts for speedier trips to FLAVORTOWN," wrote user "Execute Crab-21."
"Too much exhaust must've driven ol' Guy to getting frosted tips and button-down shirts with flames on them." joked another user.
"Seconds later, he modified his Flowmaster for grilling and frying purposes," quipped user "Stomp Chunkman."
While Guy Fieri has not talked about his brief job as muffler salesman, we now know it was only a stepping stone in the rise of America's most rambunctious, outrageous, and one of its most beloved chefs.