Tropical Rum Runner Cocktail Recipe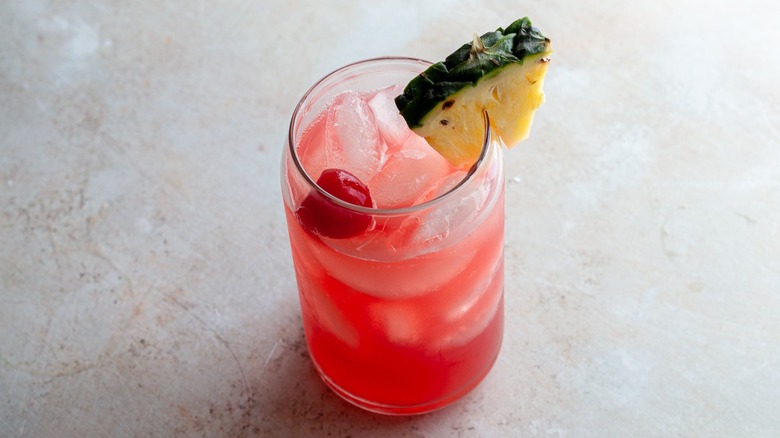 Christina Musgrave/Mashed
What comes to mind when you think of summer? For some people, it's gathering in the park and firing up the grill, but for others, it's kicking back by the pool in a lounge chair (ideally in a tropical location) surrounded by swaying palm trees with a tiki drink in their hand. Though they sound exotic, Thrillist explains that tiki drinks were actually invented in America in the early 1930s due to "a Depression-era need for escapism." Though the trend has ebbed and flowed over the years, they're still going strong almost 100 years later, with classics like mai tais, zombies, and painkillers still being served at tiki bars across the country.
The rum runner is another popular tiki drink. Rum forms the base of this cocktail, of course, and it gets its multifaceted sweetness from two types of liqueurs and juices, respectively. "The different juices give this drink its tropical flavor," says Christina Musgrave, who has developed a classic rum runner recipe that's easy to make and will surely hit the spot after a long day in the sun.
Where did the Rum Runner come from?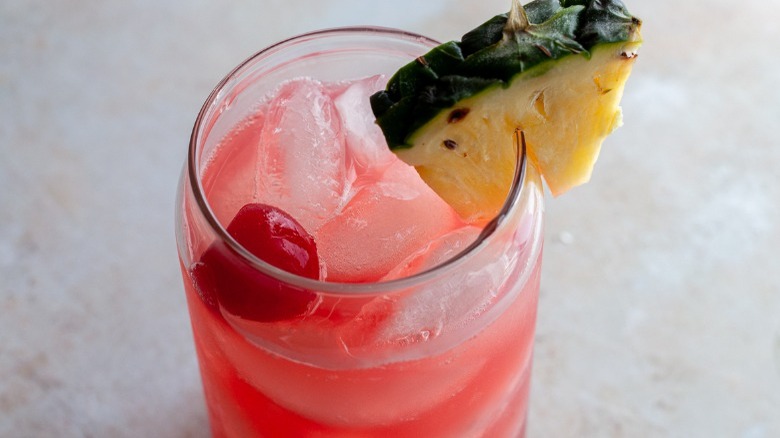 Christina Musgrave/Mashed
According to Florida Keys Guide, the Rum Runner first came into being at a tiki bar called Holiday Isle. This cocktail has somewhat uncertain origins, but allegedly was invented after this Florida bar had "an excess of rum and certain liqueurs that needed to be moved before the arrival of more inventory." Not the worst problem to have, considering the attempts to use up the booze resulted in the creation of the Rum Runner. It also explains why it's made with so many types of liqueur, which isn't something all cocktails have.
Gather your rum runner ingredients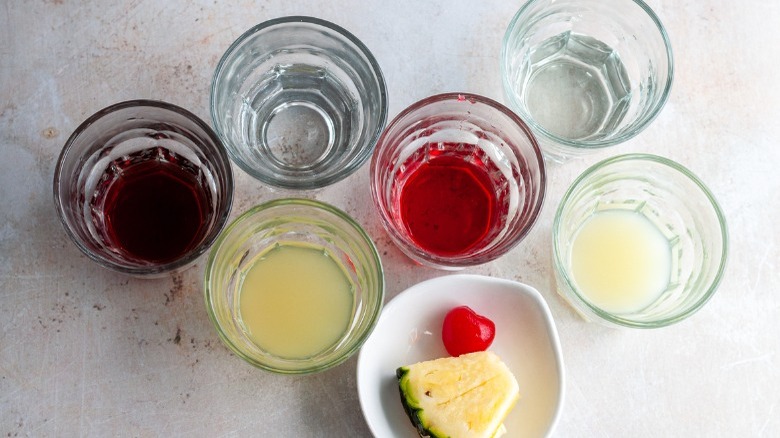 Christina Musgrave/Mashed
There may not be cooking involved in this recipe, but there's still several moving parts to prepare for. Start with some rum — "I like light rum because it doesn't overpower the flavor and lets the flavors of the other ingredients shine," Musgrave explains. You'll also need banana and blackberry liqueurs, lime and pineapple juice, and grenadine, plus a cocktail shaker and ice. For garnish, get a Maraschino cherry and a wedge of pineapple.
If you don't have banana or blackberry liqueur, "you could substitute with other flavored liqueurs, like peach," says Musgrave.
Shake it all up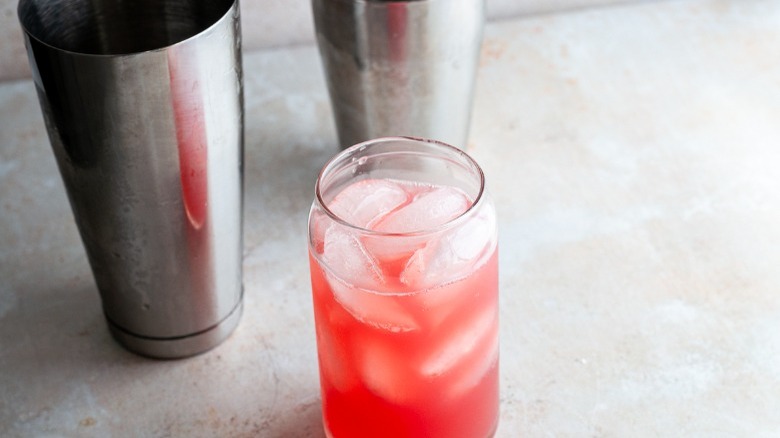 Christina Musgrave/Mashed
It's time to shake things up. Fill your shaker with ice and pour the rum, liqueurs, fruit juices, and grenadine in. Put the top on the shaker and jostle everything around for about 10 seconds, so everything gets nice and cold (and mixed-up).
Enjoy your tropical drink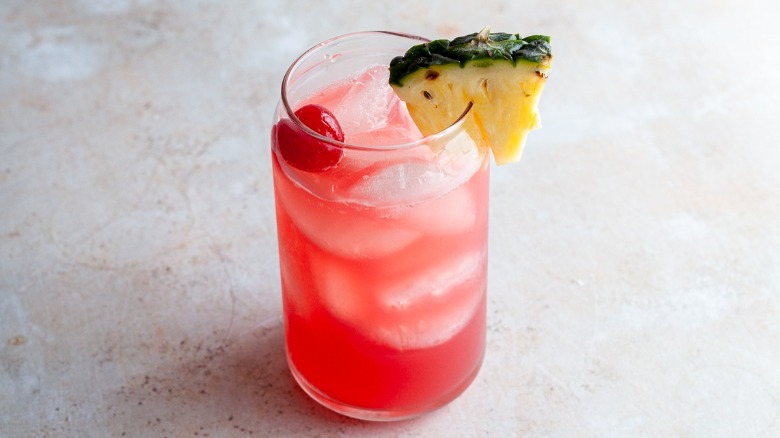 Christina Musgrave/Mashed
Once you've poured your shaken-up rum runner into a tall glass and garnished it with a cherry and pineapple wedge (this is optional, but makes the whole thing more fun), that's it! You've made a rum runner.
This recipe makes one cocktail, but the ratios make it easy to scale up. "You can double or triple this recipe for a batch cocktail," Musgrave says. "Just store in the refrigerator without any ice, or else the drink will be watered down." There you have it: A fruity, tropical tiki drink that can be enjoyed poolside or at a backyard party with friends.
Tropical Rum Runner Cocktail Recipe
This tropical rum runner cocktail is sweet and full of fruity flavor.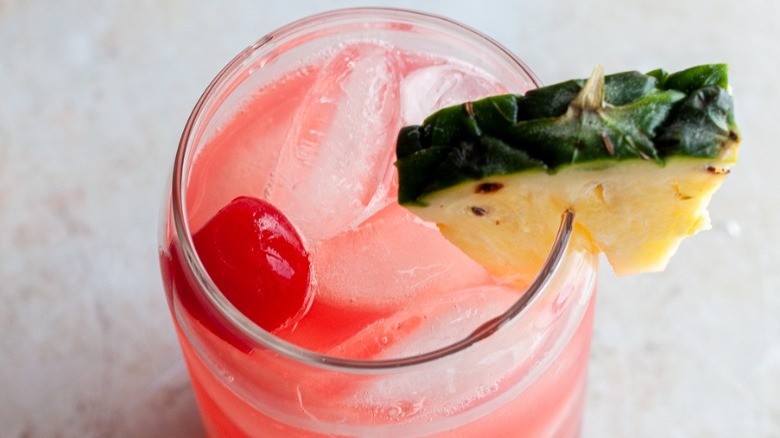 Ingredients
2 ounces white rum
1 ounce banana liqueur
1 ounce blackberry liqueur
1 ounce pineapple juice
1 ounce lime juice
½ ounce grenadine
Optional Ingredients
Pineapple wedge, for garnish
Maraschino cherry, for garnish
Directions
Combine the rum, banana liqueur, blackberry liqueur, pineapple juice, lime juice, and grenadine in a shaker with ice.
Shake for 10 seconds, until chilled.
Pour into a tall glass. Garnish with a pineapple wedge and maraschino cherry, and serve.
Nutrition
| | |
| --- | --- |
| Calories per Serving | 373 |
| Total Fat | 0.2 g |
| Saturated Fat | 0.1 g |
| Trans Fat | 0.0 |
| Cholesterol | 0.0 mg |
| | |
| --- | --- |
| Total Carbohydrates | 37.9 g |
| Dietary Fiber | 0.2 g |
| Total Sugars | 29.9 g |
| Sodium | 10.1 mg |
| Protein | 0.3 g |