Why College Dropout Burgers Just Made Another Major Change
Inspiration for a restaurant's menu can come from many areas. Terms like farm to table, fusion, or molecular gastronomy can influence a particular style, but chefs may also look to music or movies for a spark of creativity. Sometimes, those at the center of pop culture simply create their own celebrity restaurants. But for the Melbourne, Australia restaurant College Dropout Burgers, it has been forced to file away its inspiration. Thanks to a cease-and-desist demand from Kayne West, the burger joint has changed its menu in a major way.
When the Australian burger spot first opened, XXL Mag reported that Mark Elkhouri, a Ye fan, used the popular rapper's songs as burger inspiration. While people may have craved a "Good Morning" breakfast sandwich, the flavorful bite didn't hit the right note with one person: West. Elkhouri was originally thrilled that the Yeezy founder had stumbled across the restaurant's social media, but that happiness was short-lived. Now, the restaurant's logo, burgers, and any connection to the Grammy winner have been scrapped. Looking to distance itself from any "Gold Digger" reference, the burger place is taking the high road.
Changing direction may be good for College Dropout Burgers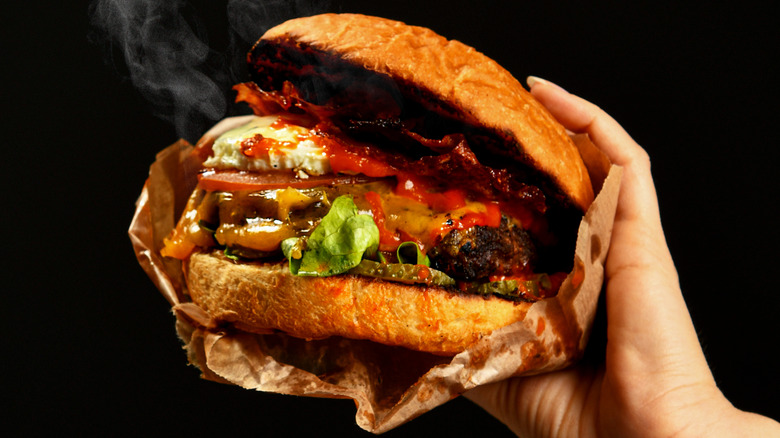 Dmitry Lobanov/Shutterstock
When College Dropout Burgers was told that it had to revamp its menu and scrub any references to Kanye West, the restaurant's founder could have simply closed up shop. After all, owner Mark Elkhouri told Complete Music Update that the entire concept was created to celebrate West. Luckily, West isn't the only college dropout who has found fame and fortune outside of higher education.
Elkhouri told Australian newspaper West Australia Today that the letter may actually be a "blessing in disguise," noting that while there are many Ye fans, others find the Grammy award-winning artist a hard pill to swallow. He added that he will respect West's wishes and "move forward." The Melbourne restaurant's menu will now draw inspiration from a variety of famous college dropouts. From Bill Gates to Brad Pitt to Einstein, there are several famous names who never received a college diploma now attached to Elkhouri's menu items. The restaurant's original logo, which was a play on West's "Graduation" album bear, is also being changed, via XXL Mag.
Perhaps Elkhouri will even toss a burger for himself on the menu, since he, too, is a college dropout (per 7News).