The Unexpected Ingredient The Neelys Use In Deviled Eggs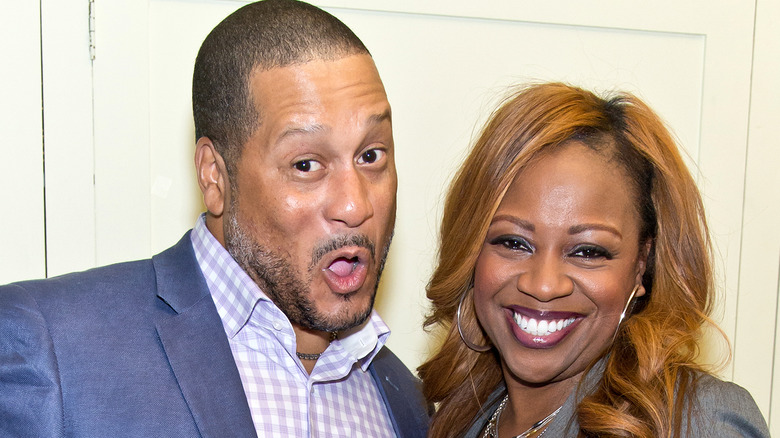 Gilbert Carrasquillo/Getty Images
If your guests yawned the last time you presented them with a platter of deviled eggs, it might be time to change up your recipe. The classic mayo and paprika deviled egg recipe might be you're favorite, but for some, it just isn't cutting it anymore. Luckily this hard-boiled staple plays well with a host of diverse ingredients that can inject a little pizazz into those plain yolks.
From Joanna Gaines's Sugar-Glazed Bacon deviled eggs to Anne Burrell's truffle version, Taste of Home reports that many chefs have their own unique spin on deviled eggs. Something as simple as citrus zest or even a favorite salad dressing can dress up this finger food. With so much potential for variety, there's truly no excuse for plating up a boring batch.
Food Network show hosts Pat and Gina Neely have a secret ingredient of their own, and it's consistent with their show's focus on barbecue classics.
The Neelys' deviled egg recipe stays true to their brand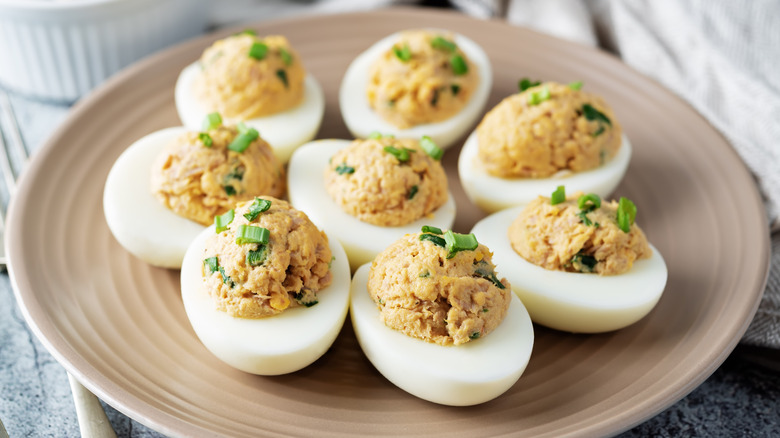 Nataliya Arzamasova/Shutterstock
When it comes to deviled eggs, less isn't necessarily more. Adding variety and flavor to your yolks is simple, but the options can be overwhelming. Pat and Gina Neely, the hosts of the Food Network show "Down Home With The Neelys," add a tablespoon of barbecue sauce to their version of deviled eggs, bringing southern flavor to a classic that's enjoyed all over the world (per Food Network). Along with the BBQ sauce, they incorporate mayonnaise, mustard, and hot sauce.
Based on comments from the Food Network recipe, this is a winning combination of flavors. "My family loved them on the 4th of July. They were great," wrote one person who tested out the deviled egg recipe. Another said this creation is a "good, solid deviled egg recipe."
Cooking blog everyday dishes says that barbecue sauce can add "zing" and "tang" to a dish that is already delicious. Southern Living has its own version of barbecue deviled eggs, but instead of adding a few dashes of barbecue sauce, they recommend chopping smoked pork as finely as possible and adding it into the filling. 
Whether or not you make your own or buy America's favorite BBQ sauce, there are many different flavors you can create when trying the Neelys' recipe out.