Sautéed Mushrooms Recipe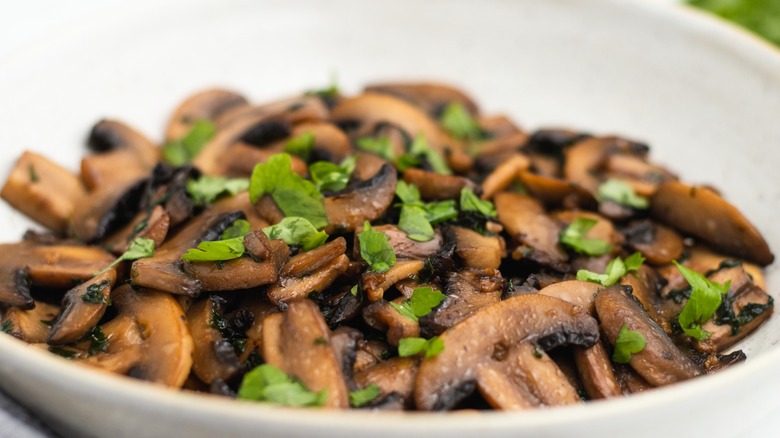 Catherine Brookes/Mashed
What can we say about mushrooms, everyone's favorite fungus? While eating them may have been risky business back in the days when you had to pick your own, today there's no need to guess which mushrooms are safe and which are deadly. Barring the occasional recall, the mushrooms you buy in the grocery store are a pretty safe bet. They've got fiber, protein, and nutrients galore, are low in calories, and tend to be reasonably priced. Oh yes, and they also taste great, particularly when sautéed.
Recipe developer Catherine Brookes enthuses, "Mushrooms are one of my favorite veggies, and it's so simple to enhance their flavor with a few ingredients you may already have on hand in your kitchen." One ingredient that she feels helps make these sautéed mushrooms extra special is soy sauce. As she tells us: "Adding a little soy sauce helps to give a deeper umami to the mushrooms." She also likes to make this dish with chestnut mushrooms, saying they "tend to be a little more mild and nutty in flavor," but she adds that "you can absolutely sub for other types of mushrooms here."
Gather the ingredients to make these sautéed mushrooms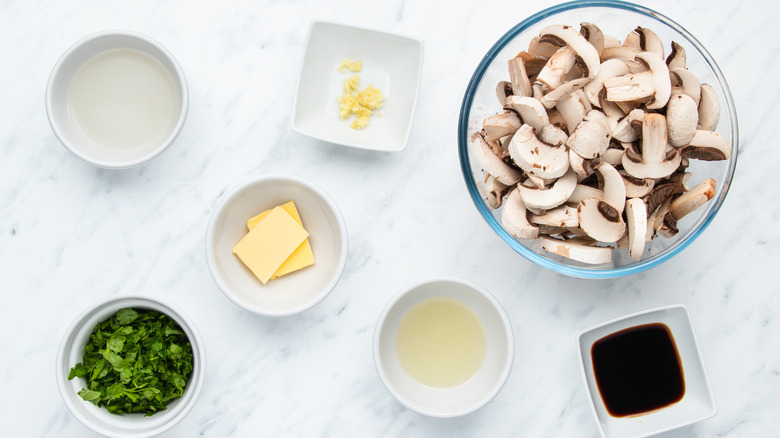 Catherine Brookes/Mashed
To make these mushrooms, you'll need some oil and butter to cook them in. For added flavor, you'll also need a little white wine, some soy sauce, garlic, salt, pepper, and parsley to add a bit of color. Brookes suggests using chestnut mushrooms, but if those are not available, you could use cremini or white button mushrooms.
Prepare the produce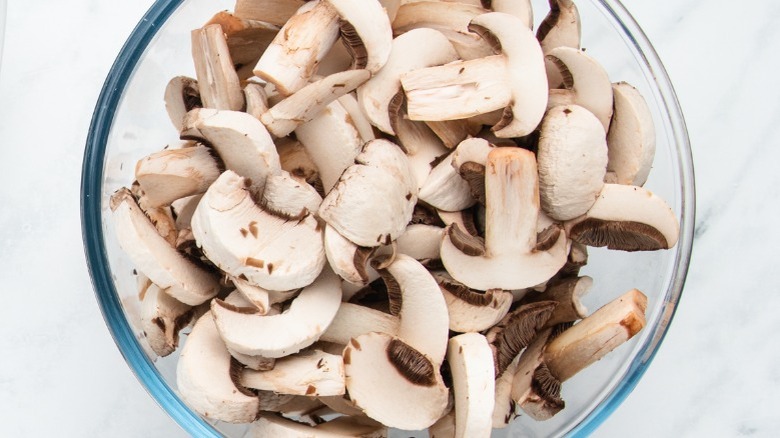 Catherine Brookes/Mashed
Before you cook the mushrooms, you'll need to clean them and slice them. You will also need to chop the parsley and peel and crush the garlic. No garlic press? No problem, give it a mince, instead.
Cook the mushrooms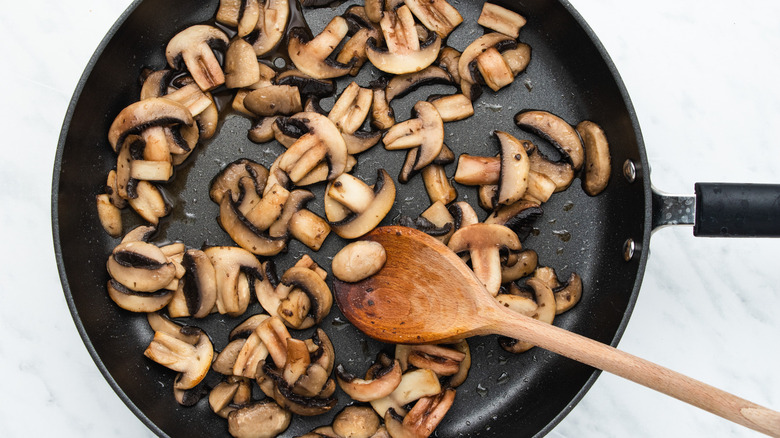 Catherine Brookes/Mashed
Combine the butter and oil in a frying pan over medium-high heat. When the butter is melted, add the sliced mushrooms to the pan. Cook them for 3 to 4 minutes until they begin to brown.
Add the rest of the ingredients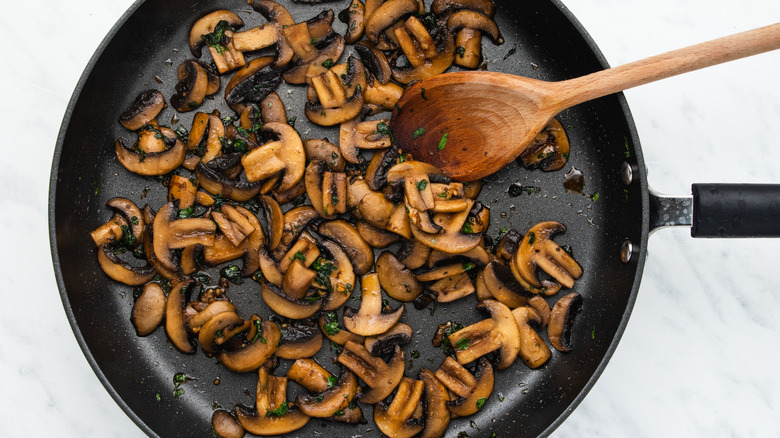 Catherine Brookes/Mashed
Pour the wine over the mushrooms, stir it in, and cook them for about 2 minutes. At this point, add the soy sauce, garlic, parsley, and as much salt and pepper as you like. Cook the mushrooms for another 3 to 4 minutes. This extra time, Brookes tells us, will "allow the flavors to combine."
Brookes says you can garnish the mushrooms with additional parsley if you want to give them some color. She says this dish is "great as part of a cooked breakfast with bacon, sausages, [and] eggs," and also suggests adding the mushrooms to a rice bowl. They would also make a great topping for steaks, chicken breasts, or certain types of fish like cod, halibut or sole, or can simply be eaten on their own with a slice of French bread.
Sautéed Mushrooms Recipe
Learn a quick and easy way to make mushrooms; they're the perfect side when looking to add a burst of flavor to anything from breakfast to a Sunday roast.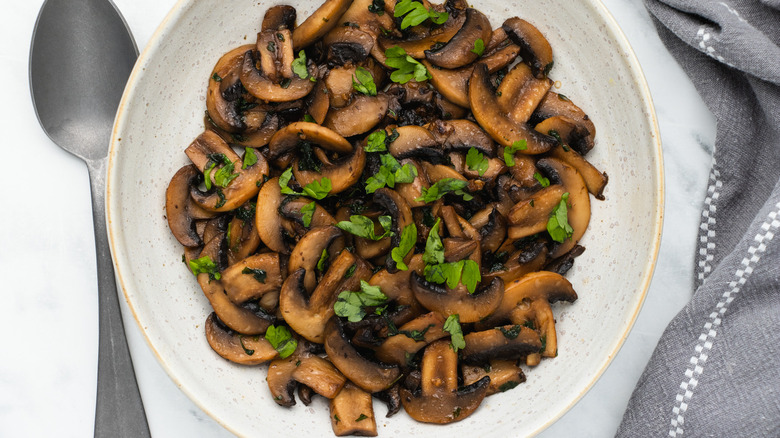 Ingredients
1 tablespoon butter
1 tablespoon olive oil
12 ounces chestnut (or any other fresh) mushrooms, cleaned and sliced
2 tablespoons white wine
1 tablespoon soy sauce
2 cloves garlic, crushed
3 tablespoons chopped fresh parsley
salt and pepper, to taste
Directions
Heat the butter and oil in a large frying pan on a medium-high setting.
Cook the mushrooms until browned, about 3 to 4 minutes.
Stir in the wine and cook the mushrooms for another 2 minutes.
Stir in the soy sauce, garlic, and parsley, then add salt and pepper to taste.
Cook the mushrooms for another 3 to 4 minutes.
Nutrition
| | |
| --- | --- |
| Calories per Serving | 86 |
| Total Fat | 6.6 g |
| Saturated Fat | 2.3 g |
| Trans Fat | 0.1 g |
| Cholesterol | 7.6 mg |
| | |
| --- | --- |
| Total Carbohydrates | 4.0 g |
| Dietary Fiber | 1.1 g |
| Total Sugars | 1.8 g |
| Sodium | 251.1 mg |
| Protein | 3.2 g |