Does This Briny Bacon Alternative Satisfy Vegans' Cravings?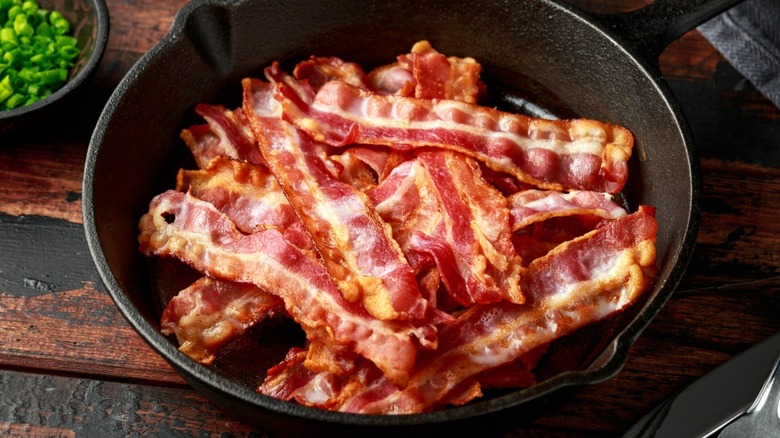 DronG/Shutterstock
Seaweed that sizzles
Umaro Foods makes its bacon primarily out of red seaweed protein, a vital ingredient the brand's website says gives the product a great taste, texture, and umami flavor. It turns out that red seaweed is known to taste like bacon, too, so on top of seaweed being a climate-conscious food, it was also the logical choice in making a faux bacon that even meat eaters would enjoy. Umaro's bacon is more complex than just frying up some seaweed, though. Its recipe also incorporates chickpeas, coconut oil, sunflower oil, sea salt, plus other natural flavors and colorants to get this plant-based bacon as close to the real thing as possible. 
You won't find a seaweed, lettuce, and tomato sandwich on most restaurant menus, but Umaro thinks you should. And if you are one of the seaweed curious out there, a little patience is needed. Umaro's seaweed bacon just launched, but only at a few highly-rated restaurants in San Francisco, New York City, and Nashville. And while this product may not be in your city just yet, keep your eyes peeled. As VegNews reports, Umaro received a notable $1 million in funding from the show "Shark Tank" and has long-term goals to expand its offerings beyond these few initial cities.