The Seasonal Chick-Fil-A Side Instagram Wants To See All Year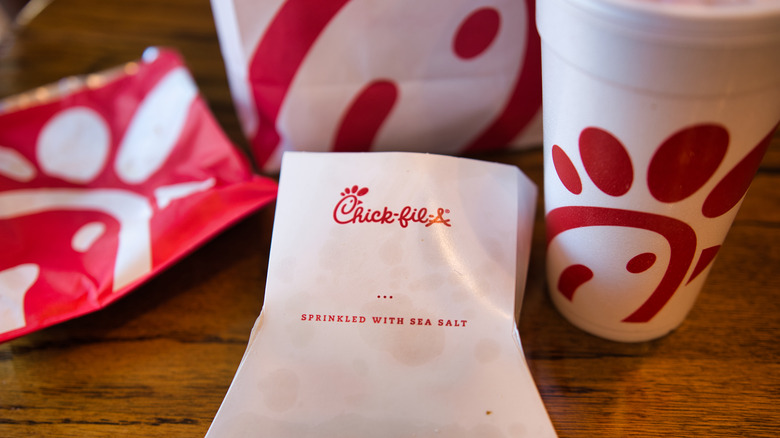 jmac23/Shutterstock
Chick-fil-A is a fast food favorite. According to a press release, the quick-service restaurant that serves yummy chicken sandwiches recently clinched the spot of top dog in the 2022 American Customer Satisfaction Index ranking for the eighth year in a row. Still, the chain's menu tells the real story. It's difficult not to find something that satiates the rumbly in the tumbly, as Winne the Pooh would say. Who doesn't love the chain's original chicken sandwich? But seriously, when you are voted a favorite and leading the fast food pack for nearly a decade, your customers must love the food.
In fact, Chick-fil-A devotees can't get enough of those waffle fries that consistently outshine other menu items at the Eat Mor Chikin' restaurant. Per a Chick-fil-A blog post, the fried criss cross potatoes are a favorite from sea to shining sea, and after snacking on a few, it's not difficult to understand why. The drinks at the chain are so delish there's even a 3-ingredient copycat Chick-fil-A lemonade recipe that tastes just like the real thing. But when it comes to seasonal menu items that come and go, there is one that Chick-fil-A fans on Instagram would like to see find a permanent home on the menu.
Chick-fil-A fans love Chicken Tortilla Soup
In December, Chick-fil-A posted a photo of the celebrated menu item on Instagram and captioned the photo, "Cooler temps call for a cupful of cozy — Chicken Tortilla Soup is here for a limited time." What makes it special? Per Chick-fil-A, the dish contains "shredded chicken breast and navy and black beans — all in a white, creamy base with a blend of vegetables and spices." 
It must be pretty tasty because one IGer confessed, "I always thought my favorite meal from [Chick-fil-A] was the chicken sandwich until I tried the soups." And another argued, "This needs to be offered permanently or at least through the entire winter season. It's January and already gone!" Still another fan of the soup got right to the point, commenting, "This should never be only seasonal. No joke my favorite item from Chick-fil-A. I'd go eat there a ton more if this was always on the menu."
There are plenty of places across the United States that might appreciate this soup becoming a permanent staple. The chain revealed that El Paso, TX is the city that orders the menu item the most, followed by Grand Junction, Colorado, and Cheyenne, Wyoming.