TikTok Is Drooling Over This Simple 3-Ingredient Trader Joe's Hack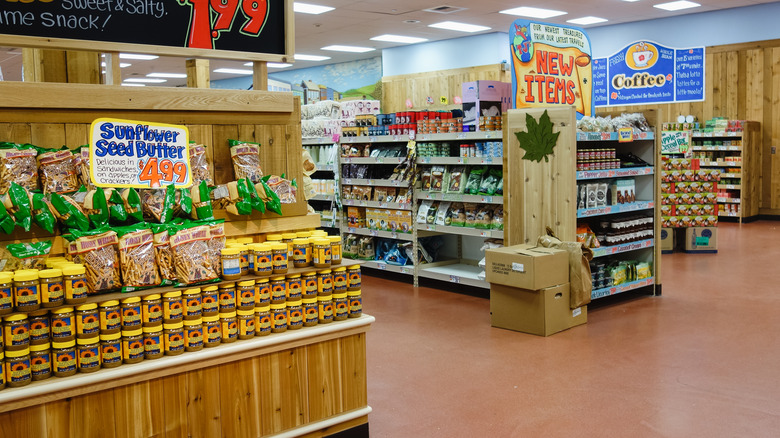 Corinna Haselmayer/Shutterstock
Have you have been burned by the promise of delicious, quick meal hacks before, only to be disappointed? We feel you. But one TikToker has come up with a genuinely good three-ingredient dinner hack. All of the ingredients come from Trader Joe's, which is known for its intriguing finds and tasty offerings.
TikTok account @Dashofmandi has more than 19,000 followers and posts about simple recipes using TJ's products. Her three-ingredient pasta dish video has received nearly 70,000 likes so far, and for good reason. One, it's pasta. Second, it has the savory-smokiness of sausage. Third, your evening's vegetable is incorporated into the dish. Dashofmandi says it's her "new favorite Trader Joe's meal." We're listening.
Frozen fiocchetti pasta with sauce, sundried tomato sausage, and spinach make up this quick and easy meal. She starts by slicing and browning some TJ's Sun-Dried Tomato Chicken Sausages. Once they're browned, Dashofmandi removes the savory slices from the pan and sets them aside. She then adds butter to the pan (don't follow the package instructions of using water and oil because "Butter is better!") and adds a bag of TJ's frozen Cheese Filled Fiocchetti with Pink Sauce to the butter. Once the pasta is cooked, she adds back the sausage rounds as well as some fresh spinach and finishes the dish with some red pepper flakes and fresh-ground black pepper. (You can find the full recipe on Dashofmandi's Instagram.)
Cheese-filled pasta meets sausage and spinach
Dashofmandi's followers are loving her quick and easy Trader Joe's pasta hack. In her 20-second video "Trader Joe's 3 ingredient meals are my jam," Dashofmandi combines sliced sausage, a bag of frozen fiocchetti in sauce, and spinach for a one-pan meal. The influencer's fans responded with a resounding "yum" to the recipe, which elevates the little drawstring purse-shaped stuffed pastas into a hearty, nutrient-rich (thank you, spinach!) meal.
Many commenters echoed the sentiments of one user who couldn't wait and "bought the stuff today!" Another said, "Made this tonight for dinner and it's soooo delicious!!" "Made this for dinner and it was a hit!," another commenter chimed in. One follower wrote, "I am on the road with teenagers and needed something easy to make in an Airbnb. They LOVED this."
Another commenter added, "I love this pasta but always felt like it was missing something/not a full meal. Trying this ASAP." Others offered alternate protein suggestions for frozen pasta, such as "shrimp or the frozen grilled chicken strips." "I add mushrooms and it's delish," another person added. For those who can't get enough cheese, one follower suggests adding some Gruyère to the dish. A few commenters added TJ's cauliflower gnocchi (but beware — while this gnocchi is widely popular, if you don't like cauliflower, you probably won't like this pasta alternative). Three-ingredient dinners? Definitely worth a try.