The Banana-Filling Machine That Has TikTok Divided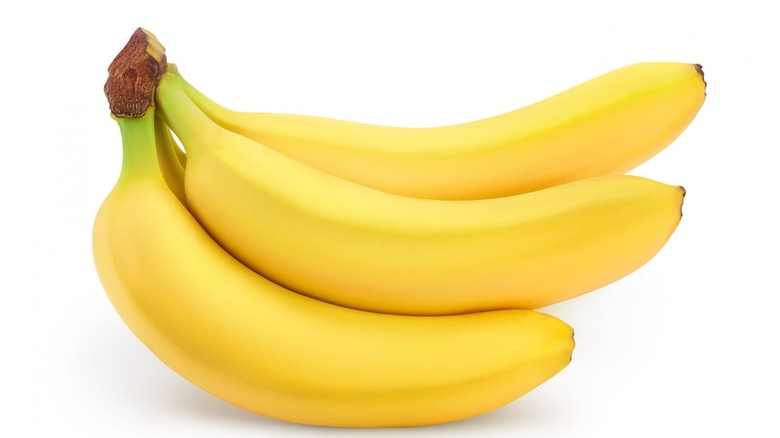 We may receive a commission on purchases made from links.
Have you ever tried to spread Nutella or almond butter on a banana? It can be a messy and frustrating undertaking. Business partners Renee Heath and Bechara Jaoudeh thought so too, so they invented Banana Loca.
As a child, Jaoudeh loved to eat bananas with chocolate hazelnut spread. As an adult, he tried to replicate his favorite treat with Nutella, but the clumpy mass never worked with the soft banana. By coring a ripe banana, then injecting it with a desired filling — all while it's still in its peel — Banana Loca solves that problem, says Jaoudeh.
After watching the demonstration on TikTok, some viewers went bananas for it. "These frozen would be insane. I need it lol" said one commenter. "I would eat bananas more often if it was filled with something," noted another viewer, while another felt inspired to turn the discarded cores into "banana core fries."
But not everyone agrees. Many TikTokers weighed the difficulty of using the gadget (at $28.99 on Amazon) versus enduring the simpler but messier route. Comments include: "We have one and it is not that easy" and "That is way too much work to eat a banana." Another joked, "Directions unclear, headed to ER."
The TikTok demonstration begins with a banana (a half-inch cut from the tip) placed in Banana Loca's holder that allows the user to fully insert the corer. Then twist the handle, cover the hole with your thumb to create suction, and pull. Next, the plunger injects your chosen filling.
Monkey Business
Imagine the outcome: A sweet banana packed with dulce de leche or marshmallow fluff, then cut in half, where the peel keeps your hands clean and the potentially problematic stuffing is tucked inside, going neatly into your mouth.
What about clean-up? In a YouTube video, Heath assures it's as easy as removing the nozzle and giving the parts a "quick rinse in the sink." Still, some TikTokers are skeptical. "Cool, but not sure it would be worth it. I'd rather slice banana and add filling just not to clean gadget [sic]." But if you're filling the gadget's hopper with honey, caramel or peanut butter, washing it may not be a breeze, although most of Banana Loca's parts are dishwasher safe.
"Like with any new utensil, there's a learning curve," Jaoudeh said, while Heath demonstrated the product on ABC's Shark Tank (season 13, episode 9) in December 2021. Many TikTokers had watched the episode, in which Heath and Jaoudeh walked away with a joint deal from Mark Cuban and Kevin O'Leary: $250,000 for 25% equity and a $3 per unit royalty until investment is paid back.
Shark Tank's Robert Herjavec called Banana Loca "genius," while Lori Greiner questioned its functionality, since it only had one purpose. Heath countered that the contraption could also stuff zucchini (with goat cheese) and cucumbers (with cottage cheese), as well as cupcakes or churros. A Velveeta-infused hot dog, anyone?