The Restaurant That Says It's The Filet Mignon Of Chicken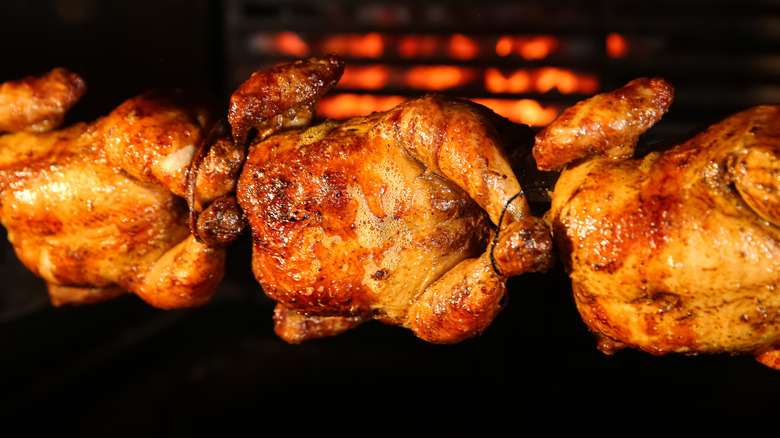 New Africa/Shutterstock
Filet mignon isn't just a high-end cut of meat, it can also refer to something else as well. You could see an upscale burger restaurant that boasts it has the "filet mignon" of burgers, for example. To say that something is a "filet mignon of..." basically means that the item in question is incredibly high-quality, it beats the band, blows the competition out of the water, and so on.
But how exactly can you have the "filet mignon" of chicken? Could it refer to a chicken breast from a specially-bred type of chicken known for having succulent meat? Does it talk about the cooking process, perhaps finding a way to make even the toughest of chicken melt in your mouth? According to Nation's Restaurant News, one restaurant claims to have "the filet mignon of chicken" — in the form of chicken tenders.
Nation's Restaurant News describes Florida-based chicken tender chain Huey Magoo's advertising as presenting chicken tenders in a "fun" and "lifestyle-driven" manner, which includes billing its chicken tenders as "the filet mignon of chicken." Indeed, Huey Magoo's raves about the quality of their chicken, boldly listing that their tenders "are all-natural, with no antibiotics ever, no hormones, no steroids, and no preservatives." While we can't go and claim that Huey Magoo's chicken tenders aren't good enough to be called "filet mignon," perhaps there's someone or something else who can bolster these claims.
What's the story behind Huey Magoo's?
How could a restaurant that sells chicken tenders bill itself so highly? To get our answer, we must first look into the history of Huey Magoo's. As Franchising tells us, the company began in 2004 when the founders Matt Armstrong and Thad Hudgens met in Mississippi and discovered they both shared a love for chicken tenders and serving people. While Huey Magoo's started off slow, the chain's focus on serving the best chicken tender attracted former Wingstop marketing man Andy Howard who, impressed by the quality and business model of Huey Magoo's, entered into a partnership with Armstrong and Hudgens (via QSR Magazine). Just how good can a Huey Magoo's supposedly be?
The Spectator's review of Huey Magoo's in 2021 praised the chain's chicken as very juicy and tender, as well as praising the sauce the chicken was served with. The review did, however, focus on Huey Magoo's interest in customer service, noting that employees did their best to make the reviewer feel welcome. Even the chain's franchisee Buck Harris was quoted as saying he was "very focused on customer service and food quality" at his time in Huey Magoo's.
Perhaps Huey Magoo's doesn't bill itself the "filet mignon of chicken" by the quality of their tenders alone, but by combining a welcoming, exciting atmosphere that encourages people to enjoy quality chicken tenders with friends and family. Of course, Huey Magoo's isn't the only fast-food company to focus on chicken tenders.