The Most Unfair Hell's Kitchen Elimination, According To Reddit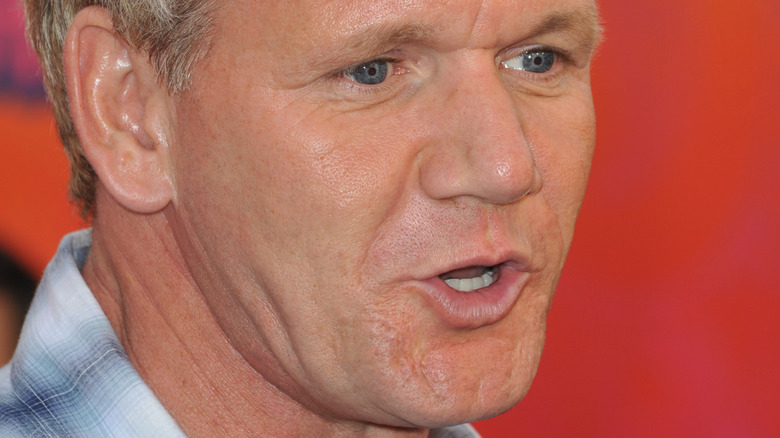 Jaguar PS/Shutterstock
They don't call it "Hell's Kitchen" for nothing. It is difficult (if not impossible) to imagine a more hostile environment than the locale of this highly competitive cooking competition. If being under the extremely critical eye of Gordon Ramsay isn't stressful enough, the contestants are closed off completely from the outside world, work ridiculously long hours, and must endure the bitter rivalries that crop up among their fellow contenders. Being a "Hell's Kitchen" contestant is definitely not for the faint of heart or anyone lacking in culinary skills. 
It seems that Ramsay's penchant for F-bombs, the constant battles in the dorms, and the resulting frayed nerves are the perfect recipe for a hit show. According to Nielsen, Season 19 maintained an average viewership of 2.68 million fans (per TV Series Finale). And Deadline states that its 21st season will commence this fall on September 29. What keeps audiences coming back for more? While Ramsay is clearly a crowd favorite, viewers also become attached to certain contestants, cheering them on through thick and thin. 
And as one recent Reddit conversation proves, fans clearly care deeply when they feel that someone has been treated unfairly. So who do they feel was erroneously eliminated? The answer may just surprise you. 
Fans were outraged by Nick's elimination
When Redditor u/Unusual-Addendum8945 asked the r/HellsKitchen audience to name the most unfair show elimination, the comments pointed largely to one past contestant, Nick Peters Bond of Season 14 and All-Stars Season 17. In case, you don't recall the elimination episode, here's a refresher. As the season 17 finale approached, Ramsay was having difficulty narrowing the field down to just two competitors. In a surprise Final Tasting Challenge, Nick, Michelle, and Benjamin cooked their menu items and presented their dishes to judges, all of whom held top positions at Las Vegas' Caesars Palace. When the final dish was presented, the trio was in a three-way tie, and tensions were high. CEO and President Mike Frissora awarded Michelle and Benjamin with the winning dishes and Nick was officially eliminated from "Hell's Kitchen." 
Comments ranged from the outraged ("Congrats Ramsay and Frissora, you got rid of an S Tier contestant in favor of a C-/D+ contestant") to the mild-mannered ("Easily Nick from Season 17"). One user compared Nick's loss to that of another shocker, the elimination of Van, stating, "While Van's elimination was controversial, I think people were holding out hope that Nick would win." The truth is that when the competition is that close, people were bound to be upset by whoever went home. 
Nick later competed in Chopped Sweets
As the above photo shows, you don't have to worry about the fate of Nick Peters Bond. He's doing just fine. According to Out Front Magazine, in 2018, he co-founded Kitchen to Aisle Catering & Events in New England and has even been asked to cater an affair for the folks of "The Real Housewives of New York." And he couldn't have been too traumatized by his "Hell's Kitchen" elimination because when asked if he'd do the show again, he replied, "Yes, I would do it again. It's a good opportunity that I could pass up, but I don't think I would want to."
And he clearly has not given up on cooking competitively, having competed in the premiere season of "Chopped Sweets." Calling on his skills as a pastry chef, he tackled Episode 10, entitled, Freeze Please! (per The Daily News). The truth is that one's fortunes aren't totally reliant on winning a reality TV show. Sometimes great things happen to the eliminated "Hell's Kitchen" contestants — and these things can be even better than taking home the top prize.