Flight Attendant Hilariously Shows Before And After Drinks On Vegas Trips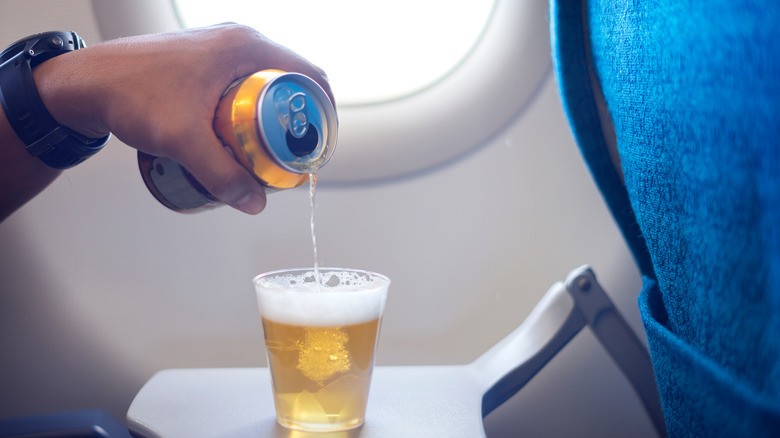 PONG HANDSOME/Shutterstock
In 2014, country music artist Dierks Bentley released his song "Drunk on a Plane." While Mr. Bentley isn't the topic of today's discussion, being drunk on a flight is a part of it. As "drunk flying" isn't as dangerous as drunk driving (that is, unless you're the pilot), soused passengers on long flights are treated as a source of laughter at best and a nuisance at worst. For flight attendants, these types of passengers can be some of the rowdiest, most obscene, and most annoying people on the plane.
The Mirror reports that, early in June 2022, two brothers were dragged off a British airplane on a flight to Crete for intoxication and indecency. An episode of A&E's docuseries "Airline" captured a moment when a drunken passenger launched into a massive fit after being denied access to their plane. Fortunately, these cases aren't too common, and attendants and fellow passengers can alike fly easily knowing this.
But what about hungover passengers? While they may sound better than a drunken, disorderly passenger, it's certainly no picnic for the passenger themselves. Imagine having a pulsing headache, coupled with the usual changes in one's body as the plane climbs higher and higher — it'd be like you're being suddenly shaken and stirred like the martinis you drank last night. Dealing with hungover passengers was the experience of one flight attendant on her way back from Nevada, and it was a much different clientele than the ones she served on the way there.
A flight attendant had a crowd that was partied out
TikTok user and flight attendant Nicks From Detroit made a video of herself hectically pouring drinks for a crowd of passengers on board heading to Las Vegas. The caption tells us that the Vegas-eager party wants everything from a smorgasbord of snacks and cocktails, such as a "double tequila marg with extra lime" with water on the side. Clearly, these people are too excited to wait to touch down in Sin City to wait to knock back shots and get the party started.
The flight back home, however, is a much different story. As the caption reads, only two people on the whole flight ordered a Diet Coke. This leads to assuming that everyone on board, compared to their wild and booze-hungry attitudes earlier, is feeling the effects of a night out in Las Vegas. Commenters on the video couldn't help but laugh at the sheer contrast. "When you live in vegas so every flight home i order coke and everyone around me orders alcohol," said one user. "I grew up in Vegas and I get a kick out of people watching on flights," wrote another. 
It seems hungover folks on planes aren't too uncommon if you're a traveler. Cheap Flights suggests that those who are suffering from hangovers should wear loose clothing, drink plenty of water, and try to find a seat closest to the bathroom.