Reddit Is Loving This Throwback Video Of Gordon Ramsay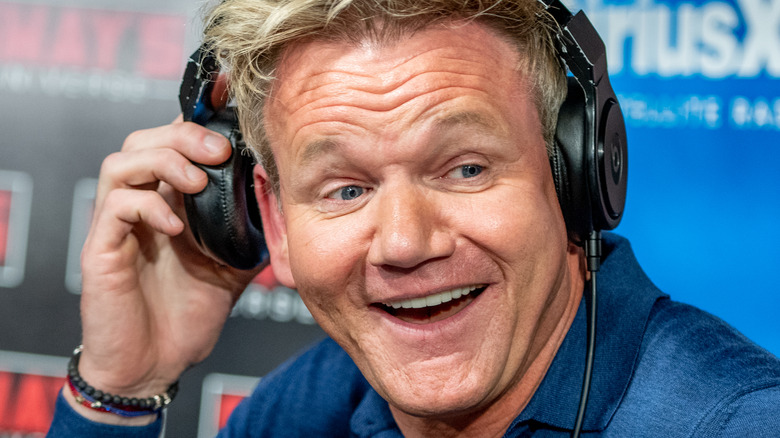 Roy Rochlin/Getty Images
Celebrity chef Gordon Ramsay may very well be one of the hardest-working restructures in the world. In 2022 alone, the Scottish-born chef had so many projects that we can barely count them: "Next Level Chef," "Future Food Stars," "The Savoy," and "MasterChef USA" are just some of them, and the year isn't over yet (via IMDb). In the past, Ramsay was well-known for criticism that was so harsh it could make a grown adult cry–Ramsey has no patience for unsafe food or bad service, as seen in his series "Kitchen Nightmares" and "Hotel Hell." Crying faces could often be seen on his competition series "Hell's Kitchen," in which the chef puts the contestants through intense cooking challenges in his Hollywood restaurant. 
Here's what we know so far about Season 21 of "Hell's Kitchen": it will premiere on Thursday, September 29, 2022, on Fox. So that's another Ramsay show coming in 2022 to look forward to. Let's hope that no one will be called "an idiot sandwich" this time. But Ramsay wasn't so brutal in his youth, and Redditors have found an old video that shows just how meek Ramsay can be when he's not the one in charge.
Redditors poked fun at an old video of Gordon Ramsay working with Marco Pierre White
A Redditor u/Majorpain2006 posted a throwback video of chef Ramsay and his mentor, Marco Pierre White. In the video, White, who's been called the "first celebrity chef" (via Times Online) and Ramsey are working together in a kitchen. A 26-year-old Ramsay takes orders from White, who's teaching Ramsay to make ravioli. White is notorious for being a tough chef to work for, and he even revealed that he made Ramsay cry when he was younger in his memoir "White Lies" (via The Independent). And Ramsay is no stranger a challenge -– he once said, "If you want to become a great chef, you have to work with great chefs. And that's exactly what I did," via Parade.
Redditors loved the old video and poked fun at Ramsay's looks with "God damn has he always looked exactly the same?" Other Redditors were savvy of White and Ramsay's rocky relationship and said that White's "the only man to make Gordon cry." Gordon and Marco had a falling out as Ramsey's career developed, with accusations of betrayal on both sides. The feud got worse when Ramsay showed up at White's wedding with an uninvited camera crew. However, the former student apologized to his teacher during the Covid lockdown (via Express). And with this Reddit video, we now finally know who had a part in making Ramsay the no-nonsense chef he is today.