Easy Mustard Greens Recipe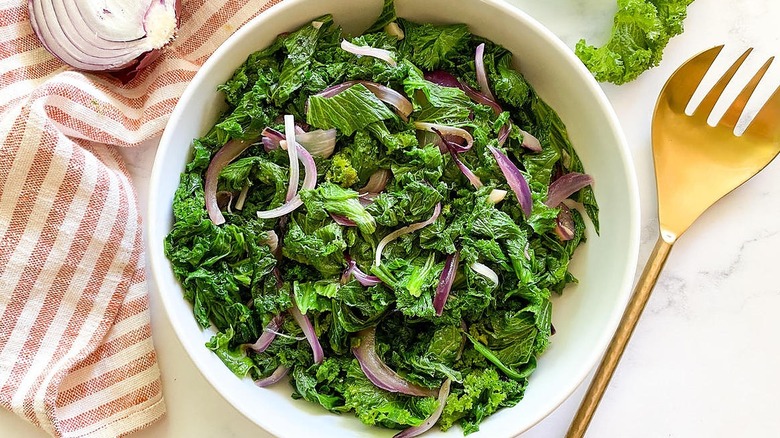 Miriam Hahn/Mashed
Mustard greens, while delicious, are often overlooked in favor of other popular greens like arugula, kale, or spinach. If you do opt to enjoy mustard greens as a side dish, then you'll not only experience an abundance of flavor, but you'll also glean a number of health benefits. Recipe developer and wellness coach Miriam Hahn can attest to those health benefits with her easy mustard greens recipe: "Mustard greens fall into the category of cruciferous vegetables which have been shown to [help] prevent cancer, are anti-inflammatory, contain lots of antioxidants and are alkaline for the body," she explains. While Hahn notes that these greens aren't as popular as other cruciferous veggies, like broccoli or cabbage, they definitely deserve some love and a place in your diet. 
While Hahn notes that you could easily serve these mustard greens as a side dish, it's easy to jazz them up into a full meal. Add any protein of your choice, whether meat or a plant-based option, and you've got a veggie-filled, protein-packed dish that's certainly not skimping on flavor. If you're still feeling a bit uncertain about working with the greens, fear not — it couldn't be easier, thanks to Hahn's recipe.
Gather the ingredients for easy mustard greens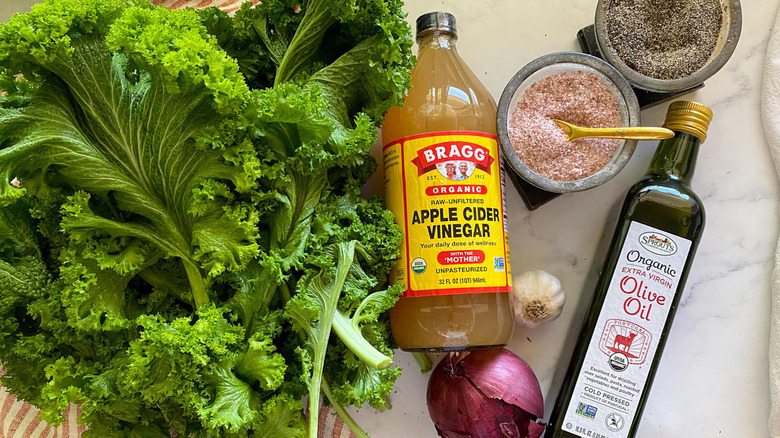 Miriam Hahn/Mashed
Naturally, the main component of this dish is the mustard greens themselves. However, you'll want to dress them up a bit, and to do so, you'll need olive oil, sliced red onion, minced garlic, apple cider vinegar, salt, pepper, and optionally some heirloom tomatoes to top off the salad. 
"The taste of this dish is very peppery and bitter while still being delicious," Hahn says of the flavor. "It resembles the strong bite of arugula but tastes like Dijon mustard." Perfect for those who love a salad with mustard dressing!
Prep the mustard greens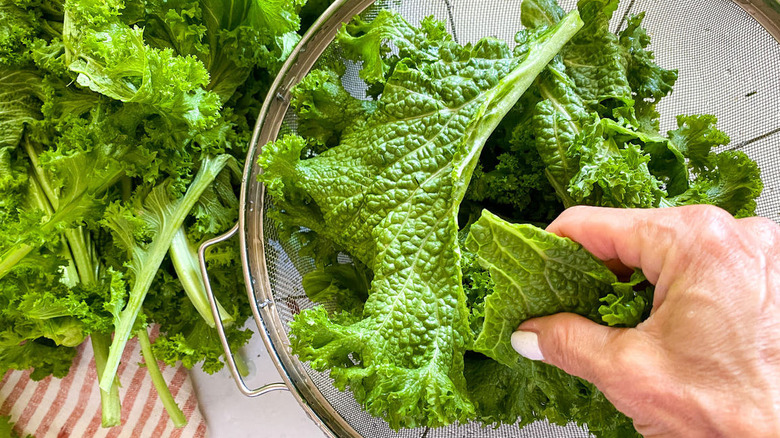 Miriam Hahn/Mashed
To get started on this recipe, you'll want to focus on the greens themselves. Wash them first, then strip the leaves off the stems and chop them up — you're making a salad-type dish, ultimately, so anything close to bite-sized will do. Just keep in mind that the greens will shrink down as they cook. 
Sauté the onion, garlic, and greens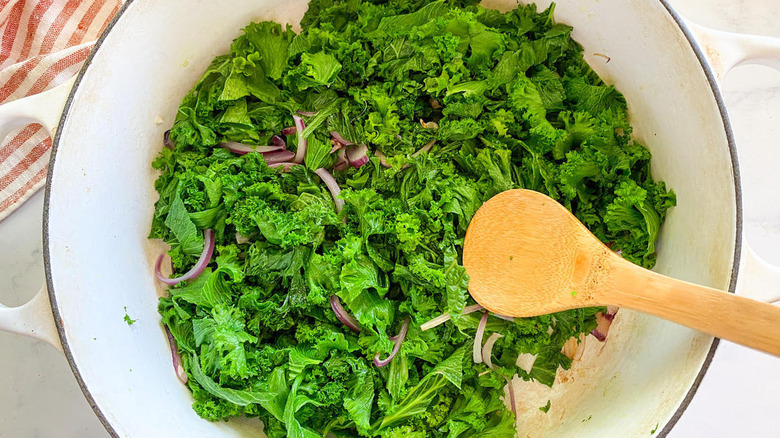 Miriam Hahn/Mashed
Place a large pot on the stovetop over medium heat and add 1 tablespoon of olive oil. Once it's hot, add the chopped onion and minced garlic, and allow these to cook for 5 minutes. Be sure to stir frequently so nothing burns. 
Next, add the chopped mustard greens and cook them for 2 minutes, stirring consistently as they wilt. They'll reduce in size, so don't be alarmed when they shrink quite a bit. 
Throw the mustard greens together with a tangy vinaigrette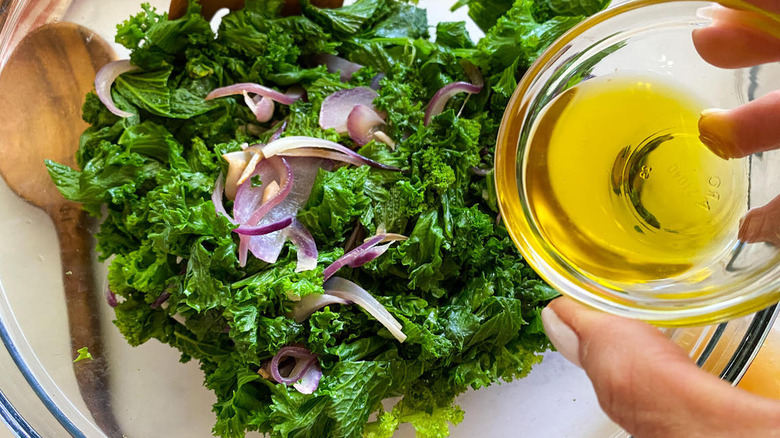 Miriam Hahn/Mashed
Once the mustard greens have wilted down, remove them from the heat and place them in a bowl along with the cooked onions and garlic. To the bowl, add the remaining oil, apple cider vinegar, salt, and pepper, then toss everything together. Optionally, you can also add slices of heirloom tomato on top. Just like that, you're ready to serve and enjoy these flavorful greens.
Though these mustard greens are easy to throw together and require minimal ingredients, it doesn't mean you can't spice things up. "There are many different options for toppings and add-ins with this recipe," Hahn notes. You could add just about any herb, and Hahn says she often adds Italian parsley and cilantro. "You can add in steamed asparagus or broccoli," she says, or you can opt for a raw veggie and go with red pepper for a pop of color. "You can sauté mushrooms in the first step along with the onion and garlic and this is delicious, too," Hahn adds. Finally, as for toppings, Hahn suggests toasted sunflower seeds, pine nuts, or sesame seeds, which also add a nice textural contrast to the dish. 
Easy Mustard Greens Recipe
If you're tired of kale and spinach, it might be time to add this easy mustard greens recipe to your side dish lineup. It's spicy and delicious.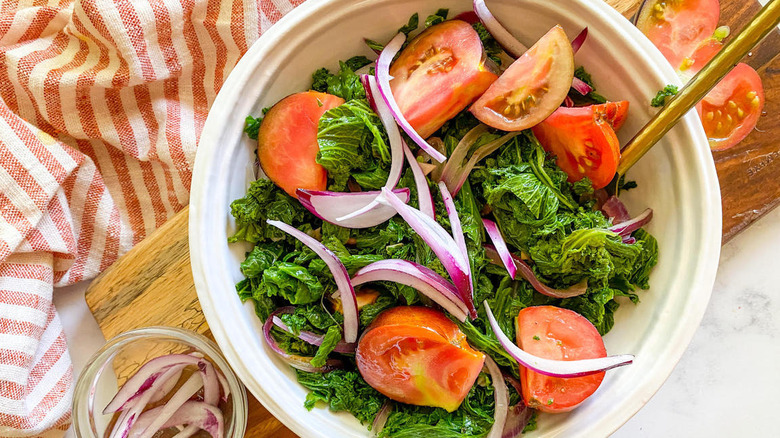 Ingredients
1 bunch mustard greens
3 tablespoons olive oil, divided
½ red onion, sliced, plus more for garnish
2 cloves garlic, minced
2 tablespoons apple cider vinegar
½ teaspoon salt
¼ teaspoon pepper
Optional Ingredients
sliced heirloom tomatoes, for serving
Directions
Wash the mustard greens, strip the leaves from the stems, and chop them roughly.
Add 1 tablespoon of the oil to a large pot over medium heat. Add the onion and garlic and cook for 5 minutes, stirring frequently.
Add the chopped mustard greens and stir for about 2 minutes as they wilt. They will reduce in size.
Remove the greens from the heat and put them in a bowl. Add the remaining olive oil, apple cider vinegar, salt, and pepper. Toss, then optionally top the salad with heirloom tomatoes before serving.
Nutrition
| | |
| --- | --- |
| Calories per Serving | 69 |
| Total Fat | 6.8 g |
| Saturated Fat | 0.9 g |
| Trans Fat | 0.0 g |
| Cholesterol | 0.0 mg |
| | |
| --- | --- |
| Total Carbohydrates | 1.9 g |
| Dietary Fiber | 0.5 g |
| Total Sugars | 0.6 g |
| Sodium | 75.8 mg |
| Protein | 0.5 g |