The New Plant-Based Food Innovations Taking Over Menus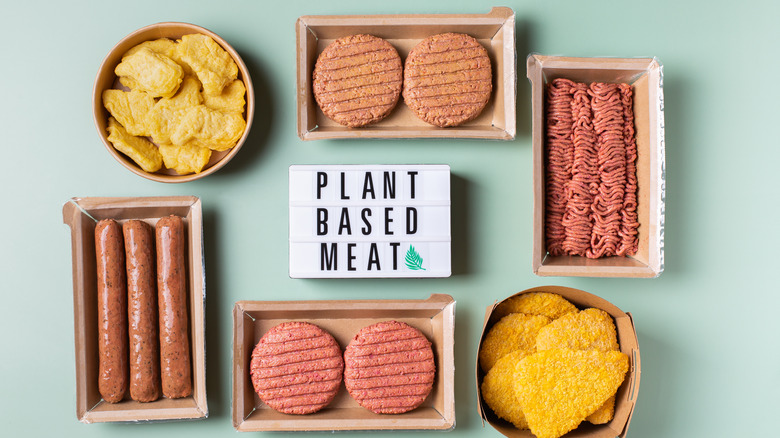 Antonina Vlasova/Shutterstock
Whether you're someone who hasn't consumed any animal products in years or you're someone who flirts occasionally with a meatless Monday, it's an exciting time for vegan food right now. Long behind us are the days of sad-looking tofu hot dogs and french-fries-as-meals, as food manufacturers and restaurants have shifted focus toward catering to consumers' growing interest in meatless lifestyles. 
Nowadays, you can easily find products such as Impossible Burger and Beyond Meat patty at numerous chain restaurants and supermarkets, along with dairy-free cheese, alternative milks, and even egg substitute. Interestingly, much of this drive isn't coming from devout vegans, but rather, flexitarians who are looking to reduce their overall consumption of animal products (whether for environmental, health, or other reasons) without giving up the taste (per Candy USA). 
According to a report from the Good Food Institute, in 2021, approximately 19% percent of U.S. households bought some form of plant-based meat. And despite some reports that suggest the demand for vegan alternatives was experiencing a slowdown compared to where it was in 2020, the industry is still thriving. In March, the Good Food Institute reported that the estimated value of the plant-based food market was around a whopping $7.4 billion. If that figure isn't proof enough that the trend isn't going anywhere, then the many creative plant-based products exhibited at this year's National Restaurant Association Show in Chicago certainly are, per Restaurant Business.
Going beyond fake burgers and doing the impossible with plant-based foods
According to the Good Food Institute, while meatless burger patties remain the highest-selling plant-based protein product in the U.S., the demand for vegan versions of seafood, deli cuts, meatballs, and chicken spiked significantly in 2021. Based on a May 22 report from Restaurant Business, that trend was reflected at the National Restaurant Association Show with the debut of new products including a "Beyond Meat breakfast sandwich;" "Waygu" Ginger Beef, a vegan alternative to pricier animal Wagyu beef; and plant-based shrimp, which Restaurant Business described as "close approximations of the real deal." 
And it's not just faux fish and fake beef that are making waves with consumers. Vegan soft-serve ice cream, including Nada Moo soft serve, which uses a coconut milk and agave nectar base, and "Temptation Soft Serve," a fat-free option made with oat milk, were featured at the event, with both earning Restaurant Business' approval for nailing the creamy texture of the dairy-based version.
Meanwhile, a product that could revolutionize the brunch world is the debut of Yo! Egg's completely animal-free sunny-side up egg. Unlike previous plant-based egg products, which usually come as a liquified, muted-color mixture similar to tinted egg whites, this one features a yellow yolk that mimics the texture and flavor of a chicken egg. Vegan croque madame, anyone?