'Trophy Husband' Buddy Valastro And His Wife Are A Winning Pair In This Sweet Pic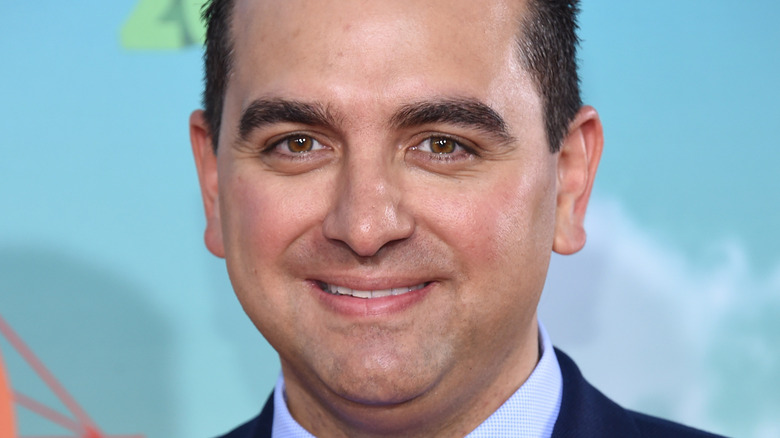 DFree/Shutterstock
Buddy Valastro, best known for Food Network's "Cake Boss," has known his wife Lisa Valastro since childhood, according to Closer Weekly. They were first introduced by Valastro's family member and got back in touch in the 1990s. The duo officially got married in October 2001 and are parents of four children. According to The Famous People, Buddy Valastro has also appeared in "The Next Great Baker," "Buddy's Bakery Rescue," "Battle of the Cooks," and "Buddy's Family Vacation." He's also the author of "Cake Boss, Stories and Recipes."
Per People, the Valastro family children also have a love for the restaurant industry. "They all really want to come into the family business. And I want them to. I really am excited to see the next generation take over," Valastro said. "But I never want to force them. I want them to do it because they love it." It's no doubt that Buddy Valastro puts his family before anything. A couple of days ago, the New Jersey native posted an adorable photo featuring his wife on Instagram.
Trophy spouses
On Saturday, July 9, Buddy Valastro posted an endearing Instagram picture of him and his wife, Lisa Valastro. He captioned it "My #trophywife" while wearing a T-shirt that read "Trophy Husband." Commenters on the post were delighted to see them smiling and spending time together. "Beautiful couple," one commenter said. "Love the picture! My husband has a trophy husband shirt but it says 'Participation Award' lol," said another.
Posting pictures of his family isn't an uncommon occurrence for Valastro. Earlier this week, he posted a photo of him and his son, Carlo, holding large lobsters. "Lobster time. Who do you think has the bigger lobster, me or Carlo?" he captioned it. On July 4, the chef posted several photos of family members at his Independence Day celebration. It read, "Bold stripes, bright stars, and brave hearts, we salute America today 🇺🇸 Happy 4th of July everyone! Enjoying with the famiglia."