Shawarma-Spiced Grilled Chicken Sandwich Recipe
Ting Dalton/Mashed
If you are a shawarma connoisseur, then you'll know that this dish is made with meat cooked on a spit. As this is not easily done in the average home kitchen, we freely admit that this is not a shawarma recipe per se, but rather a recipe for chicken with shawarma-inspired seasonings. As recipe developer Ting Dalton describes this dish, it's "a grilled sandwich that is taken to another level with an aromatic and punchy blend of Middle Eastern spices ... super tasty and with a real kick from the cayenne pepper." The amount of cayenne used, of course, can be adjusted to suit your own preferences. If you don't find this dish nearly "kicky" enough, by all means add some more. If, on the other hand, you're not such a cayenne fan, go ahead and omit it since Middle Eastern flavorings are delicious without any added heat.
One ingredient Dalton feels is "special" in this sandwich is the mashed avocado used as a sandwich spread. While it may seem more guacamole than Middle Eastern, Dalton feels that "the avocado mixed with yogurt adds a real earthy, creamy flavor and texture and is a great combination with the other ingredients and a much tastier alternative to mayonnaise." Plus, who says Mexican-Middle Eastern fusion wouldn't be a good thing? Maybe you could even go all out and top the sandwich with some salsa or tzatziki.
Gather the ingredients for this shawarma-spiced chicken sandwich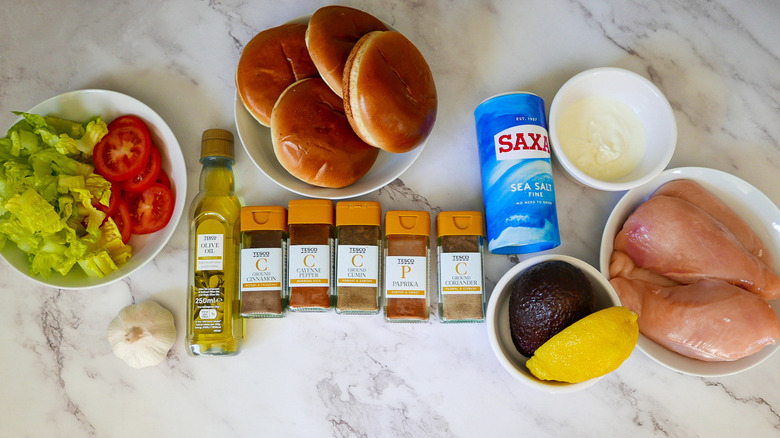 Ting Dalton/Mashed
This sandwich is made with chicken breasts, although you could use boneless thighs if you prefer. These may not flatten quite so well, though, so they may just need a few minutes longer in the pan. You'll also need an entire laundry list of spices: salt, cumin, coriander, paprika, cayenne, cinnamon, and garlic. Other ingredients you should have on hand are a lemon (you'll just be using the juice), olive oil, an avocado, plain yogurt, tomatoes, lettuce, and sandwich buns. Dalton favors the brioche kind, but you can use whatever buns you like, or even pita pockets.
Flatten and marinate the chicken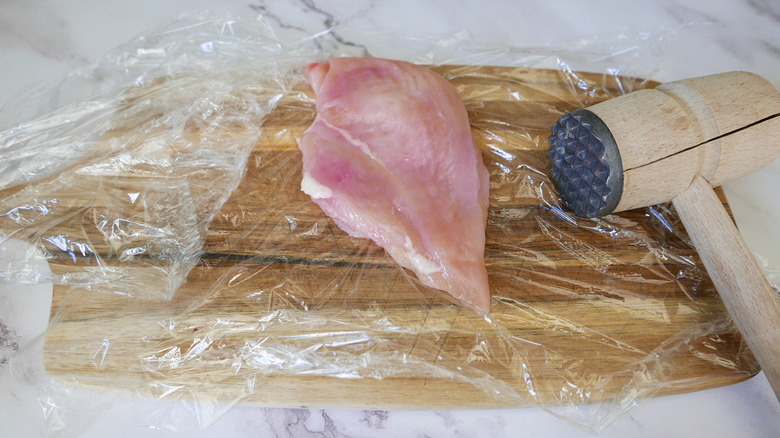 Ting Dalton/Mashed
Sandwich the raw chicken between a couple of pieces of plastic wrap or stick it in a plastic bag, then take a rolling pin, meat mallet, heavy skillet, or similar implement and whale away at the chicken until it is as flat as you want it to be.
Mix the dry spices, lemon juice, and olive oil, then soak the chicken in this marinade for at least ½ hour. Dalton does say, "You can marinate the chicken overnight or for a few hours before cooking, the longer the better," but if you'll be doing so for longer than the minimum ½ hour given, it's best to return the chicken to the refrigerator for food safety reasons.
Cook the chicken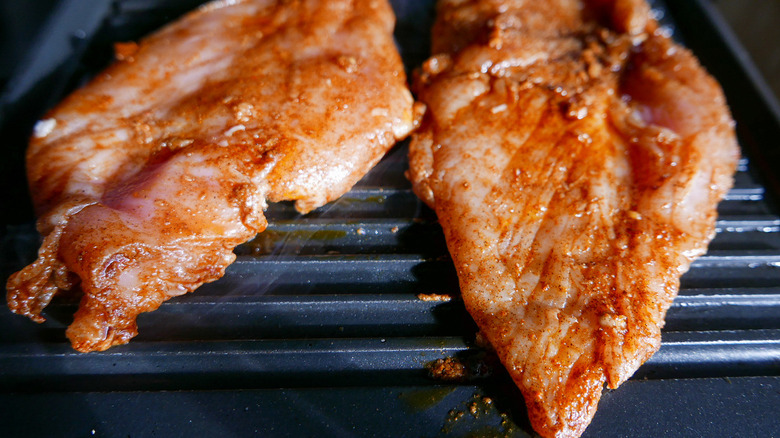 Ting Dalton/Mashed
Heat a grill pan, if you have one, over medium-high heat. Grill the chicken for 3 minutes per side, then slice each piece open a tiny bit to check and see whether it's done. If you see any pink inside, cook the chicken a bit longer. Slightly overcooked chicken isn't so bad, but slightly underdone chicken can lead to extreme bodily discomfort and embarrassment (or worse). In fact, it's best to have a meat thermometer on hand, since your chicken won't be truly safe to eat until it reaches 165 F.
Dalton notes that "If you don't have a grill [pan], you can bake the chicken in the oven for around 20 minutes at 300 F." As she is actually cooking her chicken on a stove top and not on a barbecue grill, though, there's no reason you couldn't simply substitute a standard frying pan for the ridged one. Sure, your chicken won't have hatch marks, but then, this will be the case if you cook it in the oven, too.
Build the sandwich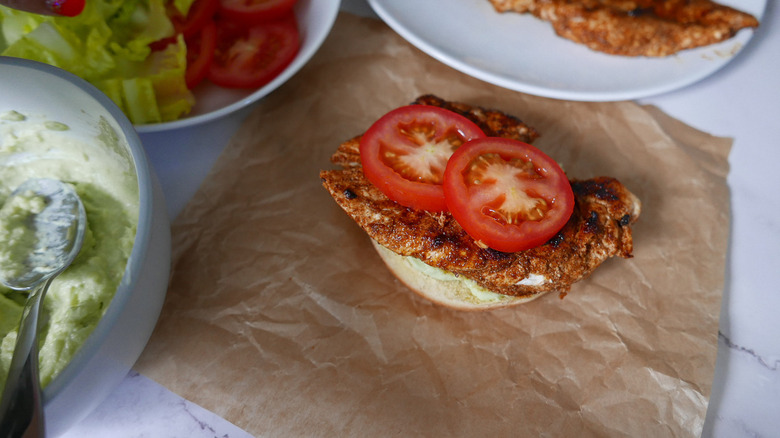 Once the chicken is done, split the buns and toast them for a minute or so in the hot pan. Mash the avocado and mix it with the yogurt, then divide this "guacagurt" between the buns, spreading it on one of each pair. Next comes the chicken, then the sliced tomatoes and lettuce, then the top buns, and then your sandwiches are done.
These sandwiches, says Dalton, are "Perfect served alongside some potato wedges or french fries." Should you wish to use the shawarma-spiced chicken for something other than sandwiches, though, Dalton tells us it's "perfect for salads."
Shawarma-Spiced Grilled Chicken Sandwich Recipe
This grilled chicken sandwich is perfectly seasoned with shawarma-inspired spices and avocado yogurt sauce to bring delicious flavor to your dinner table.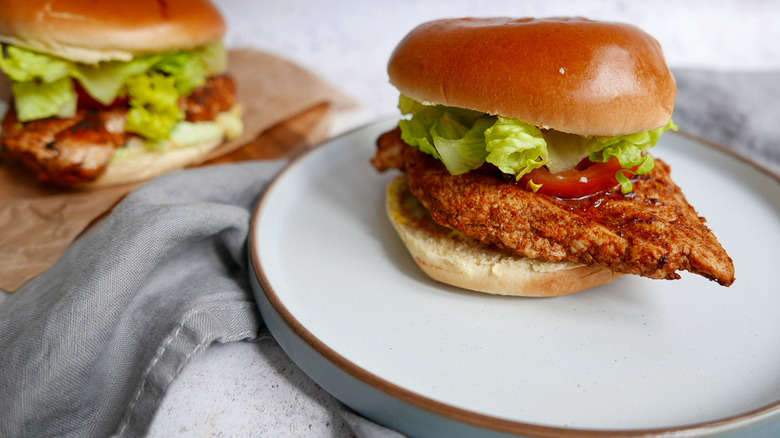 Ingredients
4 chicken breasts
2 teaspoons salt
1 teaspoon ground cumin
1 teaspoon ground coriander
1 teaspoon paprika
2 teaspoons cayenne pepper
1 teaspoon ground cinnamon
2 cloves garlic, minced
Juice from ½ lemon
2 tablespoons olive oil
1 avocado, mashed
2 tablespoons plain yogurt
4 brioche buns, split
2 tomatoes, sliced
½ cup chopped lettuce
Directions
Sandwich the chicken between two pieces of plastic wrap, then use a mallet or rolling pin to flatten the meat.
Combine the cumin, coriander, paprika, cayenne pepper, garlic, lemon juice, salt, and olive oil, and use this as a marinade for the chicken. Allow the chicken to sit in the marinade for at least 30 minutes.
Heat a grill pan over medium-high.
Cook the chicken for 3 minutes per side, then check to make sure the inside is no longer pink (cook a little longer if it is).
Split the buns and toast them on the pan for around 1 minute.
Mash the avocado and combine it with the yogurt.
Divide the avocado/yogurt mixture between the bottom halves of each bun.
Top the buns with chicken, lettuce, tomatoes, and the top half of the buns.
Nutrition
| | |
| --- | --- |
| Calories per Serving | 586 |
| Total Fat | 32.6 g |
| Saturated Fat | 7.2 g |
| Trans Fat | 0.2 g |
| Cholesterol | 112.4 mg |
| | |
| --- | --- |
| Total Carbohydrates | 31.2 g |
| Dietary Fiber | 6.3 g |
| Total Sugars | 5.4 g |
| Sodium | 839.2 mg |
| Protein | 42.9 g |