The Biggest Bagel Ever Recorded Will Amaze You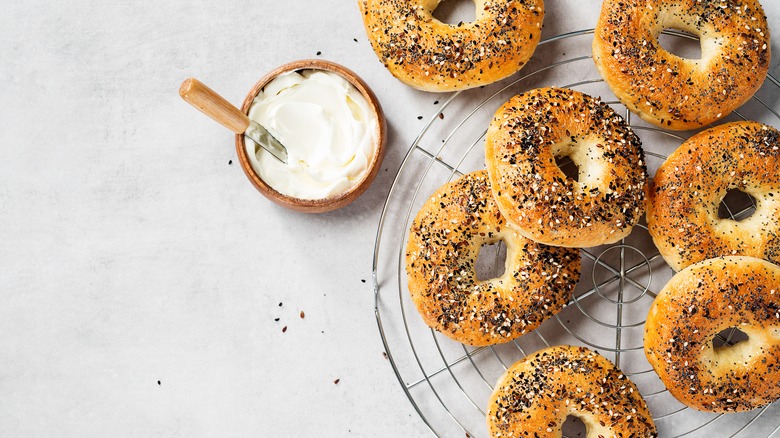 nelea33/Shutterstock
Bagels first entered recorded history in the early 1600s. According to The Atlantic, the bagel's delightful round shape encouraged the belief that they contained magical energy. And let's be real — even today, bagels are pretty darn magical.
For starters, bagels come in a wide variety of flavors. We've got blueberry bagels, chocolate chip bagels, onion bagels, cinnamon raisin bagels. We've got everything bagels, which are apparently everything the world needs, considering 1 in 3 people thinks this is the best bagel flavor. We've even got rainbow bagels, though the NY Post recently shared that the OG Instagram-famous shop selling these colorful bagels has closed its doors.
But that's not all. In addition to what we consider standard bagel size, bagels also come in a smaller size. These mini-bagels are perfect for bite-sized sandwiches. On the other end of the spectrum, a few bagels have made history with their enormous size. 
The world record for biggest bagel was set at the NY State Fair
State fairs and festivals are the perfect breeding ground for world records. For instance, the largest gin and juice was poured at BottleRock Napa, the most high-fives in one hour were completed at Bonnaroo, and the largest shaving cream pie fight took place at Another Fine Fest (via Everfest).
However, the world's biggest bagel was created at none other than the 2004 New York State Fair. According to Guinness World Records, the bagel weighed a whopping 868 pounds and was displayed at the fair by Brueggers Bagels. Talk about a ground-breaking achievement!
In 2018, another group of NY chefs attempted to make bagel history in their own way. Per Inside Edition, the chefs crafted a 213.75-pound bagel loaded with cream cheese and lox. Spectators then got to sample the bagel, and undoubtedly, it tasted pretty good. After all, bagel shop cream cheese tastes better than grocery store cream cheese.