The Disturbing Reason Chick-Fil-A Is Under Fire For Discrimination
Chick-fil-A may have some tasty chicken sandwiches, but when you dig deeper and look at the chain's history of workplace discrimination, you may never want to eat at Chick-fil-A again. According to Forbes, between 1988 and 2012, Chick-fil-A was sued for employment discrimination over a dozen times — and more suits have been added to the list since then.
Earlier this year, Elisha Abney sued the chicken chain for "employment discrimination based on race" (via Law.com). According to court documents, Abney's supervisors made discriminatory comments following the death of George Floyd, as well as offensive remarks about her hair. She reported these comments to human resources, but after being on leave for possible COVID-19 exposure, she was removed from the work schedule without warning.
Similarly, former Chick-fil-A employee Lindsey Stewart, 62, sued the chain in January of 2020 for wrongful termination, per Casetext.com. She was fired shortly after she reported instances of sexual harassment of her younger female coworkers. Chick-fil-A has a history of discrimination based on race and gender, so it may come as little surprise to readers that the company is under fire once again for its employees' recent harassment of a transgender employee, as NBC News reports.
A former employee was allegedly harassed and intentionally misgendered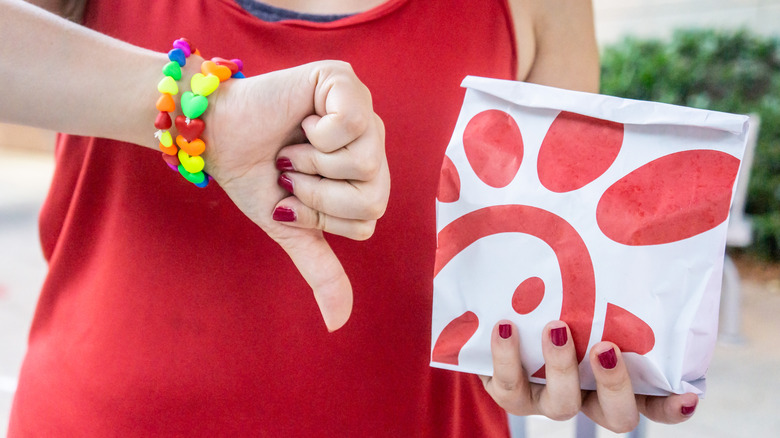 Jaimieandkyleshootstock/Shutterstock
Chick-fil-A seemed to turn a corner in 2019 when the company announced that the Chick-fil-A Foundation would no longer be donating to organizations with a history of anti-LGBTQ+ ideals, namely the Salvation Army and Fellowship of Christian Athletes, according to Insider. Although this was a step in the right direction, it did not magically rid the restaurant chain of its history of discrimination.
Erin Taylor, a former employee of Chick-fil-A, is suing the company for wrongful termination after experiencing months of harassment in the workplace for being transgender, per NBC News. Taylor began working at a Decatur, Georgia, location of the chain in August of 2021 and said she was quickly met with "sexual passes" and "very vulgar comments." She reported these comments to her supervisor, but the franchise owner, Joe Engert, brushed them off, saying that she should be honored that "someone liked her enough to hit on her."
The comments were made before other employees knew Taylor was trans, and after they found out, the workplace became hostile. Employees began intentionally misgendering her and making threatening remarks. Three months after she began working at Chick-fil-A, Taylor was fired for leaving work "while on the clock," but she claims she had been allowed to leave because her supervisor had been harassing her. To combat her wrongful termination, Taylor quickly "filed a discrimination charge with the Equal Employment Opportunities Commission," reports NBC.