The Unexpected Ingredient Guy Fieri Uses In Cajun Chicken Alfredo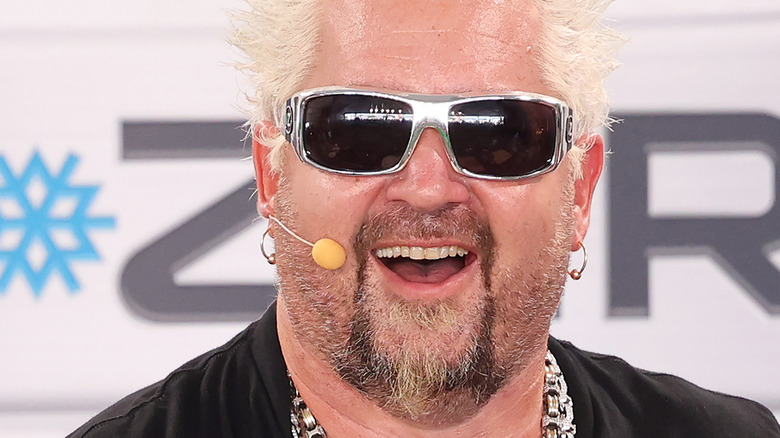 Alexander Tamargo/Getty Images
There's no greater expert when it comes to decadent comfort foods than the "Diners, Drive-Ins, and Dives" star, Guy Fieri. The chef has traveled around the U.S. in his convertible, sampling hearty foods from various eating establishments. So when it comes to classic dishes done right, Fieri is a go-to for delicious recipes.
One of Fieri's Food Network forays, "Guy's Big Bite," has introduced viewers to some of his favorite dishes. In a throwback episode that can be found on Food Network's YouTube channel, Fieri made a flavorful Cajun chicken Alfredo with the help of an unexpected ingredient.
Fieri begins by drenching chicken breasts in blackening seasoning before placing them on a canola-oiled cast iron skillet to cook. While the blackened chicken goes into the oven, Fieri cooks the pasta before working on the highlight of the dish, the Alfredo sauce. Heavy cream, marinated sun-dried tomatoes, minced (not pressed) garlic, and unexpectedly, white wine goes into the oiled skillet, too. To bring the Alfredo together, Fieri mixes the pasta and sliced chicken with the sauce.
How white wine improves a Cajun Alfredo sauce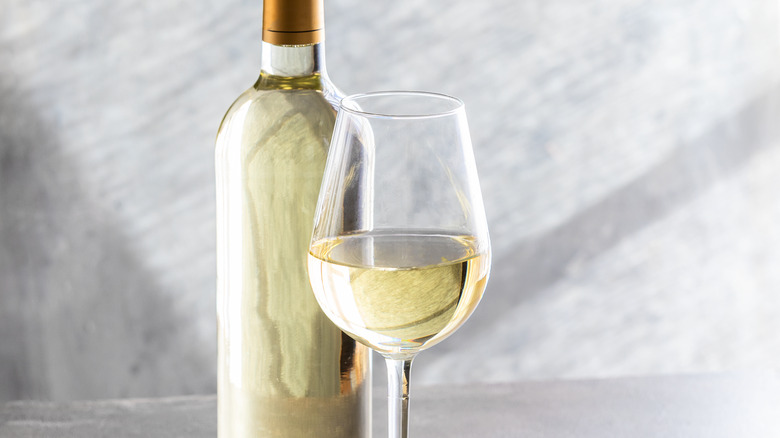 vasanty/Shutterstock
Guy Fieri is the king of unexpected ingredients when it comes to classic dishes. While white wine in a Cajun Alfredo sauce may surprise you, Fieri explains that it's key to the dish because it deglazes the pan (via YouTube). Deglazing is not a culinary technique only master chefs can perfect as it's an easy way for home chefs to up their cooking game, too. 
Simply pour a few shots of white wine into the pan to instantly elevate the Alfredo's flavors. This works because, according to Bon Appétit, adding liquid to a hot pan allows for all the caramelized bits at the bottom to release.
Be careful to stand back when pouring the wine into the skillet as Fieri warns it can flare up. Beyond chicken Alfredo, white wine is a versatile ingredient that can be used to deglaze many dishes. If you don't have a bottle of white on hand, here are some substitutions for cooking wine that you might already have at home.