Classic Banh Mi Recipe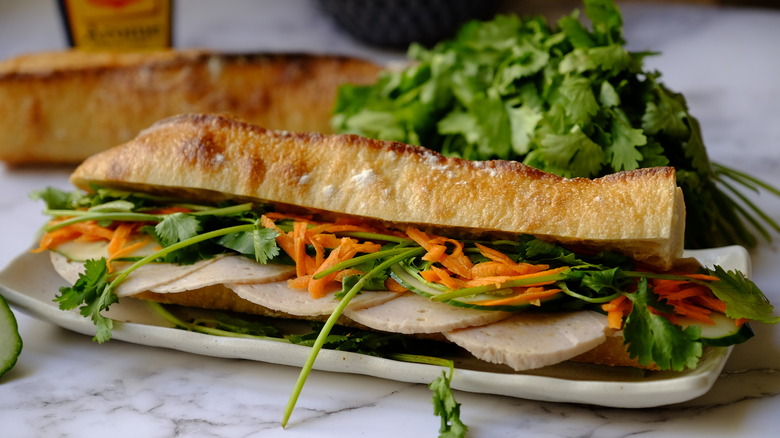 Eric Ngo/Mashed
If you have never had a banh mi sandwich, a classic of Vietnamese cuisine, then this classic take on the dish courtesy of trained chef and recipe developer Eric Ngo, AKA, Frenchie the Toast, is a perfect introduction. But interestingly, in his eyes, the classic is not the be-all, end-all of banh mi, but instead it's more of a starting point. Asked what his favorite thing about this recipe is, Ngo says he enjoys "how versatile it is." He goes on to explain that "you can add or use pork belly meat instead, or even make it with chicken or beef," and as for topping variations, he says, "I'm a fan of extra mayo and extra pickled carrots for that extra flavor, and also, feel free to use Thai chili pepper to give it that spicy taste."
Before you go wild with your own twists and turns on banh mi, though, you need to try it in its purist form. Which will likely require a trip to a Vietnamese grocery store, and maybe to a bakery as well, but the errands will be well worth it — your taste buds will agree.
Gather your ingredients for the classic banh mi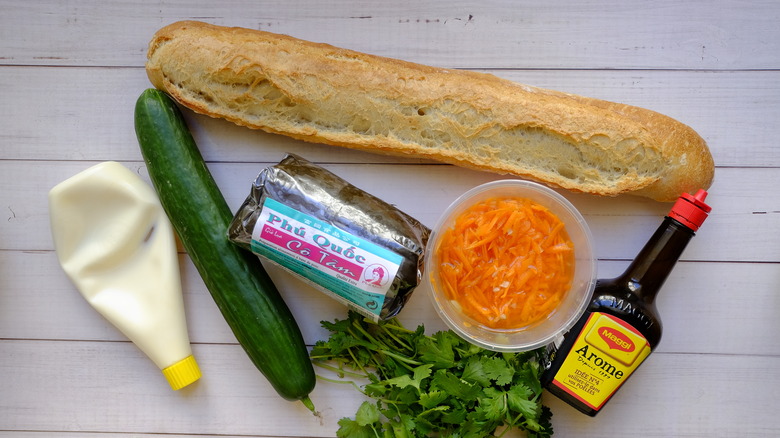 Eric Ngo/Mashed
As noted, a few of the foodstuffs needed here likely won't be available at your everyday supermarket, so head to a specialty Asian grocery store, as you'll need a Vietnamese pork roll, shredded pickled carrots, cucumber, Maggi seasoning, kewpie mayonnaise, and cilantro. You'll also need a French baguette.
Asked about the "star" ingredient of the recipe, Ngo says: "I think the star ingredient is the French baguette, followed by the Vietnamese pork roll. I do think, however, that in order to make it taste authentic, the Maggi seasoning must be used."
A brief history of the banh mi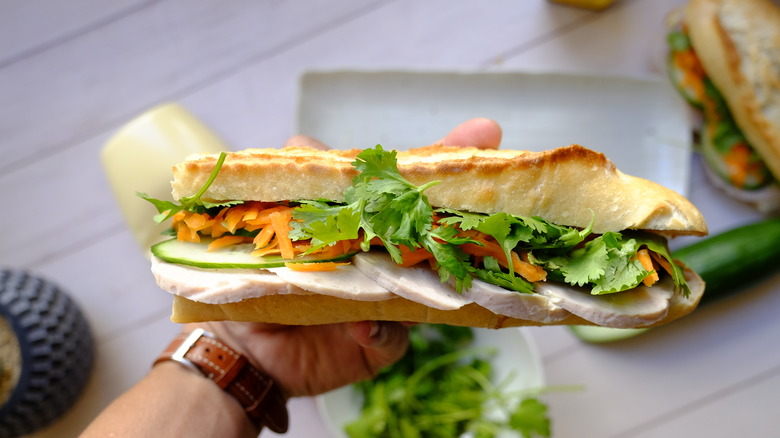 Eric Ngo/Mashed
If pairing Vietnamese ingredients with a French baguette seems odd at first, remember that France and Vietnam have a long shared history, and one that is largely contentious. This sandwich is a shining silver lining to that fractious history, though, as it represents a great blending of cultural foods. 
While French bread had been popular in Vietnam since the late 1800s, this "fusion" sandwich was first seen in Saigon in the 1950s, per Culture Trip, and remained popular in Vietnam for a generation before spreading out around the world thanks to increased emigration from Southeast Asia, not to mention an increase in tourism to the area. Today, you hardly have to travel to Vietnam for a taste of banh mi (in fact, you can just make it yourself now, right?), but it's definitely worth the trip if you do!
Prepare the ingredients for the sandwich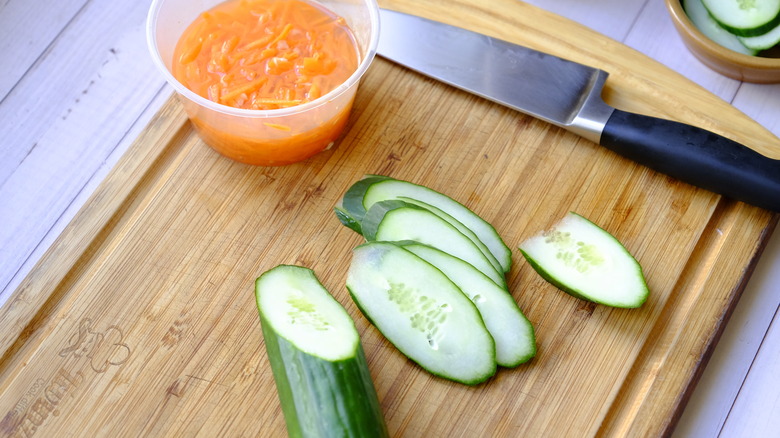 Eric Ngo/Mashed
This recipe is pretty simple all told: you prep the ingredients, you build the sandwich, and then you eat and enjoy. So to start off, go ahead and slice the cucumber at an angle, producing long, thin ovular discs. Next, slice the pork roll into discs as well.
Then go ahead and slice the baguette into sandwich form, and one note on the bread from Ngo: "The French baguette must be fresh or [the sandwich] will be difficult to eat."
Assemble the banh mi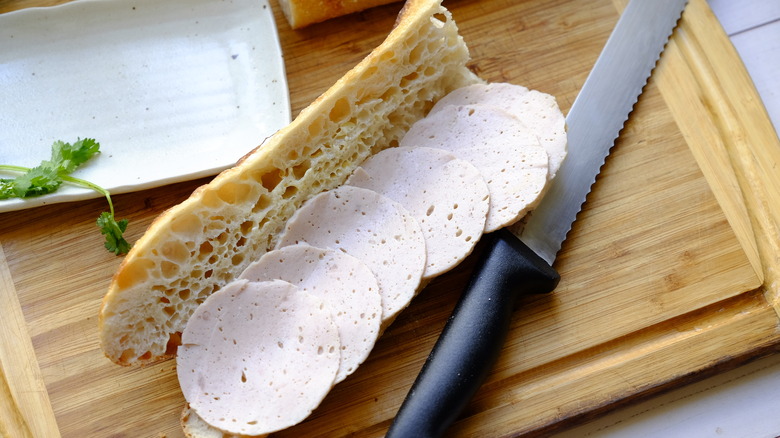 Eric Ngo/Mashed
Let's make this thing! Once the bread is sliced, spread the kewpie mayo onto the bottom piece. Next, add a layer of Vietnamese pork roll, then a layer of sliced cucumber, then a layer of pickled carrots, and follow that with cilantro and the Maggi seasoning. And that's it! Close it up and enjoy.
And if you're wondering how best to enjoy, the primary word is soon, as this sandwich is best fresh. "This sandwich is usually a grab and go lunch item. Pairing it with cold fruit juice or a light beer is my choice of beverage," Ngo suggests. "Also, pairing it with a Vietnamese dessert such as a tricolor drink (Che Ba Mau) or any kind of Vietnamese Che (a sweet Vietnamese drink) works well."
Classic Banh Mi Recipe
This classic banh mi is a no-frills sandwich that manages to pack the perfect flavor punch.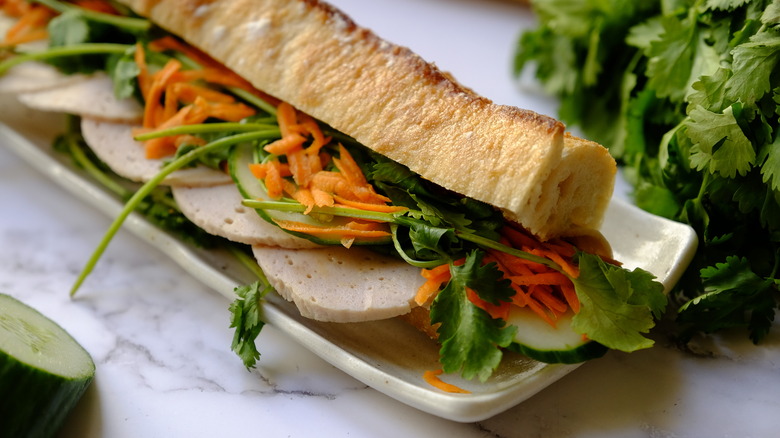 Ingredients
½ cucumber
½ Vietnamese pork roll (Cha Lua)
1 French baguette
1 tablespoon kewpie mayo
1 cup shredded pickled carrots
½ cup cilantro
1 teaspoon Maggi seasoning
Directions
Cut the cucumber into slices.
Cut Vietnamese pork roll into slices
Cut the baguette in half and spread the kewpie mayo on it.
Add a layer of Vietnamese pork roll, cucumber, pickled carrots, cilantro, and Maggi seasoning.
Nutrition
| | |
| --- | --- |
| Calories per Serving | 539 |
| Total Fat | 10.1 g |
| Saturated Fat | 1.8 g |
| Trans Fat | 0.0 g |
| Cholesterol | 2.8 mg |
| | |
| --- | --- |
| Total Carbohydrates | 94.5 g |
| Dietary Fiber | 5.9 g |
| Total Sugars | 11.4 g |
| Sodium | 1,067.8 mg |
| Protein | 18.7 g |