Garlicky Grilled Zucchini Recipe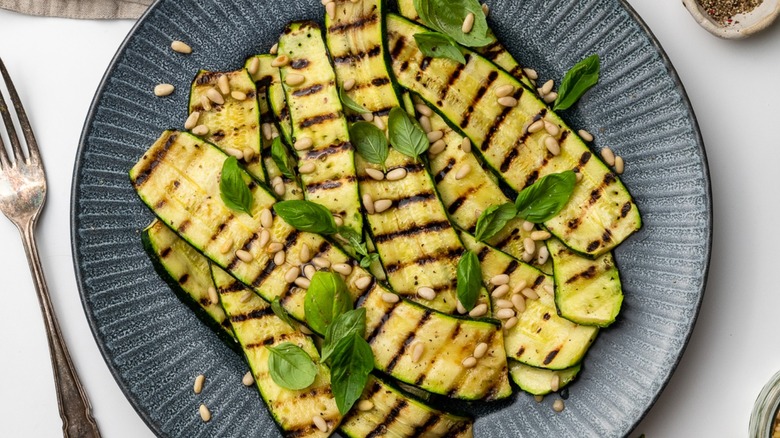 Jennine Bryant/Mashed
Zucchini may not be everyone's favorite vegetable, but there are ways to make it pretty palatable. Zucchini bread is everyone's standby when they find themselves "blessed" with a gift of this overabundant vegetable, but recipe developer Jennine Bryant suggests grilling it, instead. She says that this grilled zucchini dish is "fresh and full of flavor," adding that the garlic she uses "perfectly complement[s] the sweetness of the grilled zucchini." The way she likes to apply this seasoning is to rub a cut clove over the zucchini, telling us this technique "really impart[s] the flavor of the garlic."
If you're concerned about the word "grilled" in this recipe's title because you have no outdoor barbecue grill, it turns out that this piece of equipment isn't necessary. Bryant herself says she lives in an apartment with no outdoor space, so she cooks her zucchini in a ridged grill pan. If you enjoy cooking outdoors, though, she says "the recipe works just as well on a real barbecue grill."
Assemble the ingredients for garlicky grilled zucchini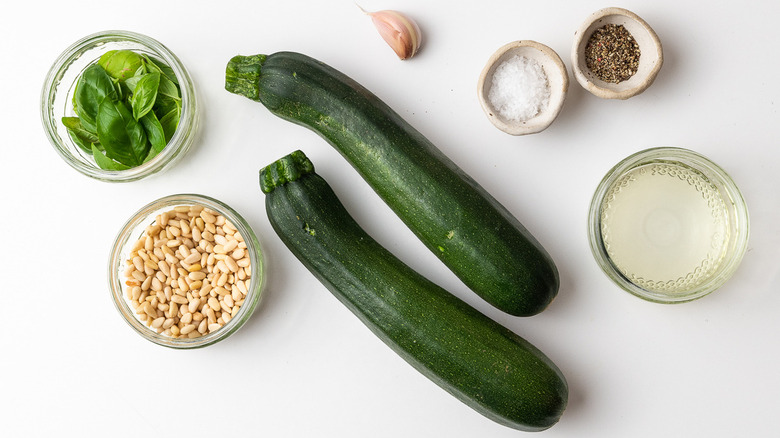 Jennine Bryant/Mashed
You will need a couple of zucchini to make this dish, plus some olive oil, garlic, salt, and pepper to season them. You'll also want to finish off the dish with fresh basil and pine nuts, which Bryant describes as "[adding] a beautiful, nutty flavor." She does say, though, that these can be omitted if you're not a fan. After all, the garlic gives the zucchini plenty of flavor all on its own. 
Season the zucchini with garlic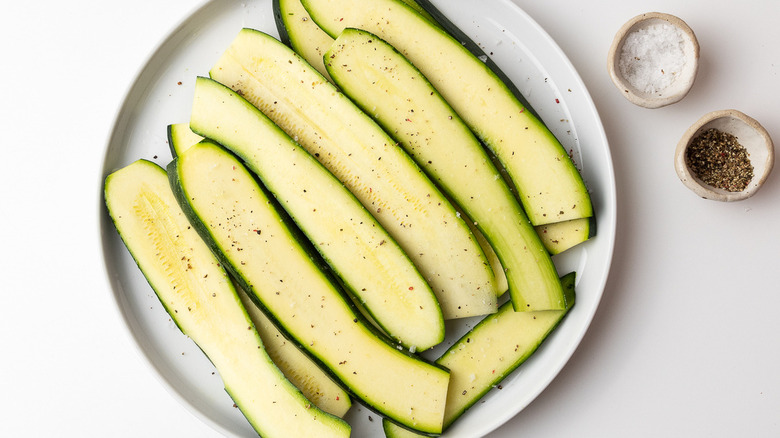 Jennine Bryant/Mashed
Cut the ends off the zucchini, then slice them lengthwise ¼-inch thick. (Or perhaps a bit thicker if you'll be using an outdoor barbecue, since slicing your vegetables too thin is a grilling no-no.) Peel the garlic clove and cut it in half. Rub the zucchini slices on both sides with olive oil, then with the cut garlic clove. Sprinkle the zucchini with salt and pepper.
Don't toss out the excess oil or the cut garlic clove, though. Mix these two ingredients together and save them for later. If you want to make sure that nothing goes to waste, you could even mince the garlic prior to mixing it with the oil.
Cook the zucchini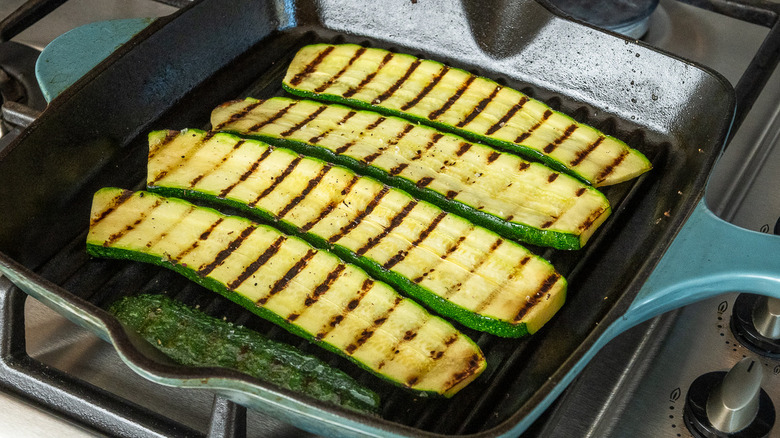 Jennine Bryant/Mashed
Heat up your grill or your grill pan to medium-high heat. Once it's hot, add some of the zucchini slices. With a barbecue grill, you may be able to cook all of the zucchini at once, but with a pan you'll probably have to work in batches. Cook the zucchini for 2-3 minutes, then flip the slices over and cook them for 2-3 minutes more.
Finish off the zucchini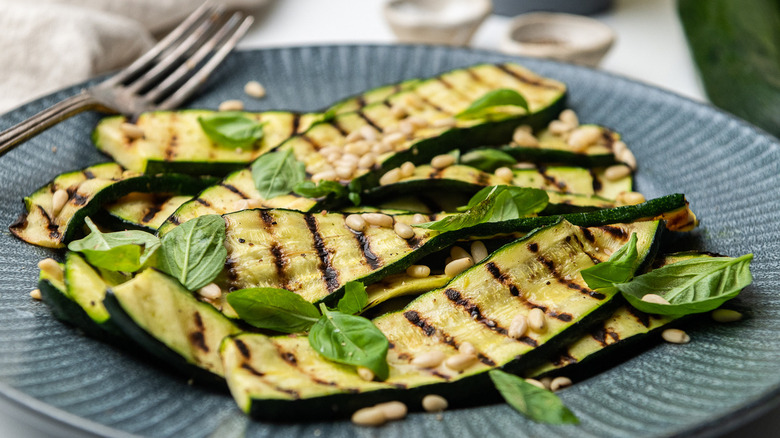 Jennine Bryant/Mashed
Once all the zucchini slices have been cooked, drizzle them with the reserved garlic oil and sprinkle them with the pine nuts and basil.
Bryant notes that the grilled zucchini makes for "a really versatile side dish" as it pairs well with most types of meat or fish. She also says it's "delicious warm or cold" and will keep in the refrigerator for about 3 days.
Garlicky Grilled Zucchini Recipe
For a fresh way to prepare zucchini, you may be surprised how easy it is to make this garlicky grilled zucchini recipe — you don't even need an outdoor grill.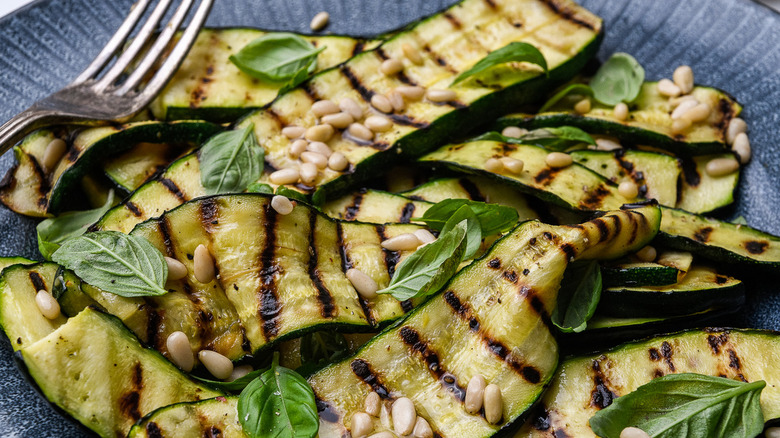 Ingredients
2 zucchini, washed
1 ½ tablespoon olive oil
1 clove garlic
1 tablespoon pine nuts
1 tablespoon fresh basil leaves
salt and pepper, to taste
Directions
Cut the ends off each zucchini and slice them lengthwise ¼-inch thick pieces.
Peel the garlic and cut the clove in half.
Brush a thin coating of olive oil on each slice of zucchini.
Rub the zucchini with the cut garlic.
Season the zucchini with salt and pepper.
Combine any leftover oil with the cut garlic.
Heat the grill (or grill pan) to medium-high heat.
Add the zucchini to the grill or pan (working in batches if necessary) and cook it for 2-3 minutes.
Flip the zucchini over and cook it for another 2-3 minutes.
Remove the cooked zucchini to a plate and continue until all the zucchini slices are grilled.
Sprinkle the zucchini with the fresh basil leaves and pine nuts and drizzle with the remaining garlic-infused oil.
Nutrition
| | |
| --- | --- |
| Calories per Serving | 155 |
| Total Fat | 13.7 g |
| Saturated Fat | 1.8 g |
| Trans Fat | 0.0 g |
| Cholesterol | 0.0 mg |
| | |
| --- | --- |
| Total Carbohydrates | 7.6 g |
| Dietary Fiber | 2.3 g |
| Total Sugars | 5.1 g |
| Sodium | 497.2 mg |
| Protein | 3.2 g |