The New Condiment Trader Joe's Shoppers Can't Stop Raving About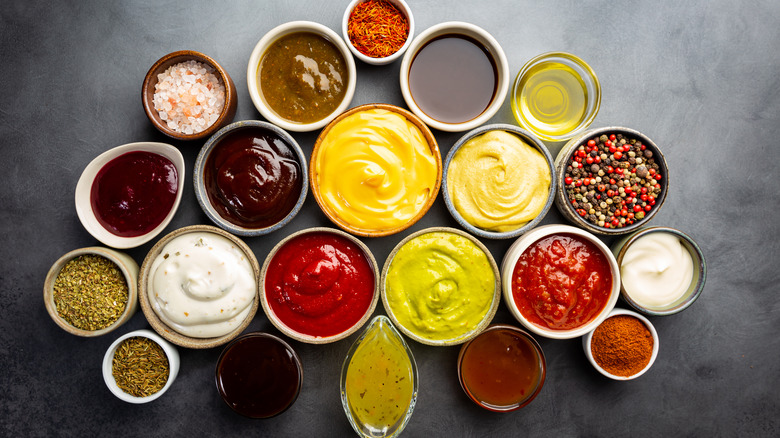 Goskova Tatiana/Shutterstock
Picture this. You've spent the last couple of hours cooking a delicious homemade meal for yourself. But now that it's finally time to tuck into your dish, it tastes like it's missing a little something-something. The go-to solution to your cooking woes? Condiments. In this day and age, a grocery store's condiment aisle goes beyond your basic selection or mayonnaise and mustard — especially if you're at Trader Joe's.
Gone are the days of boring meals, thanks to TJs! This discount grocery chain has condiments up the wazoo. From aioli garlic mustard sauce to Fleur de Sel Caramel sauce, there is guaranteed to be a condiment at Trader Joe's that pairs well with any dish you are cooking up at home (via Real Simple).
Prepping a classic tomato bruschetta recipe? Drizzle it with some of Trader Giotto's balsamic glaze. Whipping up a batch of frozen dumplings or potstickers? Serve them with a dish of Trader Ming's gyoza dipping sauce. If you've been a long-time lover of the condiment selection at Trader Joe's, there's a new addition that you can now look out for on shelves (via Reddit).
Customers love this easy access to gochujang
User @Montag98419 recently started a new Reddit thread to rave about a hot new condiment at Trader Joe's: gochujang. According to AllRecipes, gochujang is a Korean chili paste made from peppers, sticky rice, fermented soy beans, garlic, onions, sesame, sweeteners, and salt. Due to its diverse blend of ingredients, gochujang has a very unique flavor profile that is spicy, sweet, and savory all rolled into one. It also happens to pack an umami punch.
Customers are loving how this new TJ's product is making gochujang more accessible. "Finally! I love gochujang. Now I don't have to go out of my way to buy this at Korean supermarkets," one Redditor wrote. "This is a perfect example of TJ's making different cuisines accessible to a wider audience," another user wrote. "Now I can try a new food that wouldn't have been easy for me to try otherwise."
According to Bon Appetit, gochujang can be added to all sorts of dishes including stews, braises, marinades, and sauces. But make no mistake, gochujang is not a hot sauce, and is not designed to be drizzled on top of a finished dish. Rather, this strong condiment should be blended in with other ingredients, whether you are incorporating it into a marinade or mixing it into a salad dressing.