Classic Tomato Bruschetta Recipe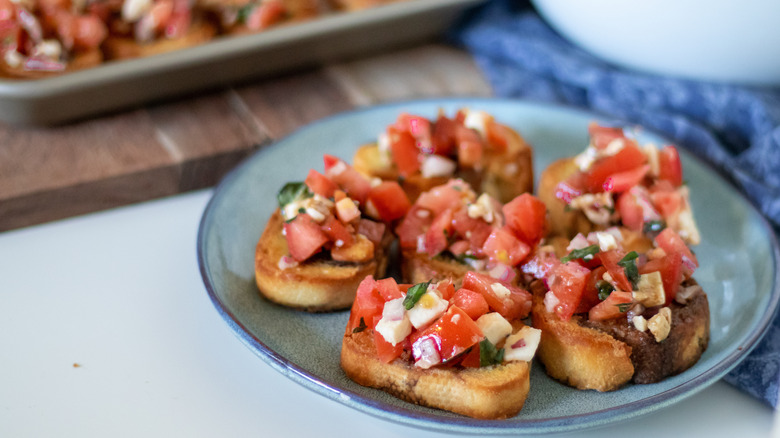 Autumn LeAnn/Mashed
Bruschetta is a classic appetizer whenever you're eating an Italian dinner, but these simple (and delicious) pieces of garlicky, toasted bread topped with veggies and cheese don't have to be reserved for the nights you go out to eat. In fact, classic bruschetta is simple and easy to make, and is perfect when you want something light to satiate you before a heavier meal. "Bruschetta is an awesome appetizer or snack," says Autumn LeAnn, the recipe developer behind this classic bruschetta recipe. "I like serving it as an appetizer if I'm making any sort of pasta dish. It would also pair really well with a salad for a light lunch."
And while there are lots of ways to make bruschetta, LeAnn prefers a traditional topping of tomatoes, basil, red onions, and mozzarella, all marinated and piled on top of slices of baguette bread. "It's easy to throw together and doesn't require a lot of ingredients," she says. So prepare to wow your family and friends the next time you host a weekend dinner — they're sure to love this simple and delicious hors d'oeuvre. 
Gather the ingredients for classic bruschetta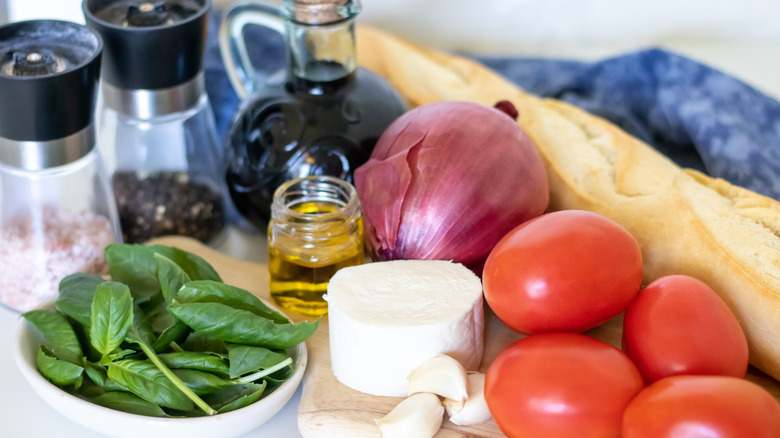 Autumn LeAnn/Mashed
One of the reasons classic bruschetta is easy to make is that its ingredients are simple and readily available. In fact, you may already have some at home. For this recipe, you'll need a baguette, ripe tomatoes (LeAnn uses Roma tomatoes, but says any ripe version will do), fresh basil, red onion, fresh mozzarella, olive oil, garlic cloves, and salt and pepper, to taste. 
And while balsamic vinegar is an optional ingredient, LeAnn highly recommends adding it — it offers a nice sweet tang to the end result. 
Make your bruschetta topping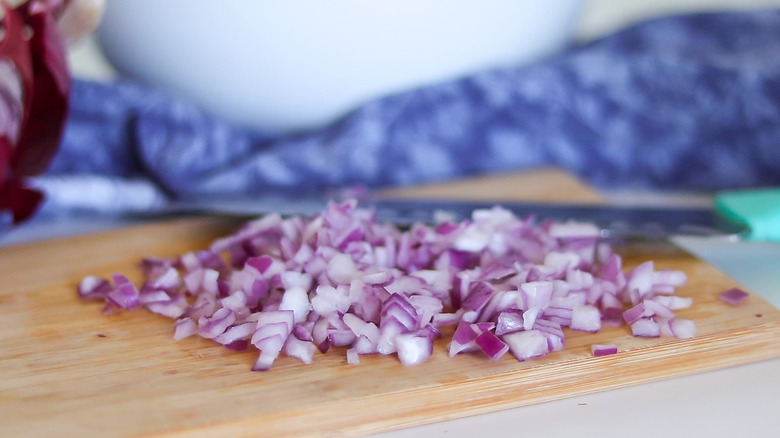 Autumn LeAnn/Mashed
With all your ingredients ready to go, you'll start by whipping up your bruschetta topping. Go ahead and chop the tomatoes, fresh basil, and red onion into small pieces. You can remove the seeds from the tomatoes, if you'd like. Add the veggies to a mixing bowl. 
Dice up the mozzarella into small pieces and add it to the bowl with the veggies. "Mozzarella is the go-to for this classic recipe because it's very mild in flavor," LeAnn explains. "You could certainly play around with different kinds of cheese, but I like to stick with the classic." 
Pour the olive oil into the bowl and add salt and pepper, to taste. Stir to combine the ingredients well, then set the topping aside. 
Prepare your bruschetta bread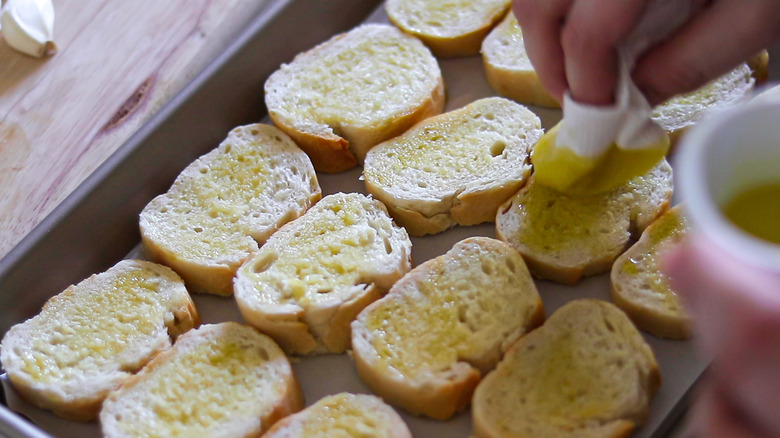 Autumn LeAnn/Mashed
As the bruschetta topping marinates in the olive oil, go ahead and prep your bread slices. Set your oven to broil and slice your baguette into about ¼-inch thick slices. Brush each slice of bread with olive oil on one side. "You can really use whatever kind of crusty bread you like. I like using a French baguette because the slices are almost bite size, but you could use a larger loaf of bread if desired," LeAnn explains. 
Cut your garlic cloves in half and rub each piece of bread with the garlic. You can rub as much or as little garlic flavor onto the slices of bread as you'd like. 
Place the slices of bread on a baking sheet and pop them in the oven. You want to toast the bread under the broiler until the slices are golden brown and firm. LeAnn notes that because the bruschetta mixture is wet, it's important to have a firmer toast to prevent the bread from getting soggy. That said, keep a close eye on the bread as it toasts — you don't want it to burn, either. You can expect it to take up to five minutes to get the desired effect.
Build the bruschetta and serve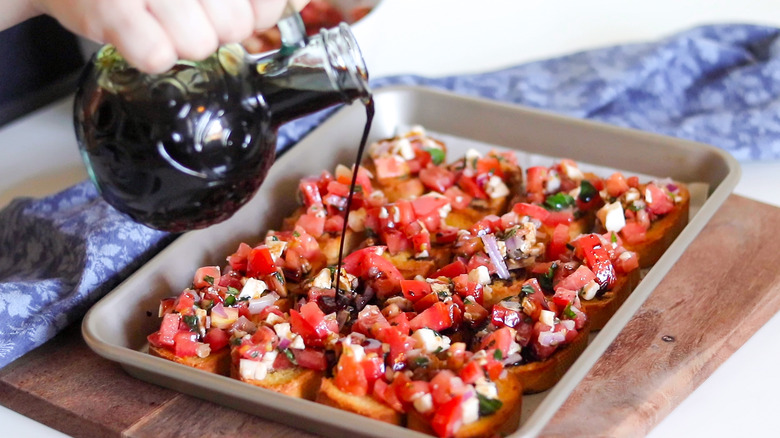 Autumn LeAnn/Mashed
When your slices of baguette are nice and firm, remove them from the oven and spoon a bit of the bruschetta topping onto each slice before serving. And of course, don't forget to drizzle the balsamic vinegar over the top of the bruschetta, if desired. 
One thing to keep in mind is that this bruschetta is best enjoyed fresh. If you make a bigger batch than you think you'll eat in one sitting, it's best to only add the topping to the slices of bread you plan on eating. LeAnn says you can store any unused bruschetta topping in a covered container for up to three days, so you can always use the leftovers on another day.
Classic Tomato Bruschetta Recipe
You can't go wrong with the classics — and this classic tomato bruschetta is the perfect appetizer for any palate.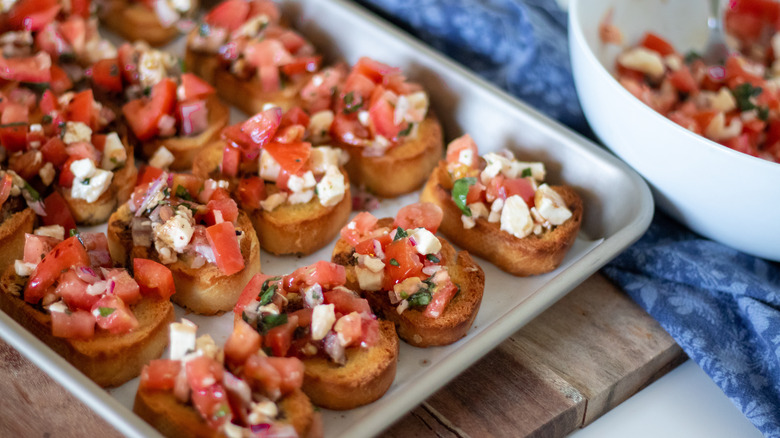 Ingredients
1 pound ripe Roma tomatoes (or any kind of ripe tomato)
½ cup fresh basil
¼ cup red onion
4 ounces fresh mozzarella
4 tablespoons olive oil, divided
salt, to taste
pepper, to taste
1 baguette
2 to 3 fresh garlic cloves
Optional Ingredients
Directions
Chop your tomatoes into small pieces and add to a mixing bowl. If desired you can remove the seeds.
Finely chop your fresh basil and red onion and add to the mixing bowl with the tomatoes.
Cut the mozzarella into small pieces, add to the bowl with the tomatoes, red onion, and basil. Pour in 2 tablespoons of olive oil and any desired salt and pepper. Stir until evenly combined then set aside.
Slice your baguette into about ¼-inch thick slices, and brush each piece with olive oil on one side.
Cut your garlic cloves in half and rub each piece of bread with the garlic to add as much garlic flavor as you like.
Toast your bread until nice and firm. The bruschetta mixture is very wet so we want to make sure the bread gets nice and toasted — nobody wants soggy toast! Be careful not to burn the bread, however.
Spoon a bit of the bruschetta mixture onto the toasted bread slices, drizzle with balsamic vinegar if desired, and enjoy!
Nutrition
| | |
| --- | --- |
| Calories per Serving | 438 |
| Total Fat | 21.9 g |
| Saturated Fat | 6.0 g |
| Trans Fat | 0.0 g |
| Cholesterol | 22.4 mg |
| | |
| --- | --- |
| Total Carbohydrates | 46.0 g |
| Dietary Fiber | 3.5 g |
| Total Sugars | 7.2 g |
| Sodium | 636.2 mg |
| Protein | 15.7 g |