Whole Foods Shoppers Are Raving About Its Summer Bakery Dessert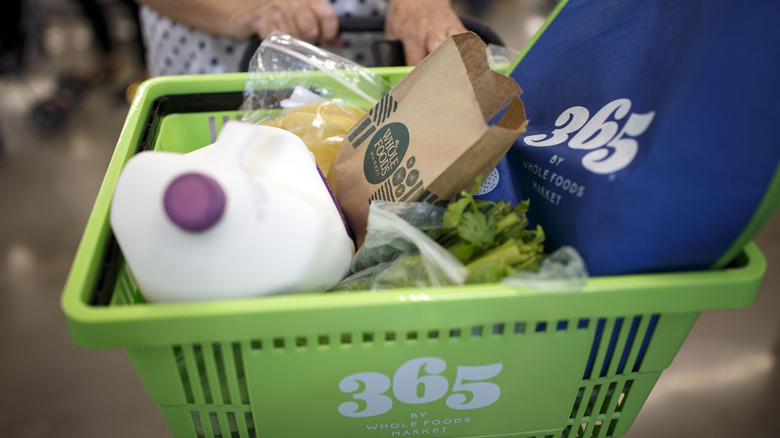 Bloomberg/Getty Images
Whole Foods is one of those specialty grocery stores famous for its cult-favorite products. There's the infamous salad bar — piled high with everything from pomegranate seeds to arugula to curried cauliflower — the 365 cauliflower crust, and the fresh nut butter, for starters. If you're someone with a sweet tooth, Whole Foods has another exclusive item that might tickle your fancy: its Berry Chantilly cake. The retailer recently shared the summer dessert on its Instagram page and people are freaking out (in a good way). 
The Berry Chantilly cake consists of "layers of delicate vanilla cake, fluffy Chantilly cream frosting and fresh berries," according to Whole Foods. First created 13 years ago by a New Orleans employee who was inspired by her grandmother's recipe, the cake has skyrocketed in popularity, so much so that it even has its own hashtag on Instagram now (#berrychantilly) with thousands of photos. Here's what people have to say about the bakery item on social media — and what makes it so special.
People wait in line for the Berry Chantilly cake
Take a peek at the comments on Whole Foods' Instagram and you'll quickly realize how much of a crowd-favorite the Berry Chantilly cake is. "Best. Cake. Ever!!!" one person wrote, with many others echoing the same sentiment. "This is the most amazing cake, and the frosting is so light and delicious. Melts in your mouth," another commenter raved. A Medium blogger wrote an entire ode to the fruity creation. "That Chantilly cake was a magical and addictively delicious berry-filled delight. Each bite was so moist and tender," she wrote, adding that she spoke to a Whole Foods baker and learned that the secret ingredient is mascarpone cheese.
The Berry Chantilly cake is so popular, Whole Foods reports that customers have stood in line waiting for it during storms and power outages. According to Spoon University, Whole Foods sold more than 20,000 Berry Chantilly cakes on Easter a few years ago. You can order the dessert online to pick up in store or have it delivered right to your home. Bonus: Whole Foods says you can even get the cake personalized with a custom message, if you'd like.